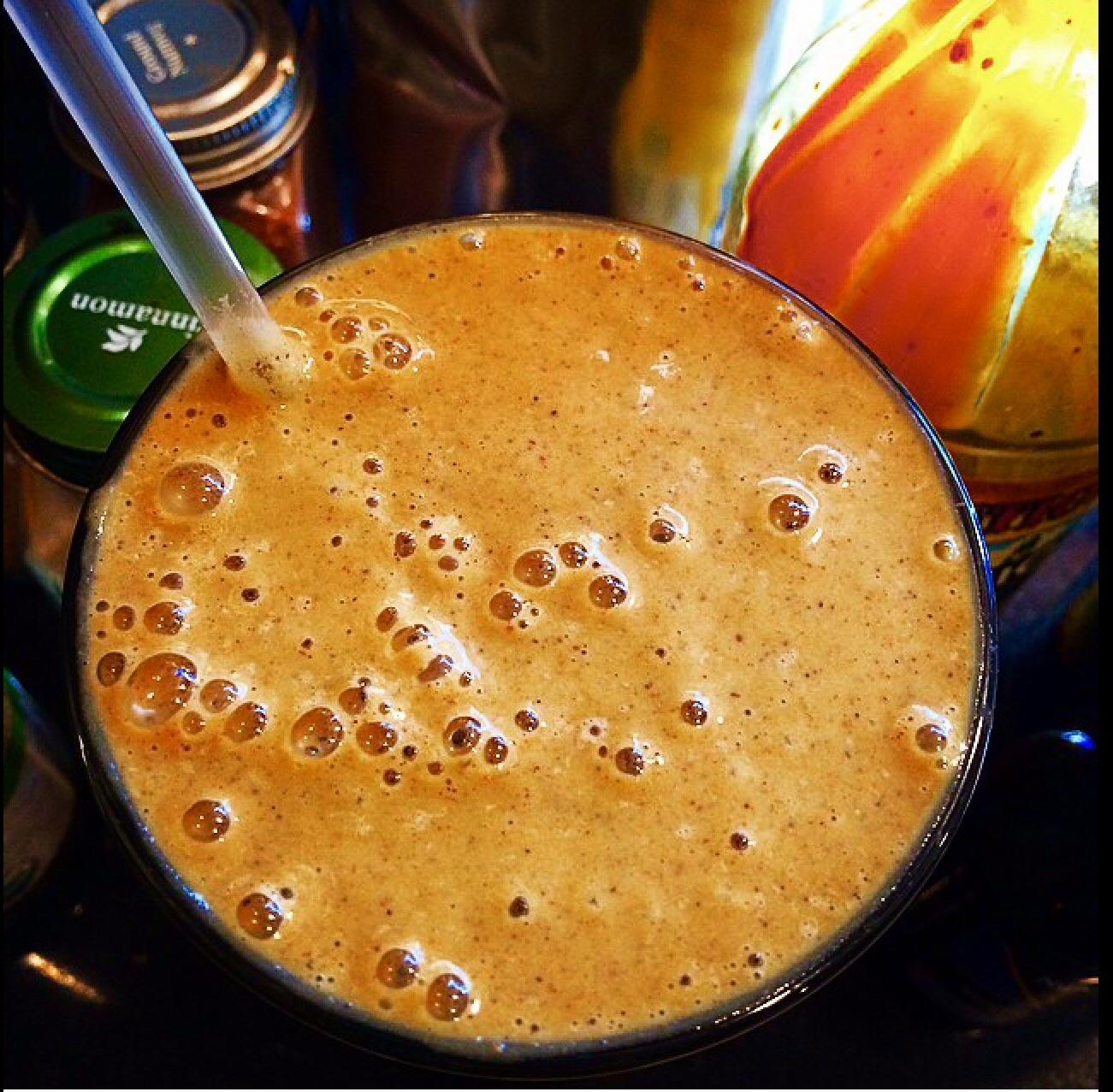 Pumpkin Pie Smoothie Recipe
Our articles may contain affiliate links. For more information, view our policies.
A fast & healthy protein shake to jumpstart your day
Natural healer Stacey Licht has a great suggestion to start an autumn day off right. Her Pumpkin Pie Smoothie is a vegetarian protein shake with several nutritionally packed ingredients. Best of all, you can make it in minutes for a healthy breakfast on the go. (Just be sure to freeze  your banana in advance!)
If you're looking for a breakfast that will keep you fueled and feeling satisfied, a protein-packed pumpkin shake like this one is a great choice. This pumpkin smoothie recipe uses hemp protein plus almond butter, although Stacey comments that you can omit the hemp if you prefer. (Or you can substitute with your favorite protein powder if you're looking for that extra boost.)
Love smoothies for breakfast? Don't miss our favorite Green Smoothie recipe! 
This pumpkin smoothie supports sexual health
And almonds don't just add protein to the drink, they also support a healthy libido. In fact this Pumpkin Pie Smoothie is filled with ingredients that are not only considered aphrodisiac but have proven nutritional benefits for your libido. In addition to the hemp and almonds–a noted aphrodisiac for men, this protein shake recipe offers choline, protein, folate, manganese, iron and potassium from the banana, blackstrap molasses, nuts and pumpkin puree. All of these are nutrients essential to maintaining optimal sexual health.
Incidentally, did you know that pumpkin is considered aphrodisiac?
Is this smoothie vegan?
All of the ingredients in this smoothie are vegan with the possible exception of the molasses. Molasses are vegan unless bone char is used in the processing. If you're sticking to a strict vegan diet, you will want to check that your molasses were made without the use of bone char in the refining process. But whether or not you're making a vegan Pumpkin Pie Smoothie or not, you're going to want a breakfast shake that's packed with flavor.
The spices that give this drink its signature flavor
Of course, a Pumpkin Pie Smoothie wouldn't be complete without the flavors of pumpkin spice. So Licht layers her drink with a tempting blend of warming spices. The spices used in baking are part of a group known as warming spices because they can raise body temperature. Not only are warming spices good for helping you wake up and feel invigorated in the morning, they're also considered aphrodisiac. That's because the tingling warmth they bring is not only great for getting you up and out of the house, it's great for heightening sensuality.
The nutmeg, ginger and cinnamon Licht adds to her recipe don't just bring classic pumpkin pie flavor to this Pumpkin Pie Smoothie, they also serve a role in getting you in the mood for…whatever it is you plan to do after enjoying this power breakfast.
Pumpkin Pie Smoothie
Print Recipe
This protein-packed drink is like a pumpkin pie in a glass. 
Ingredients
1

cup

pumpkin purée

2

tbsp

hemp protein

or omit for a smoothie

1

tsp

blackstrap molasses

1/2

frozen banana

1

tbsp

roasted almond butter

1

tsp

vanilla extract

1

tsp

cinnamon

1/4

tsp

ginger

1/8

tsp

nutmeg

1

cup

almond milk

stevia to taste

or grade B maple syrup

2

lg ice cubes
FREE APHRODISIAC NEWSLETTER
Subscribe to our free aphrodisiac newsletter