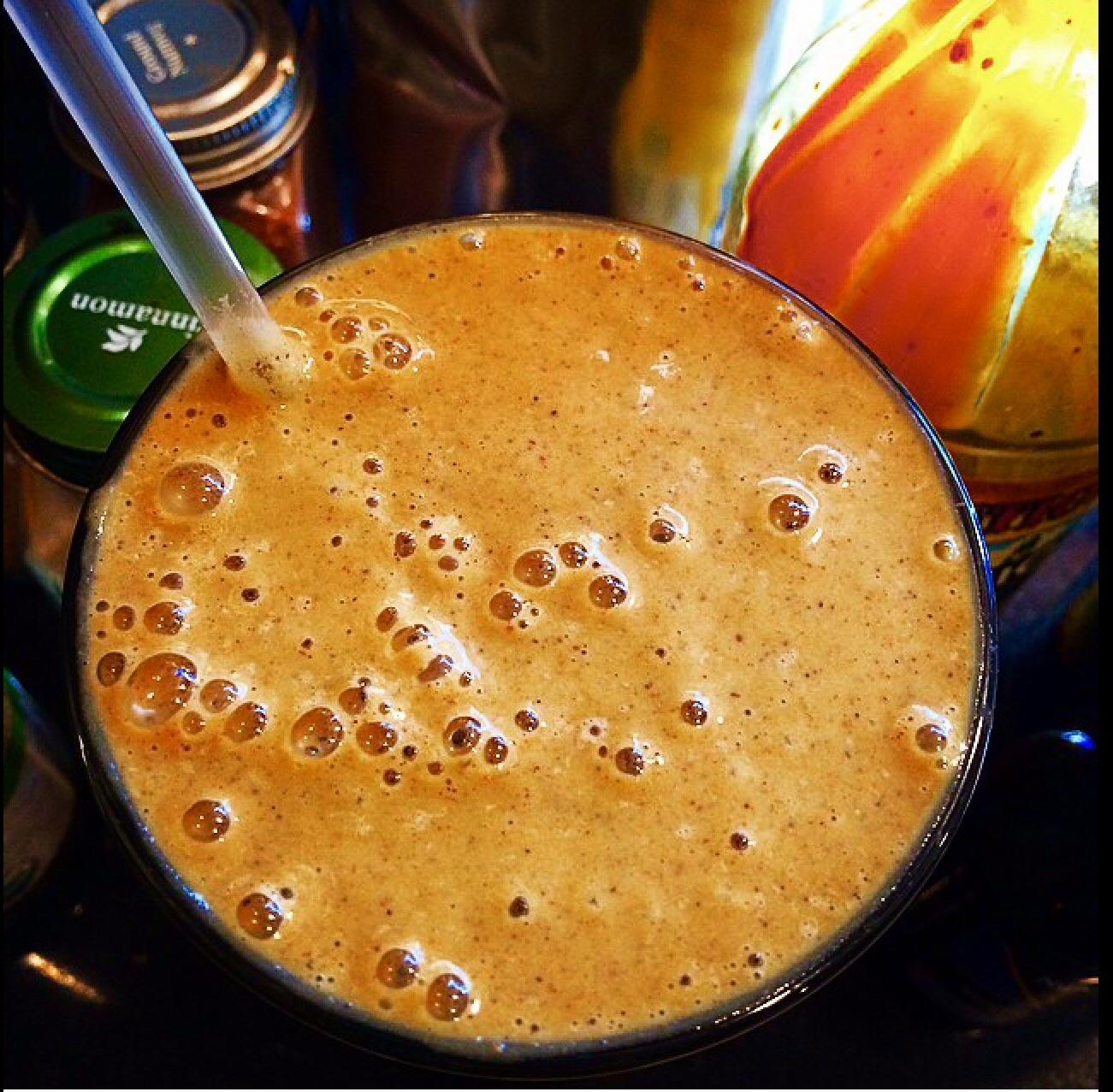 Pumpkin Pie Smoothie Recipe Packed with Protein
Our articles may contain affiliate links. For more information, view our policies.
Natural healer Stacey Licht has a great suggestion to start an autumn day off right. Her pumpkin pie smoothie is an easy-to-make vegetarian protein shake full of naturally nutritious ingredients. Best of all, you can make it in minutes for a healthy breakfast on the go.
If you're looking for a breakfast that will keep you fueled and feeling satisfied, a protein-packed pumpkin shake like this one is a great choice. This healthy pumpkin smoothie recipe uses hemp protein plus almond butter, although Stacey suggests that you can omit the hemp if you prefer.
Love smoothies for breakfast? Try my Green Smoothie
How to make this protein-rich breakfast shake
To make this healthy pumpkin pie smoothie, all you need to do is assemble your ingredients in the blender and mix it up.
The smoothie prep time is only about five minutes. But if you're not a morning person, you can assemble the smoothie ingredients in advance or overnight. (Reserve the frozen banana and ice in the freezer until you're ready to blend.) Just store the blender pitcher with the rest of the ingredients in the refrigerator so they're ready to go.
Ingredients and substitutions
The ingredients in this pumpkin pie shake are fairly straightforward. But you can alter a few of them to customize this drink to your personal taste and preferences.
If a heavy dose of protein isn't your goal, you can omit the hemp to make this a lighter drink. Of course, you can also use your favorite protein powder if you're looking to bump up the protein content.
Make sure that you use one cup pumpkin puree, not pumpkin pie filling in this pumpkin spice smoothie recipe. Pumpkin pie filling has added sugar that you don't want. (You can freeze any leftover canned pumpkin puree to use in future smoothies.)
The recipe calls for stevia for sweetness. But if the distinctive flavor of stevia isn't to your taste, you can substitute with grade B maple syrup. (Incidentally, maple syrup is an aphrodisiac!)
Lastly, Stacey makes this as a pumpkin smoothie with almond milk. But if you prefer a different plant-based milk, you can swap out the almond milk for your favorite non-dairy beverage, like oat or hemp milk.
Equipment
If you like making smoothies and shakes, you probably already have everything you need to make this smoothie recipe. The one piece of equipment you need to make this breakfast drink is a good blender.
You don't have to invest in anything too expensive. But if you're looking to splurge, I recommend checking out this Vitamix. It's an incredibly reliable machine with different settings for cold and hot liquids. I use one to make everything from frozen yogurt to thick, hearty soups.
Is this protein smoothie vegan?
This smoothie is dairy-free and all of the ingredients are vegan with the possible exception of the molasses. Molasses are vegan unless bone char is used in the processing. If you're sticking to a strict vegan diet, you will want to check that your molasses were made without the use of bone char in the refining process.
But whether or not you're making a vegan smoothie or not, you're going to want a breakfast shake that's packed with flavor and some nutritional benefits that might surprise you.
How this pumpkin smoothie supports sexual health
Did you know that almonds and hemp don't just add protein to this healthy breakfast drink, they also support a healthy libido? In fact, this pumpkin smoothie recipe is filled with ingredients that are not only considered an aphrodisiac but have proven nutritional benefits for your libido.
And in addition to the hemp and almond, this protein shake recipe offers choline, protein, folate, manganese, iron and potassium from the banana, blackstrap molasses and pumpkin puree. All of these are nutrients essential to maintaining optimal sexual health.
Of course, a delicious pumpkin pie protein smoothie wouldn't be complete without the flavors of pumpkin pie spice. And the spices used to give pumpkin pie its seasonal flavor are also known as warming spices because they can raise body temperature.
Not only are warming spices good for helping you wake up and feel invigorated in the morning but they're also considered aphrodisiacs. That's because the tingling warmth they bring is not only great for getting you up and out of the house, it's great for heightening sensuality.
The nutmeg, ginger and cinnamon in this recipe don't just lend classic pumpkin pie flavor to this sexy smoothie, they also serve a role in getting you in the mood for…whatever it is you plan to do after enjoying this power breakfast.
Pumpkin Pie Smoothie
Print Recipe
This protein-packed drink is like a pumpkin pie in a glass. 
Ingredients
1

cup

pumpkin purée

2

tbsp

hemp protein

optional

1

tsp

blackstrap molasses

1/2

frozen banana

1

tbsp

roasted almond butter

1

tsp

vanilla extract

1

tsp

cinnamon

1/4

tsp

ginger

1/8

tsp

nutmeg

1

cup

almond milk

stevia to taste

or grade B maple syrup

2

lg ice cubes
Nutrition
Calories:
370
kcal
|
Carbohydrates:
48
g
|
Protein:
15
g
|
Fat:
15
g
|
Saturated Fat:
1
g
|
Polyunsaturated Fat:
5
g
|
Monounsaturated Fat:
7
g
|
Sodium:
342
mg
|
Potassium:
955
mg
|
Fiber:
15
g
|
Sugar:
23
g
|
Vitamin A:
38173
IU
|
Vitamin C:
16
mg
|
Calcium:
469
mg
|
Iron:
6
mg
Latest posts by Amy Reiley
(see all)
Get on our mailing list
Subscribe and get our exclusive list of Six Great Sex-Boosting Snack Foods for FREE! Unsubscribe at any time.