Sugared Cranberries as Garnish for Cocktails, Dessert & More
Our articles may contain affiliate links. For more information, view our policies.
Did you know that cranberries are aphrodisiac?
This time of year, I get cranberries on the brain. I LOVE cranberries. (And did you know that cranberries are aphrodisiac?) Each year, a friend from the Plymouth area–that's right, like the Pilgrims–sends us berries from their family's bogs. They're beautiful berries, sometimes of several varieties. I try to play with every conceivable thing I can think of to do with the tart, slightly bitter fruits. One of my favorite ways to use these autumn berries is as Sugared Cranberries, coated in syrup then rolled in granulated sugar.
Love dried cranberries? Try this recipe for a Massaged Kale Salad with Cranberries and Persimmons
The magic of dry-harvested cranberries
Because I spend time on Cape Cod every summer, I am familiar with seeing cranberries grow and flourish. Because they're grown in bogs you might think these scarlet fruits come from soggy plants in swampy conditions. But in actuality, cranberries grow on dry ground, on little, trailing plants–sort of like strawberries. Because cranberries have pockets of air under their skin, they will float if their growing area, or bog, is flooded.
However, there are a number of varieties of cranberries that are dry harvested, without flooding. As anyone who has studied wine has probably already concluded, the cranberries that are dry harvested have more intensity of flavor. My recipe for Sugared Cranberries would would best with dry harvested fruit, if you can get your hands on some.
Sugared Cranberries with a crunch
Once rolled in sugar and dried, the cranberries develop a slightly crunchy, candy shell–it's so good! But they retain their bright, lipstick red color and soft, fleshy texture underneath their sweet coating.
If you were ever wondering how to garnish cocktails for the Holidays? This is it! But this cranberry recipe shouldn't be limited to cocktails. The sugar-coated cranberries work as a brightly-colored garnish even for savory dishes like roast turkey, chicken or duck, spiced lamb or roast pork loin. And these gorgeous, sugar-coated berries are among my favorite winter dessert garnish ideas.
Your only limit is your own imagination. And although they're great as a cocktail garnish, I just like snacking on a bowl of these glistening crimson gems. Since cranberries are loaded with antioxidants, I almost feel like I'm having something healthy.
Love cranberries? Check out this Cranberry and Persimmon Salsa recipe.
Sugared Cranberries
Print Recipe
A cocktail or garnish, these sweet, crunchy cranberry treats dress up dishes and drinks. 
Ingredients
3/4

cup

granulated sugar

divided

1/2

cup

water

3/4

cup

cranberries
Instructions
Combine 1/2 cup sugar and 1/2 cup water in a small saucepan over medium heat, stirring until sugar is dissolved, about 1-2 minutes.

Bring the mixture to a boil, then simmer for an additional 4-5 minutes to make a simple syrup.

Remove the syrup from the heat and add the cranberries, stirring to coat all fruit.

Rest the berries in syrup for 5 minutes then transfer to a storage container. Store for a minimum of 4 hours to overnight.

Strain the cranberries from the syrup and transfer the to a wire rack to dry for at least 1 hour. (You can save any leftover cranberry syrup to flavor Holiday cocktails

Add the remaining 1/4 cup sugar to a bowl and roll the cranberries in the sugar. Transfer the sugared berries to parchment paper to dry. Store in an airtight container in a cool, dry place for up to one week.
Notes
This recipe doubles easily.
Pin this recipe: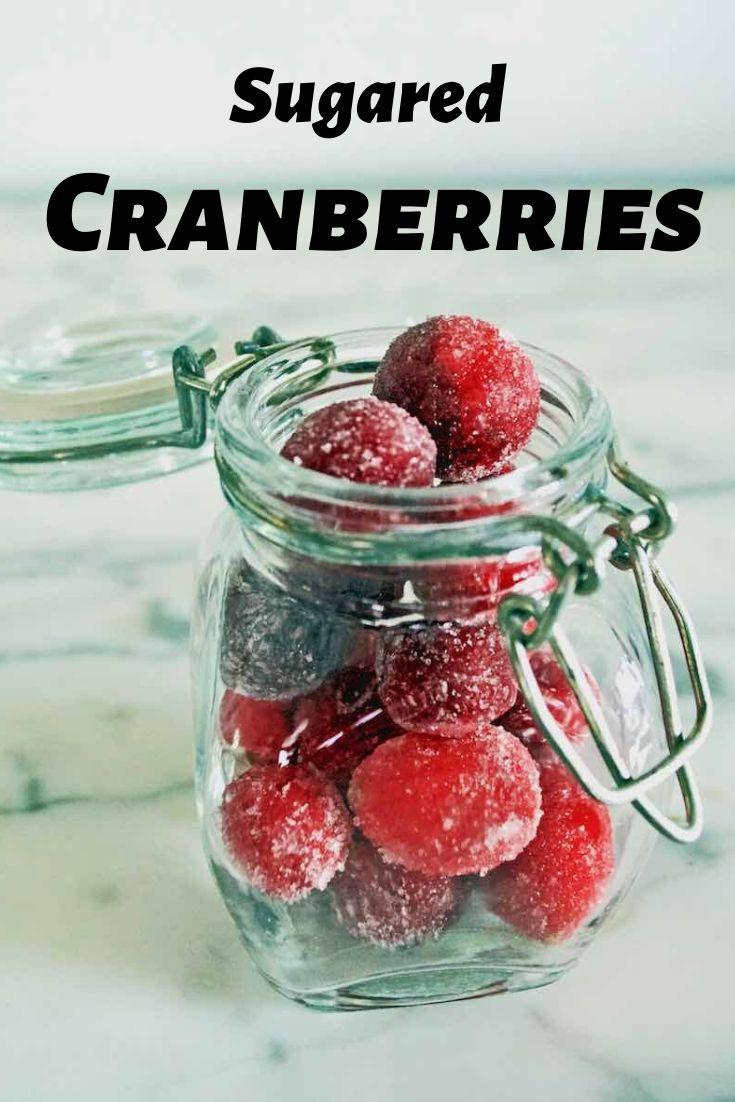 FREE APHRODISIAC NEWSLETTER
Subscribe to our free aphrodisiac newsletter