Our articles may contain affiliate links. For more information, view our policies.
A Mojo sauce is a simple but flavorful Cuban tradition. We use it in my house to bring fresh flavor to grilled fish and meats and roasts.
What is Cuban Mojo sauce?
Mojo is a bright and acidic sauce originating in the Canary Islands. Originally there were two types of mojo, mojo rojo, or red mojo sauce and mojo verde sauce, which is green mojo. But as this marinade spread throughout the Caribbean, each region put its own spin on the concept.
Traditionally, a Cuban mojo recipe is one that features garlic and sour orange. It historically would use pork fat. (Many modern versions call for olive oil instead.) But my lightened up Cuban mojo marinade simply features the combination of fresh citrus, garlic and herbs with no added fat. The result is a healthy, immunity boosting citrus sauce great with roasting and grilling.
TO TRY: Pineapple Teriyaki Sauce
A Mojo recipe with immunity-boosting powers
Like a classic mojo verde, this one features a base of freshly squeezed sour orange. A good Cuban mojo will begin with the juice of oranges that are notably tart. Where I live in Southern California, oranges tend to offer more sweetness than tart flavors.
So to make up for the lack of bite in the orange, I balance my tangy orange base with the juice of fresh lemons and limes. (If you can find good sour oranges, you can use it in place of the lemon and lime.) And then to the citrus marinade base, I add raw garlic, as a classic recipe would.
What makes this Cuban sauce healthy?
Why do I call this marinade recipe an immunity-boosting sauce? It's the heigh content of fresh citrus juices that makes this sauce my pick for a health boosting dinner accompaniment. That's because citrus fruits offer a good source of vitamin C. And vitamin C is believed to increase the production of white blood cells. (White blood cells are key to fighting infection.)
RELATED: Why citrus fruits are among the best foods for women's health
Of course, you might be wondering if the vitamin C you're getting from this sauce is enough to support your immune system. Well, an average orange has about 130% of your daily vitamin C. So if you're sharing this sauce with friends, it's fair to say that a single serving is giving you around 50% of your daily intake. Not bad for a sauce!
The immunity-boosting power of garlic
And then there's the garlic, one of our favorite aphrodisiac ingredients. You have probably heard that garlic is good for your health. It's true!
In fact, garlic is associated with boosting immune function and in studies, shows promise in fighting cold and flu viruses. However, it's also known that the process of cooking garlic can kill these beneficial properties.
That's why this recipe is a star. If you use this recipe for mojo sauce as a finishing sauce or dip, the raw garlic still has the full potential to boost health. Of course, studies on garlic's powers are limited and it appears most likely to help as an immunity booster, not as a cure when you're sick. But we say, if you feel it works for you, do it.
How to use this verde mojo
This easy mojo sauce can be used as a cuban pork marinade. It makes a particularly good mojo pork tenderloin. You can also use it to make Cuban mojo chicken. It is also great with flank steak and as a marinade for firm fish. I even use it as a dip and as a tangy and fat-free dressing for grilled or roast chicken over salad greens. Store any leftover mojo refrigerated in an airtight container.
TO TRY: Check out my Chimichurri Sauce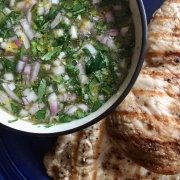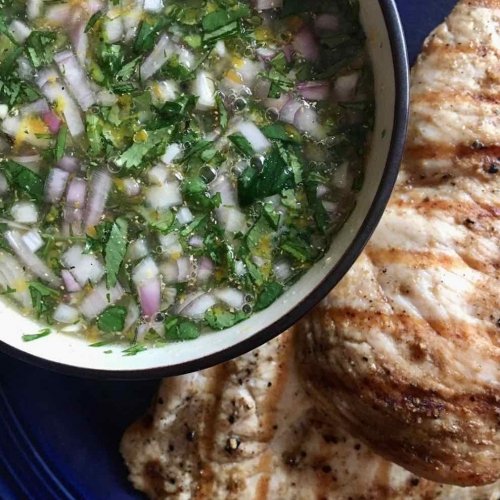 Fast & Easy Mojo Sauce
Print Recipe
This fast and easy twist on a classic Cuban sauce is a great marinade or dipping sauce for fish, chicken or pork.
Ingredients
1

orange

juice and zest

1

lime

juice only

1

lemon

juice only

1

shallot

finely chopped

2

cloves

garlic

finely chopped

2

Tbsp

fresh cilantro

chopped

pinch

cumin

pinch

coriander

salt to taste

pepper to taste
Instructions
Whisk together all ingredients in a bowl. Serve with grilled chicken, fish or pork.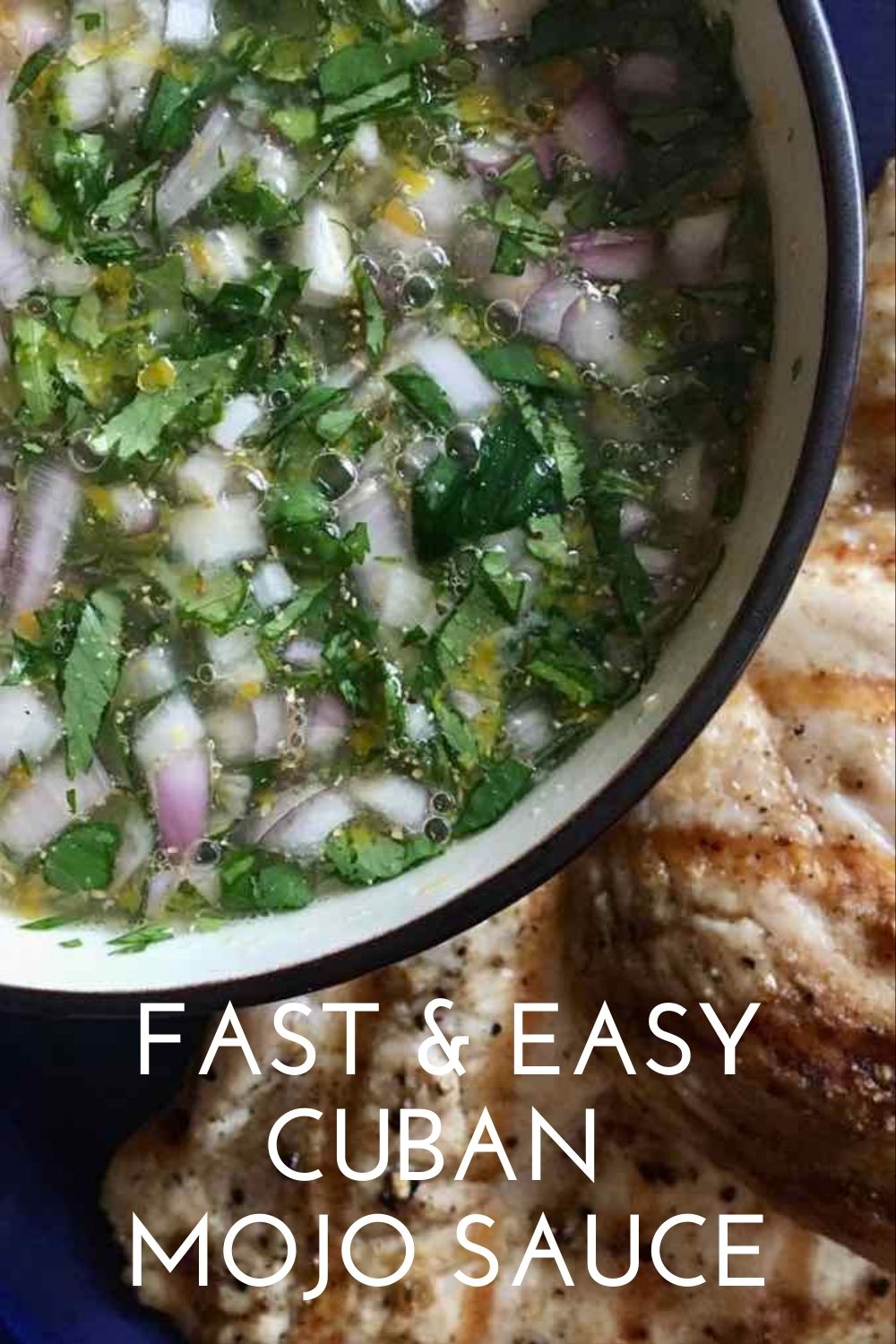 FREE APHRODISIAC NEWSLETTER
Subscribe to our free aphrodisiac newsletter