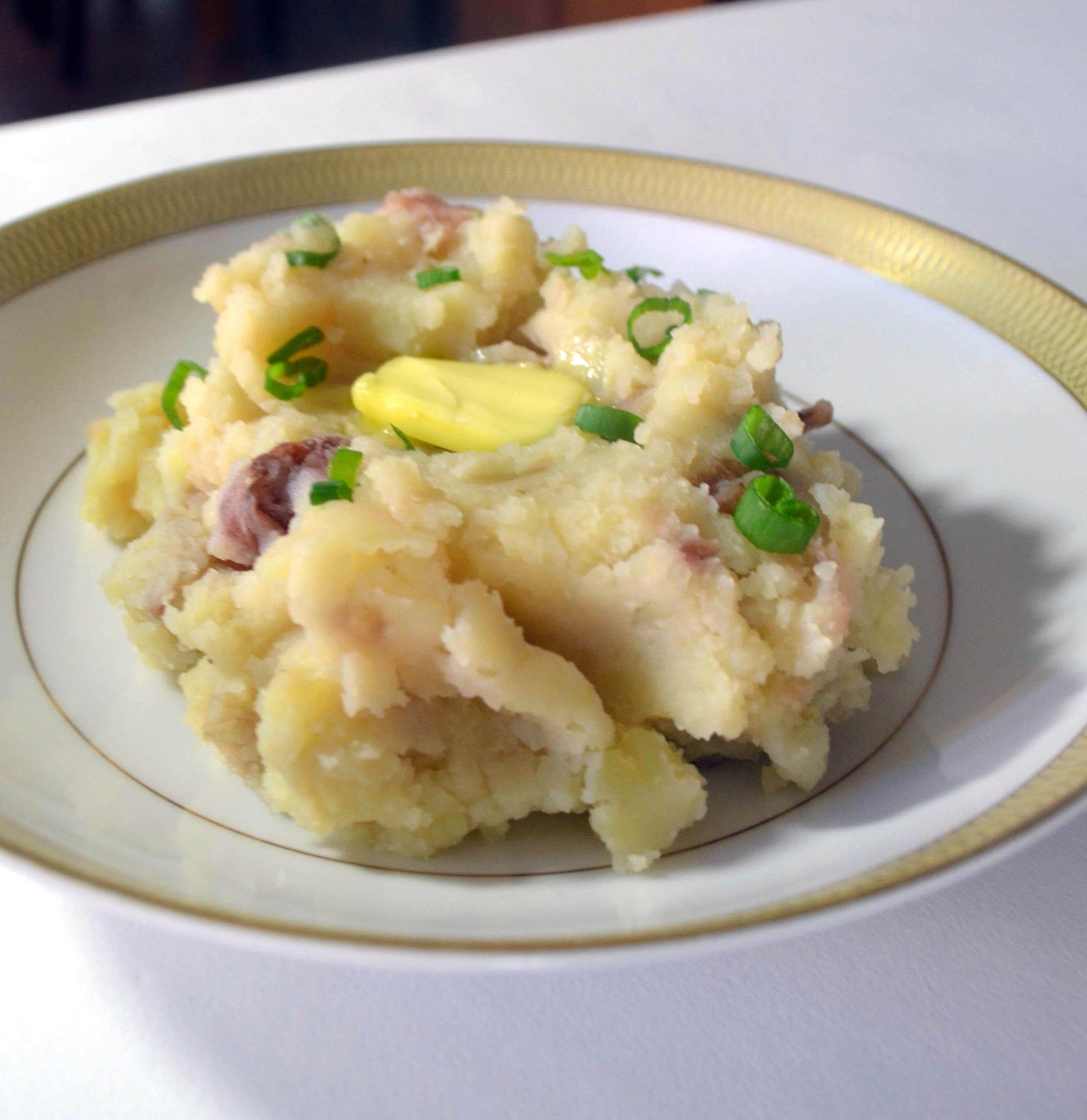 Modern Champ – A Healthy Irish Potato Recipe
Our articles may contain affiliate links. For more information, view our policies.
A traditional Irish potato recipe gets a modern-day makeover
I adapted this modern interpretation of an Irish potato recipe from Myrtle Allen's Cooking at Ballymaloe House: Featuring 100 Recipes from Ireland's Most Famous Guest House. I love this book and the recipes in it. But classic Irish recipes tend to be heavy and may leave you feeling ready for a long slumber. They're often not the stuff of which a romantic evening is made. My answer is to refine the recipes for a modern diet – but without losing the traditional flavors and techniques.
RELATED: Want a health potato alternative? Try Roasted Cauliflower Puree with Shallots
A little history of Irish potato dishes
The Irish are known for their potato dishes. In fact, before the potato famine of 1845, which was caused by a potato blight, as much as one-third of the Irish population was dependent on potatoes as a main source of food. Today, the Irish don't rely quite so heavily on the potato, an estimated 96% of Irish still rely on potatoes as a main form of starch.
And in order to keep the spud fresh, the Irish have invented countless ways to elevate the humble potato to an exciting part of a meal. There is, of course, potato soup. And then there are more exotic-sounding dishes like Boxty, Colcannon and Potato and Apple Pudding. But my favorite of all the Irish potato recipes is Champ.
Irish mashed potatoes
According to the San Diego Tribune, Champ is often served as the centerpiece of a meal in Ireland, although I prefer serving this Irish potato recipe as a side dish. It is, essentially a variation on mashed potatoes served with a pat of butter resting in a well at the top of a mound of potatoes.
But for me what gives Champ the edge over traditional mash is that this Irish potato recipe calls for scallions steeped in milk. The scallions gently infuse the milk with their oil, which helps to give the final potato dish an earthy flavor similar to garlic mashed potatoes but more subtle, smoother. The scallions, which are folded in to the final dish, give these potatoes added texture, a hint of crunch juxtaposed with the smooth mash.
Making champ potatoes more healthy
With this Champ recipe, I've taken Myrtle Allen's traditional potato recipe and given it a sexy spin by increasing the nutrients and cutting down the fat. Look, the secret to Champ, a scallion and mashed potato mixture, is the butter, the slightly tangy, full-bodied flavor of Irish butter.
So I didn't omit that pool of butter that is this dish's centerpiece. But I've found a way to slim down the great Myrtle Allen's recipe to make it perfect for an Irish seduction.
To make vegan champ
My version of champ is dairy-free, with the exception of the crowning glory, the butter added at the finish. So making a vegan version of this Irish potato recipe is simple. Just use vegan butter in place of the Irish variety.
Love Irish food? Don't miss this menu of Irish recipes for two! 
Sexy Champ
Print Recipe
This Irish mashed potato recipe gets a healthy makeover with hemp milk and just a light touch of butter. 
Ingredients
2

lbs

red

scrubbed and quartered (skins on), or your favorite thin-skinned potatoes

5

scallions

roughly chopped

1 to 1 1/2

c

hemp

soy or rice milk

1/4

tsp

salt

1

scallion

finely chopped

2

tbsp

Irish butter
Instructions
Boil the potatoes in salted water for 20-25 minutes or until tender.

While the potatoes are boiling, heat 1 c milk to a simmer. Add the roughly chopped scallions and simmer for 5 minutes. Set aside until the potatoes are done.

Drain the potatoes and transfer to a large mixing bowl.

Strain the scallion milk into the bowl with the potatoes and add the salt. Mash. If needed, add the extra 1/2 c milk for consistency.

Stir in the fresh scallions before serving. Season with additional salt to taste.
To serve:
Serve hot. Divide the mashed potatoes between six dishes. Make a hollow in the center of each serving and top with a pat of butter.
Pin this Irish potato recipe:
Latest posts by Amy Reiley
(see all)
Get on our mailing list
Subscribe and get our exclusive list of Six Great Sex-Boosting Snack Foods for FREE! Unsubscribe at any time.