The Effects of Peanuts on Females: the peanut & sexual health link
Our articles may contain affiliate links. For more information, view our policies.
Peanut is a health food? You might be surprised to discover the benefits of peanuts, particularly when it comes to women's sexual health. But the effects of peanuts on females aren't limited to just sex drive. Peanut is an inexpensive protein source and offers many of the same benefits as tree nuts. There are so many reasons women should eat peanuts. And that goes for peanut butter as well.
View the list of all 10 of the Best Foods for Women's Sexual Health
Are peanuts healthy?
Like tree nuts, peanuts offer the body a healthy source of fat. You may have heard the term "good fat" before. Despite what many popular diets might have you believe, we need a healthy amount of fats for the delivery and storage of many essential nutrients. And peanuts, or even peanut butter, can give us the nutrients our bodies crave. The healthy fat in peanuts may benefit both men and women. But we've ranked peanuts among the best foods for women because of its nutritional benefits that are particularly important to female health.
The benefits of peanuts sexually for females
There are so many ways the health benefits of peanuts can support a woman's sex life. Here's a look at the many ways peanuts affect women sexually. Peanuts are packed with nutrition to support a woman's sex drive and sexual function. A one-ounce serving of salted, dry-roasted peanuts contains:
164 calories
6.6g protein (13% DV)
2.2mg vitamin E (11% DV)
3.8mg niacin (19% DV)
40.6mcg folate (10% DV)
.6mg iron (6% DV)
49.3mg magnesium (12% DV)
184mg potassium (5% DV)
.9mg zinc (6% DV)
.6mg manganese (29% DV)
As you can see, peanuts offer many nutrients important to women's health, like folate, which is essential to the female reproductive system. It is essential to women trying to get pregnant and can help protect the developing fetus from birth defects during pregnancy.
The legume is also a source of biotin, which is another key nutrient for women during pregnancy. Biotin is also necessary for producing the keratin needed for healthy hair and nails. This is why you see biotin in many beauty supplements.
Fiber
Peanuts are legumes. (Legumes include all members of the pea family, like soy.) And, as a legume, the peanut offers all-important fiber. Dietary fiber, for women, can potentially boost sexual confidence. That's because ample fiber can reduce bloating and help a woman look and feel her best. In addition, fiber is linked with reducing inflammation in the body. The fiber in just one ounce of peanuts is about 9% of your daily fiber requirement.
Fighting signs of aging
Resveratrol is the phenolic compound found in wine. It's the reason drinking red wine is now known as a   "healthy" activity. And like red wine, peanuts are considered a source of resveratrol.
Resveratrol is considered beneficial against cardiovascular disease and may also have some anti-cancer benefits. In addition, it is known for fighting the visible signs of aging. So, similarly to fiber, the resveratrol in peanuts may not directly boost your sexual performance, but it may have skin benefits. More specifically, this groundnut could work to help you look and feel sexier with its anti-aging abilities.
Improving energy
Like all legumes, peanuts offer the body a good source of plant-based protein. In fact, they're considered among the best sources of vegetarian protein. And this goes for other peanut products, too, like peanut butter and peanut flour. It should be noted that peanut flour is not just a source of protein but a naturally gluten-free flour.
And while you know that you need fiber for energy, you might be wondering how protein-rich foods benefit sexual health. But the answer is very simple. Sex is a healthy form of exercise. Therefore, it requires protein for sustained stamina. A healthy protein source like peanuts may even help you last longer in bed.
Lowering risk of type 2 diabetes
According to the American National Peanut Board, peanuts are low glycemic index. This means they don't cause blood sugar levels to spike. A study published in the Journal of the American Medical Association demonstrated that eating peanut butter reduced risk of type 2 diabetes in women. This is great news for women's overall health and wellness. But because type 2 diabetes is linked with sex hormone imbalances, controlling blood sugar can prevent some problems with low libido.
Supporting weight loss
Peanuts are associated with supporting weight loss goals. Many nutritionists recommend both peanuts and tree nuts as a part of a healthy diet because they are known to curb cravings. Peanuts, along with tree nuts like cashews and almonds, take longer to digest than most snack foods because of their combination of protein, fiber and healthy fats. In one 2009 study, it was discovered that women who ate peanuts regularly were at lower risk of long-term weight gain and obesity. And since obesity is linked with sexual dysfunction in women, peanuts for weight loss can be beneficial to women's sexual health.
Longevity
In a study led by the Intermountain Medical Center in Murray, Utah, it was discovered that women who ate peanuts regularly had longer life spans. Although this may not add any extra spark to your sex life, isn't it nice knowing that eating peanuts can help you live a long, full life?
Benefits for both sexes
Some nutrients in peanuts benefit women's and men's sexual health equally. In addition to the nutrients in peanuts mentioned above as benefitting women's health, many of the nutrients found in peanuts are fantastic for men, too. Vitamin E, which is sometimes called "the sex vitamin," is essential to sperm and sex hormone production. According to Nature's Aphrodisiacs, some proponents say it gives the taker a rush of sexual energy when taken before sex. (Note that this claim lacks the support of clinical trials.)
Sexual function
Peanuts are also a source of magnesium, niacin and manganese. Magnesium is necessary for sexual functioning in both men and women. In studies on both women's sexual function and erectile dysfunction in men, niacin showed promise in boosting the sexual performance of both sexes. The manganese in peanuts is often considered a benefit for men more than women's health. That's because manganese is linked with a loss of sex drive and semen in men. And finding good sources of manganese is more important for men than women because men have a higher daily requirement.
Heart health
This tasty legume is a source of arginine. It's a nutrient often linked with men's sexual health because it helps keep blood pumping at a regular rate. Not surprisingly, a 2017 Harvard study showed that eating a few servings of peanuts per week may improve your heart health, which can also potentially improve sexual function and sexual satisfaction for both men and women.
Is a peanut a groundnut?
You may have heard that groundnuts, also called ground nuts, are good for women's health. And you might have wondered if the term groundnut refers to peanuts. A peanut is a type of groundnut. In North America, we tend to use the names peanut and groundnut interchangeably. But in other parts of the world, groundnut can refer to other leguminous crops related to the peanut. So if you're told that groundnuts benefits sexually can be remarkable for women, you might want to check with the source as to whether they're talking about peanuts or another groundnut.
Side effects of eating peanuts
Peanuts are considered relatively safe for most individuals, with the exception of those with peanut allergies. However, there is a risk of ingesting a toxic fungus called aflatoxin, found mostly in humid, tropical climates. However, according to the National Peanut Board, the risk of a consumer being exposed to aflatoxin in U.S. peanut products is extremely low.
Eating large quantities of salted peanuts can also increase your sodium intake so you should make sure to monitor the sodium in your peanuts.
But a peanut allergy is really the greatest risk of eating peanuts. Peanuts are among the most common allergens today. And they can trigger a life-threatening response in some individuals. Those with a known peanut allergy should avoid the legume and depending on severity, some individuals may even need to be careful about avoiding contact to the eyes and nose.
How to incorporate peanuts into your diet
To get the benefits of peanuts, they don't have to be prepared or served in any particular way. Raw, boiled, blanched and dry roasted peanuts all offer health benefits, as does peanut butter. But if you're watching your salt intake, be sure to check the sodium content on the label before you buy.
Peanuts make an energy-boosting, portable snack to help fill you up between meals. But they're also great for cooking and can be used in both savory dishes and desserts. Try peanut flour in baking to give cookies and cakes a rich, peanutty flavor. Our Nutrition Director, Delahna Flagg, recommends eating 1-1.5 ounces of peanuts per day.
Storage
Keep in mind that peanuts do go bad. Stored on the shelf or in your bag, peanuts generally last for about four weeks before they start to go rancid. If you know you aren't going to eat peanuts quickly enough, you can freeze them in an airtight container.
Recipes
Turkey Congee with Cranberries and Peanuts
Shredded Veggie Chicken Bowl with Peanut Sauce
Asian Fish Tacos
Soba Noodles for Two
Cacao and Raspberry Oats
Easy Flourless Peanut Cookies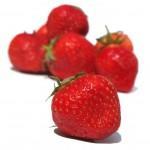 10 Best Foods For Women
Up Next: Strawberries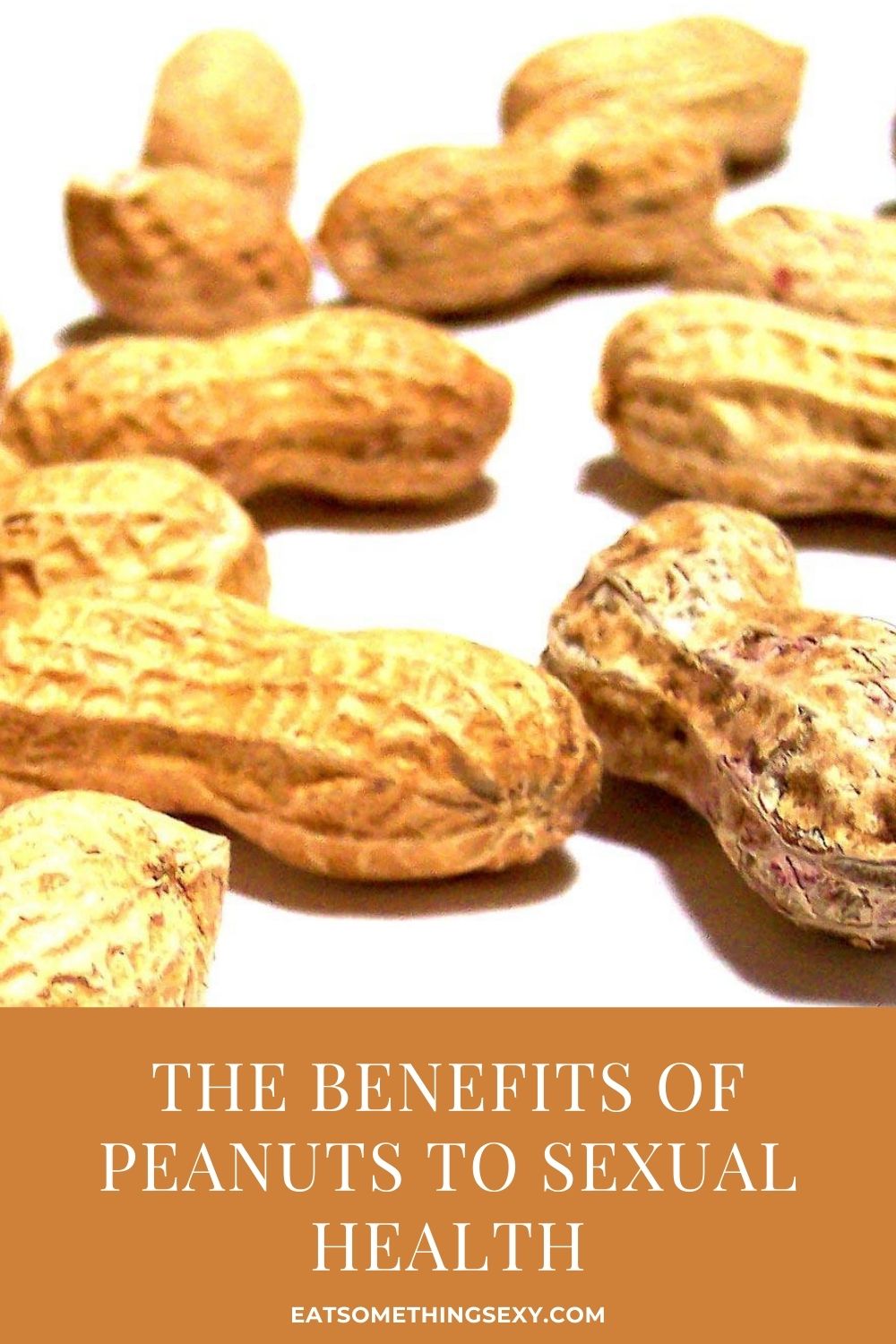 Edited by Delahna Flagg: This article was reviewed and additional research provided by Center for Mind-Body Medicine certified practitioner and Eat Something Sexy Nutrition Director Delahna Flagg.
Disclaimer: Please note that the information provided in this article is intended for informational purposes only and not to replace medical care. It is important to consult your physician before making dietary changes. More information
This article was written in 2015 and most recently updated in July 2023. 
Latest posts by Amy Reiley
(see all)
Get on our mailing list
Subscribe and get our exclusive list of Six Great Sex-Boosting Snack Foods for FREE! Unsubscribe at any time.