For Autumn Romantic Getaways in Maine, Look to Portland
Our articles may contain affiliate links. For more information, view our policies.
New England is an idyllic destination for anyone who loves fall colors. Autumn in New England is something every nature lover should experience at least once in their life.
Plan a Portland Maine romantic getaway
But where should you go for a couple's escape? Connecticut is crowded. Vermont? Perhaps too clichéd for getting "swept away." But you'll find unforgettable romantic getaways in Maine.
More specifically, for a destination worthy of a romance novel experience, I would like to suggest Portland, Maine. Portland may not be the destination that comes to mind when you think of the most romantic places in Maine.
But a romantic getaway in Portland, Maine has some surprises to offer for couples in need of a getaway for two.
Why is Portland a place for couples?
Not too far off the beaten track, Portland is a small and friendly coastal city surrounded by Maine's natural beauty. Founded as a fishing village, Portland is now a city of about 66,000 residents. Today it is very much a tourist destination but one that epitomizes all that Americans love about New England. And that's why Portland is near the top of the list of romantic Maine vacations.
When to go for the best fall colors
If seeing the explosion of fall color is your aim, the best time to book your trip is mid to late October. According to the Maine state website, the Portland-area foliage generally hits its peak around the last 10 days of the month.
If you want to go earlier but still enjoy the best of Maine fall foliage, consider planning a day trip to Georgetown Island. It's only about an hour's drive north of Portland and the trip will reward you with views of some of New England's finest coastal scenery. Additionally, this area should hit its peak of fall color about a week before the Portland area sees prime fall foliage.
Discover Cape Elizabeth
When leafing is your goal, another area outside the city that should not be missed is Cape Elizabeth. This day trip is another drive but it's only about twenty minutes from Portland. Allow yourselves a moment of role play as the hero and heroine of a historical romance, kissing at the foot of the iconic Two Lights lighthouse.
Pack a picnic to enjoy at Crescent Beach State Park for a true autumn in New England experience. (Or, in season, head to Lobster Shack Two Lights for casual seafood with an ocean view.)
Romantic things to do in town
If you're more of a lazy leafer, plan a stroll at Portland's Eastern Promenade. This sixty-eight-acre waterfront park offers plenty of quiet nooks for sneaking a kiss and snapping a selfie with a background of glowing autumnal reds and golds.
Commercial Street
While you're out and about in Portland, be sure to stroll Commercial Street. On the edge of the working waterfront, this street built on top of old piers is a wonderful representation of Portland's historic past and present.
You may have to share the clay brick sidewalk with countless other tourists, (Commercial Street is considered one of the best walking/shopping streets in America). Still, you're sure to appreciate the mixture of history and commerce.
Shop for Maine Tourmaline
And if you're heart desires a keepsake to remember your getaway to New England forever, consider a stop at Cross Jewelers on Congress Street. It's a local shop specializing in pieces made with Maine Tourmaline.
True, this stone generally features shades of pink or green, not the burnt sienna and crimson of fall foliage. But there is no other way to seal this perfect vacation than with a kiss – and a glittering chunk of this local rock.
TO TRY: Hot Apple Cider Cocktail with a New England Flare
Book a private charter to tour the local lighthouses
If you're feeling the need for more alone time, take to the water with a private charter from Casco Bay Custom Charters. The company specializes in romantic trips for two aboard the Monhegan, a restored lobster boat. The two-hour tour includes cocktails. If you wish to order in advance, you can also do lunch or brunch aboard the boat.
Alternatively, you can book a sunset sail about the Hesper. This trip is also two hours and can include food and drinks upon request. If you're feeling adventurous, you can even learn to handle the rigging with some tutoring from the boat's crew. Keep in mind that charters only run through the end of October and must be booked in advance. You can plan your charter experience on the Casco Bay Custom Charters website.
Unleash your inner artist
If indoor activities are more your speed, you can reserve seats at a Muse Paintbar tutored painting class with wine. The bar offers one class per evening and subjects can range from seasonal fruit to local landscapes.
On the drinks side, Muse offers a selection of wines as well as beers and wine-based cocktails. There's also a menu of bar snacks to provide budding artists with sustenance while they work. For the schedule and to reserve your seats, visit the Muse Paintbar website.
Dining
Hit a Maine clam shack
You cannot leave Maine without a visit to a New England clam shack or two. Salty Bay Seafood offers a walk-up window and picnic tables with a marsh view.

There are at least a dozen other good clam shacks around Portland but depending on the time of year, they may be overrun with tourists. But in autumn, you'll have a better chance of finding a secluded spot, or at least one without a line, than you will during the high season.
TO TRY: Recipe for the Perfect Lobster Sandwich
More Portland ME seafood
Some of the big names (read popular) in Portland, Maine clam shacks and seafood restaurants include:
The most romantic restaurants in Portland Maine
The aforementioned restaurant in the Francis Hotel, Bolster, Snow and Co. is considered one of Portland, Maine's best fine dining restaurants and one of the top picks for a special occasion date night.
But don't worry, you don't have to be a guest of the hotel to enjoy the restaurant's seasonal, American cuisine. To make reservations, visit the Bolster, Snow and Co. website. But this isn't the only romantic dining option in town. Francophiles will appreciate the French food and atmosphere at Petite Jacqueline, which is another of the city's most beloved special occasion restaurants.
Additional critically acclaimed restaurants popular for a date night include:
Solo Italiano
Chaval
Miyake
Via Vecchia
Where to stay: romantic hotels in Portland Maine
Portland's small but easily negotiable airport makes it a destination accessible to anyone. And that may be why Portland offers so many accommodation options.
The Francis
For couples looking to experience modern romance, The Francis is a historic hotel with recently renovated rooms. Amenities include an on-site spa and a restaurant featuring New England-influenced cuisine.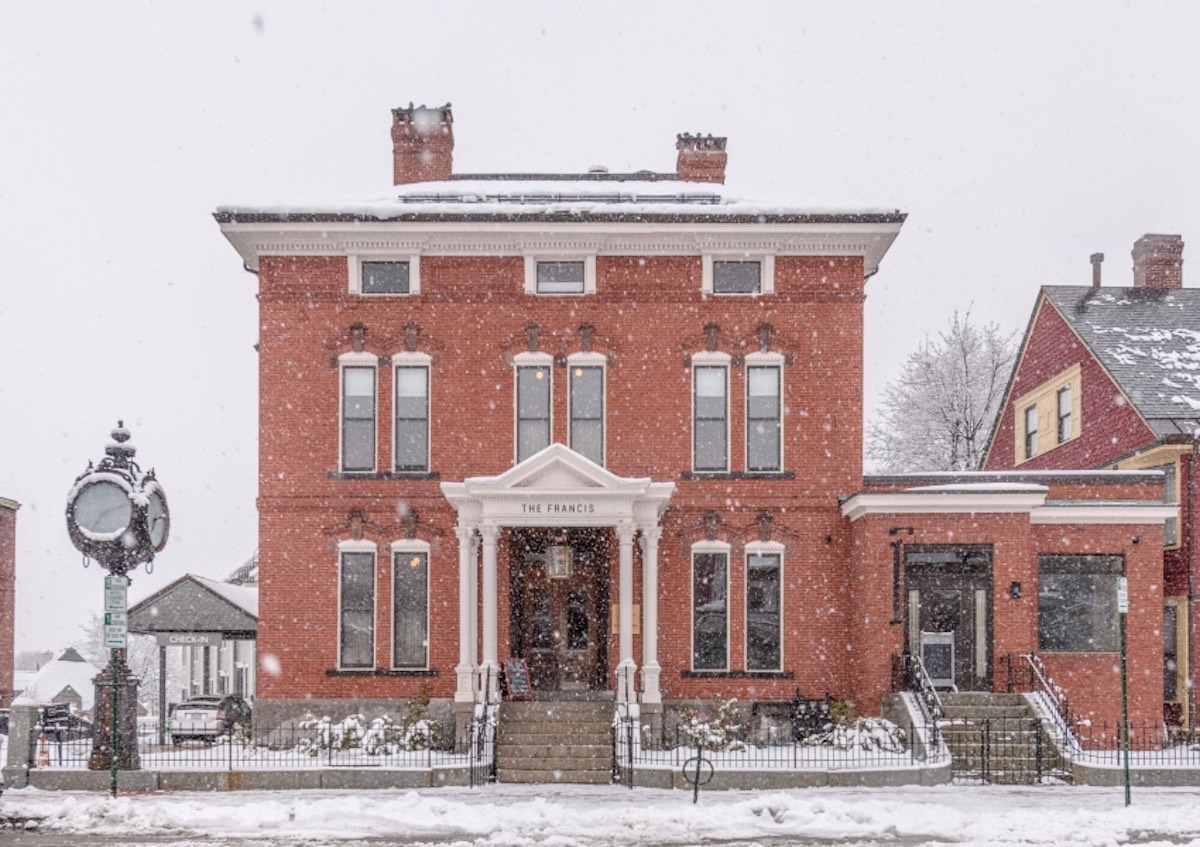 The Wolf Cove Inn
If exploring nature is more your style, there's the Wolf Cove Inn. It is outside of town but offers lake views from guest rooms and complimentary homemade breakfast every day.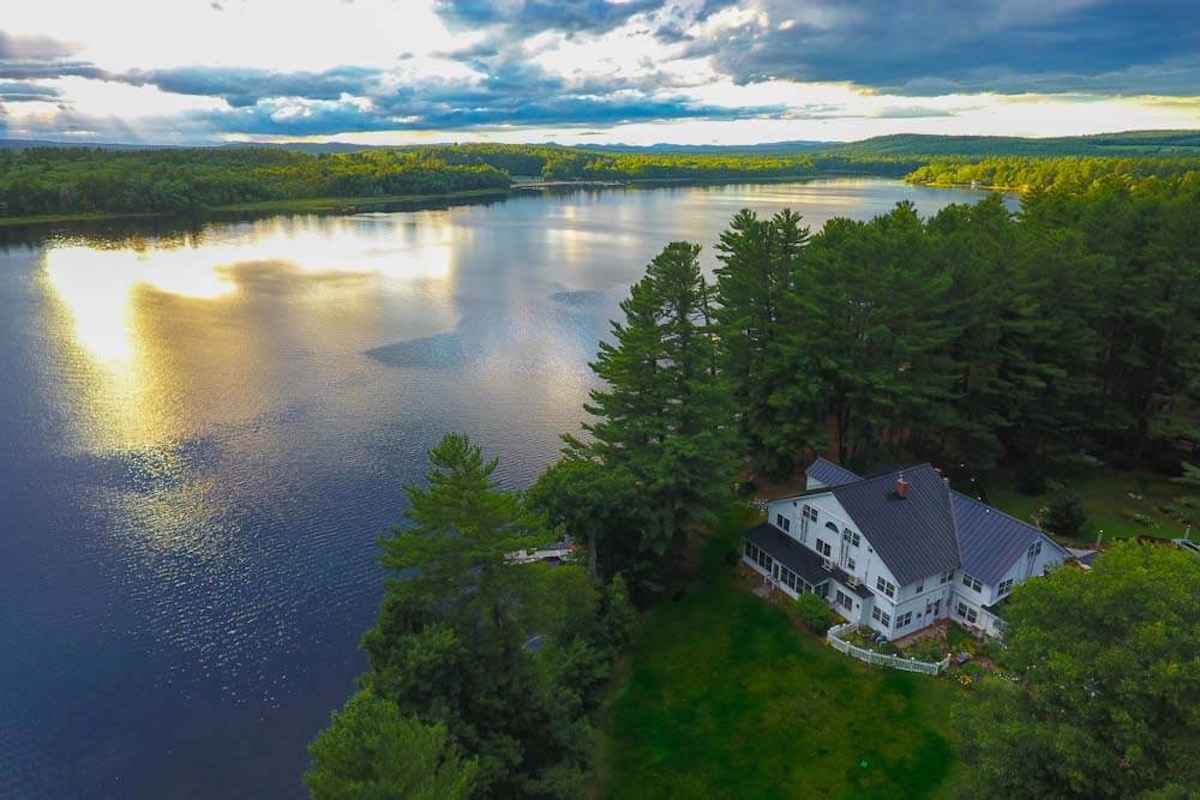 Other accommodations winning high marks as hotels for couples include:
Search for the best prices on Portland, Maine romantic hotels
For additional info
There truly is so much to discover on a romantic getaway in Portland and along the southern Maine coast. For more help in planning your autumnal getaway in Portland, Maine, check out VisitPortland.com.
Credits: Photo of The Francis Hotel courtesy of The Francis, Wolf Cove Inn aerial courtesy of the Wolf Cove Inn, Two Lights lighthouse photo by Keith Luke, clam shack photo by Julia Karnavusha.
Latest posts by Amy Reiley
(see all)
Get on our mailing list
Subscribe and get our exclusive list of Six Great Sex-Boosting Snack Foods for FREE! Unsubscribe at any time.