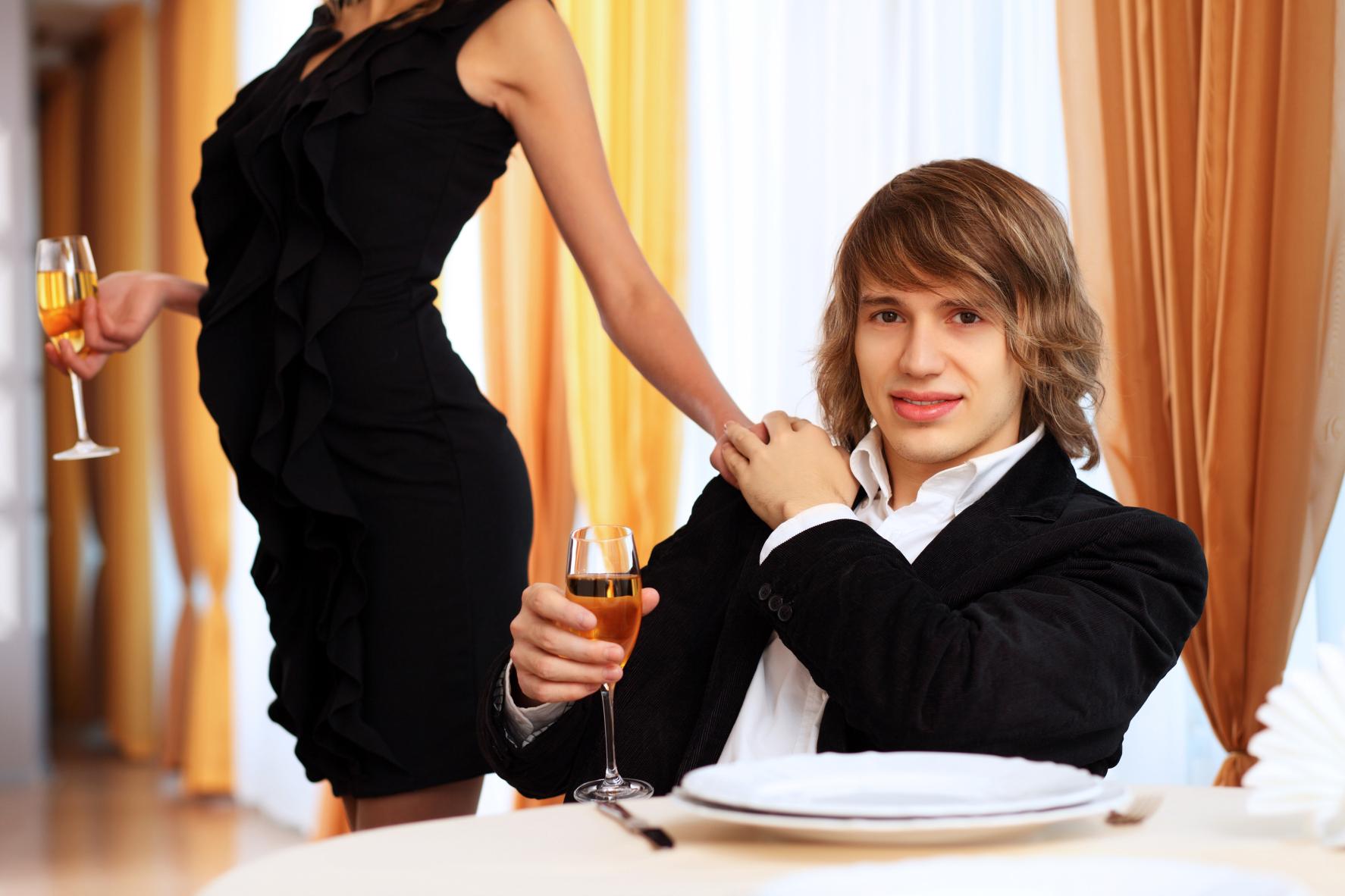 Fifty Ways to Feed Your Lover
Our articles may contain affiliate links. For more information, view our policies.
Yes, there are 50. Best of all, we have a whole guide to recipes you can pair with the best ways to feed your lover. Chef and aphrodisiac cookbook author Diane Brown knows a thing or two about creating romance in the kitchen. As a new way to experience Valentine's Day (or turn any night into a romantic occasion), she offers her favorite ways – all 50 of them, for feeding your partner's physical and emotional appetites. And they're delicious!
50 chef-tested ways to feed your lover by Diane Brown
Eat in on Valentine's Day. Why share the year's most intimate holiday with hoards of other couples?
Send a sexy dinner invitation: a pair of naughty undies with a card simply stating "You Are Invited," listing nothing more than the time and place sends a clear message of mystery and seduction.
Build a time machine: Recreate your favorite food memory, whether it was a delicious baguette you ate in Paris together or a clambake in Maine.
Use the KISS Method: Keep it simple and sexy. Prepare a healthy romantic dinner with simple, easily digested veggies and proteins, seasoned with bold flavors, and a bit of aphrodisiac magic. This leads to our next step:
Believe in aphrodisiac magic: The most powerful aphrodisiac you can serve feeds the mind, so whether you plan to dine on oysters or yarsagumba, make sure to serve up a sexy story that supports authenticity.
Do it together: I mean, cook in the kitchen.
Forget the forks: plan a meal that you can feed to one another.
Go for the glow: Votives and dim lights set the stage for true romance.
Amuse the mouth: prepare a small little nibble, or in restaurant-speak, an amuse bouche, to tempt your lover before your seductive dinner is served. My favorite small bite? Manchego cheese slivers topped with a crisp Asian pear slice.
Amuse the mouth #2: A savory crisp soy cracker with a slice of avocado and sushi-grade ahi tuna, with a bit of julienne scallion on top.
Amuse the mouth #3: Edamame spiced with Szechwan seasonings, a combination of ground pink peppercorns, sesame seeds, dried garlic, ground ginger, red pepper, and ground coriander.
Amuse the mouth #4: Sweet melon, such as honeydew, cantaloupe or Crenshaw, is the perfect match for salty, luscious prosciutto.
Amuse the mouth #5: Hummus is one of the most simple and sexy dips to create, plus ancient Arabian manuals claim that garbanzo beans give a man "the strength to pleasure a thousand women." Serve it with some toasted pita wedges.
Amuse the mouth #6: Shuck some fresh oysters and slurp their briny goodness right from the shell.
Create a sensual pre-dining experience by using a finger bowl of warm water scented with dried lavender and lemon juice.
Aperitif Play: Take a sensuous slurp of a stimulating aperitif from an erogenous zone. Champagne belly button shots anyone?
Put the booty in the booze: Try a cocktail that packs an aphrodisiac punch, like the Lover's Margarita, made with a 100% blue agave Agavero tequila blended with the damiana flower, an ancient aphrodisiac.
Sip on this: Sangria is a festive, flirty multicultural sipper. Just mix a good quality bottle of red wine with a cup of brandy, a teaspoon of cinnamon and your favorite fruit: apples, grapes, pears, strawberries, or orange slices all pair well. (Here's my winter sangria recipe.)
Imbibe like the Bard: Shakespeare said, "Alcohol, provokes the desire but takes away the performance." Take his advice by practicing moderation.
Blind tasting: Give your partner the ultimate sensual experience by blindfolding them, then feeding them sumptuous bites.
Nooky or cooky? Don't feel like putting out? I mean, in the kitchen…dial your favorite delivery, then dress up the table with a formal setting. You'll get the home-cooked feeling and still have energy for the main event.
Vampires Rule: Get all of the aphrodisiac benefits from garlic, if you both are enjoying it, neither of you will notice the pungent fragrance.
Chopstick or Fork? Grab a pair of sticks for a frisky way to feed your sweetie.
Location, location, location: Don't limit yourself to the dining room, have a sexy dining soiree in front of your fireplace, on a cushy sofa, or save steps and serve dinner in bed!
You're not the one cooking? Spoil your hard-working chef with a shoulder rub.
Tuck a hand-written note into your lover's napkin, for a sweet surprise that will make them smile.
Feed your partner their entire meal, holding her gaze and making each forkful a perfect, lustful bite. Delight in watching their carnal pleasure.
FLIRT! When was the last time you held your lover's gaze, touched their arm while you spoke to them, or laughed with pleasure at their stories? Fully flirt while you're dining, it's the ultimate compliment!
Get wild with a sexy story over dinner. Erotic talk over dinner has the hottest aphrodisiac value.
Forget the flowers: A fresh herb bouquet will pack a much more sensual response and has ancient aphrodisiac symbolism in Greek, Roman and Asian cultures.
Find a yin for your yang: Pair foods with opposite flavors, temperatures and textures for the ultimate sensory experience. Sweet and savory, hot and cold, creamy and crisp.
Use your resources: Two great cookbooks that can help you understand the sensual side of aphrodisiac cooking and provide some easy, delicious recipes are The Seduction Cookbook by Diane Brown and Fork Me Spoon Me by Amy Reiley.
Easy Main Event #1: For a simple, omega 3 rich, aphrodisiac-packed main entrée, bake your favorite fish with a drizzle of olive oil, a squeeze of lemon juice, a sprinkle of fresh chopped oregano and a tablespoon of capers. Just 7-10 minutes in a 350-degree oven is all you need to do to make your main event luscious.
Easy Main Event #2: Win the heart of your carnivore with a healthy yet decadent Herb-Marinated Buffalo Steak.
Easy Main Event # 3: Lamb Chops are the ultimate easy seduction. Tender, juicy, simple to prepare, and a sensual eat, all you need to do is smear them with salt and pepper, a good quality stone ground mustard and pop them under a broiler or on the grill until they are cooked to your desired doneness.
Easy Main Event #4: Don't forget about your vegetarian sweetie. Just whirl up a simple basil pesto (basil, toasted pine nuts, garlic and parmesan cheese) in a food processor, then toss it with a quickly cooked angel hair pasta or quinoa. Top with some more grated, good-quality parmesan cheese.
Get saucy: Serve up a red wine reduction, just shallots, red wine and a touch of butter, reduced down to a luscious syrup, on top of anything.
Flash back to Flashdance: Steamed lobster and butter, anyone?
Go low tech: Don't plan any extravagant after-dinner activities, like a Wii game or a DVD. Keep it low-tech and focused on one another; read a book of poetry, tell a story.
Dessert? In three words: Chocolate, chocolate, chocolate.
Bring out your inner artist: Melt and cool some luscious, 70% cocoa chocolate, puree some strawberries or raspberries with a little sugar and balsamic vinegar, or make and cool some homemade caramel with sugar and cream. Then using a paintbrush or your fingers, make an edible work of art right on your lover's body. This leads to the next tip:
Serve dessert and bubbles in the bath: Draw a sumptuous warm bubble bath and serve sweets inside. Double the bubbles and the fun with a glass of Champagne.
Eat dessert as the French do: Take a bite of your dessert, and pass it to your honey in a French kiss, mmmm!
Fruits of desire: Just a simple offering of fresh fruit can fan the flames of desire after a satisfying meal. The sugar rush of fructose elevates desire, as the positive antioxidant quality of most fruits promotes a feeling of well-being.
Show up naked with the dessert course.
Valentine's Day wouldn't be a true success without the morning after. The #1 morning-after treat to feed your lover: a freshly ground brew of certified fair trade coffee. They don't jive with java? A cup of their favorite tea or hot cocoa, all in bed, of course.
The Morning After Treat #2: Sumptuous, ripe fresh fruit, hand fed to your sweetie.
The Morning After Treat #3: Cut out a heart shape in a thick slice of country bread, then butter and toast it in a hot skillet. Crack open an egg and drop it in, then cook to desired doneness. Serve with Morning After Treat #1.
Whatever you serve, if you serve it in bed with a mimosa, it will taste sexier!
Get physical: Go for a brisk walk, hike or run and watch your lover's carnal appetite increase.
Sorry, Paul, I just have to add one more: Have fun with it. Feeding your lover is only limited to your healthy sense of adventure and curious palate.
Download the whole list of romantic dinner ideas
Now you can download a printable 50 Ways to Feed Your Lover checklist on Etsy. This printable planner can be printed multiple times so you can keep track of everything you've tried until you've experienced the whole list.
And if you love these suggestions, be sure to get my cookbook!

Latest posts by Diane Brown
(see all)
Get on our mailing list
Subscribe and get our exclusive list of Six Great Sex-Boosting Snack Foods for FREE! Unsubscribe at any time.