Easy Herb-Marinated, Grilled Buffalo Steak (American Bison)
Our articles may contain affiliate links. For more information, view our policies.
The meat we often refer to as buffalo is actually American bison, one of the most nutritious red meats you can choose. I love grilled buffalo steaks for their bold gamey flavor as well as all the libido-supporting nutrients this red meat offers. Bison is a great source of lean protein.
According to Berkeley Wellness, it is also a good source of omega-3 fatty acids, which have the ability to elevate mood. (In other words, grilled bison meat is a good mood food!) In addition, this lean, red meat is rich in libido-supporting nutrients including zinc, iron, B-12 and magnesium. Bison even made our list of The 10 Best Foods for Men.

Why I love this bison steak recipe
This recipe from Chef Annette Tomei is my alternative to grilled steak for a cookout with friends. But it is also a wise choice for a simple, romantic dinner. (See my notes below on serving this steak.) And keep in mind that this dish takes less than 5 minutes prep and only about 15 minutes cooking time. It's about as low-stress as a dinner recipe can get!
TRY NEXT: Coffee-Kissed Buffalo Burgers
I love the intensity of flavor and I like the fact that this bison steak recipe feels lighter than beef. This is a meal that I find energizing. And it is supremely easy marinated bison recipe.
The only step that takes a little mastery is the cooking. But follow Annette's tips, she's a former instructor at the French Culinary Institute, and you will bison steaks better than you ever dreamed.
TO TRY: Annette's Italian Sausage Risotto with Broccolini
Why should you marinate bison steak?
This recipe calls for a bison marinade made with a flavorful blend of spicy Dijon mustard, lemon, garlic and fresh herbs.
The acid in the buffalo steak marinade will work to tenderize the meat.
And although marinades generally don't penetrate the surface to a degree that it flavors the interior of the buffalo steak, it will flavor the exterior and add an incredible aroma durning cooking and when the marinated meat is served.
What to serve with buffalo steaks
I love serving it with asparagus when the slender green stalks are in season. Asparagus, as it happens, is also an aphrodisiac. So if you're planning a romantic evening, take note of this winning combo.
But that's not the only reason I like serving the spring green vegetable with this easy buffalo recipe. Asparagus offers a pronounced herbal note that pairs well with the char of grilling and the vaguely metallic tang of red meat.
Of course, you can serve the bison steaks with whatever vegetable is fresh and in season. You can also pair this recipe with any potato, sweet potato or whole grain side dish you'd serve with a beef filet. My choice is this Mediterranean Farro Salad.
As for wine, consider pairing this recipe with a great bottle of Malbec. 
How to cook buffalo steak (or any wild game meat)
Like all wild game, buffalo steak is a little tricky to grill.
Beef, with a higher fat content, is more forgiving than a bison steak.
Take note of the short cooking time
The bison steak marinade helps ensure that you're starting with a moist and flavorful piece of meat. Be sure to follow Annette's grilling instructions carefully and note the short cooking time for a succulent steak every time.
Allow your grilled bison to rest after cooking
Lastly, make sure to let your meat rest. Annette recommends 10 minutes for this buffalo steak recipe. As Steak School explains it, the moisture in your meat–and this goes for all meats as well, not just grilled, American bison–needs time to redistribute after cooking.
If you cut into it before the juices settle, the moisture will pool on your cutting board, leaving you with a dry, grey piece of meat.
TO TRY: Annette's Ultimate Bourbon Cocktail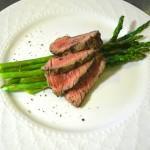 Easy Herb-Marinated, Grilled Buffalo Steak
Print Recipe
This recipe is a great substitute for a classic grilled steak for anyone looking to eat a more healthy meat. Buffalo, also called American bison is highly nutritious and low in fat. But because of its low fat content, you have to watch it carefully on the grill so as not to dry it out. 
Ingredients
1

lb

Bison Shoulder Steak

2 pieces, s, or other lean cut
For the Marinade:
2

tbsp

Dijon mustard

Juice of 1/2 fresh lemon

2

tbsp

Extra Virgin Olive Oil

1/2

tsp

fresh cracked black pepper

6

Branches fresh thyme

whole

2

cloves

garlic

peeled and cracked
Instructions
Whisk together all marinade ingredients except the thyme branches and garlic.

Place the steaks in a shallow glass or steel container. Place the thyme branches on top and a cracked garlic clove on each steak. Cover with the marinade. Rub in on both sides until well coated. Cover and hold in the refrigerator for at least one hour, up to 4 hours. Allow to sit at room temperature for 15 minutes prior to cooking.

Heat grill to medium-high and brush grill grates (or grill pan) with canola or grape seed oil before placing the steaks on the grill. Remove any thyme and garlic stuck to the meat; season with salt and more pepper if desired.

Grill on medium-high heat 2 minutes then turn the steak (on same side) 90 degrees to create grill marks. Cook another 2 minutes then turn 90 degrees again; cook 2-3 more minutes (for medium-rare – 3-4 minutes longer if medium is desired).

Remove the steak(s) from the grill and allow to rest on a cutting board for at least 10 minutes before cutting.

Slice ½ inch slices, across the grain and present over your choice of vegetable or whole grain side dish.
Pin this grilled, marinated bison steak recipe:
FREE APHRODISIAC NEWSLETTER
Subscribe to our free aphrodisiac newsletter