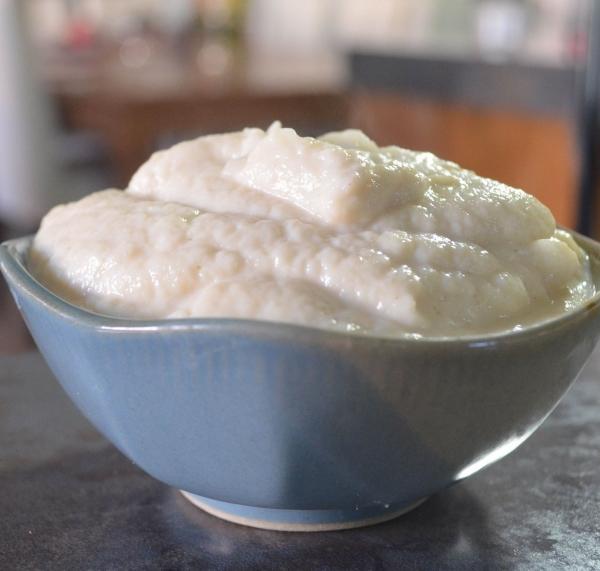 This cauliflower puree recipe is a keeper (and it's gluten-free!)
I know, just when you think you can't look at another cauliflower recipe…(!) I'm sharing this cauliflower puree from my personal recipe collection because, although I think cauliflower has been done in one too many ways, this recipe has been a staple in my arsenal for years. It isn't innovative. It isn't trying to be anything other than what it is–a vegetable puree. And as such, I think it is a satisfying veggie recipe and a great accompaniment to a grilled or braised meat dish.
I first started making this cauliflower puree at a time when potatoes really messed with my blood sugar. I needed something I could serve like a mashed potato with Thanksgiving turkey or a pot roast. Cauliflower seemed like the most likely substitute. It has the right color (or lack of color). And whips up in consistently very similarly to a potato puree. There's only one problem: I don't really like the flavor of cauliflower. That's where the shallots come in.
What are shallots, exactly?
Shallots are part of the onion family. But their flavor is milder than that of most onions. They offer an almost delicate balance of sweet, acidic, spicy and bitter flavors all at once–only in perfect balance. Roasting them brings out the sweet side a little bit while taking away that spicy, onion-y bite. And when they're added to cauliflower and pureed together, magic happens. Suddenly, any cabbage notes that might linger in the flavor and aromas of the cauliflower disappear and are replaced with a slightly sweet, deep and earthy onion note.
Chef's tip
I skipped the butter in my cauliflower puree because I was trying to make something reasonably healthy but this dish does welcome butter. So if you want to make a supremely decadent puree, diminish the milk by a couple of tablespoons and add in European, unsalted butter instead.
Roasted Cauliflower Puree with Shallots
This simple Roasted Cauliflower Puree is a great, light alternative to potatoes. And it's gluten-free!
Diet and Health:
gluten-free, Healthy
Seasonal:
Christmas, Holiday season, spring, Thanksgiving, winter
Ingredients
1

medium head

cauliflower

approximately 5-6 cups

1

large

shallot

peeled and trimmed

2

c

2% milk

1/2

tsp

salt
Instructions
Preheat oven to 425 degrees.

Lightly oil a large baking sheet.

Cut the cauliflower from the stem by shaving the florets in 1/2 inch slices. (Most of the cauliflower will crumble into tiny florets. This is ok.) Continue to cut until all the florets are removed and about 1-2 inches of stem remain. Discard the remaining stem.

Spread the cut cauliflower evenly on the baking sheet. Add the shallot to the pan and roast for 10 minutes in the center rack of the oven.

Remove the cauliflower from the pan and return the shallot to the oven for an additional 5 minutes or until completely soft.

Add the roasted cauliflower, the 2 cups of milk and the salt to a large stock pot and bring to a simmer. (The milk should almost cover the cauliflower. If the majority of the cauliflower is not submerged, add a small amount of milk, being careful not to add too much liquid.)

Simmer for 10 minutes, stirring occasionally.

Transfer the cauliflower mixture to a blender, adding the shallot, and blend until smooth.

Season with additional salt to taste.

Serve puree warm.
FREE APHRODISIAC NEWSLETTER
Subscribe to our free aphrodisiac newsletter