Whole Wheat Spaghetti with Raw Tomato Sauce
Tomato is a food of love
First of all, did you know that tomatoes are considered aphrodisiac? In fact, some historians believe that the tomato, not the apple, may have been the original fruit of temptation. You can learn more about the aphrodisiac potential of tomatoes in my Guide to Aphrodisiac Foods. In the meantime, I challenge you to experience them at their peak with this raw tomato sauce recipe. 
Why in the raw?
In winter the tomatoes available at the market are a sad shadow of the sensual, crimson summer fruit we can enjoy this time of year. Winter tomatoes are, at best sweet although restrained in flavor with a skin as tough as a rhinoceros pelt. And at worst, they're mealy, mushy with an interior the greyish-pink color of a nursing home infirmary. So that's why in winter I prefer my tomatoes reduced down into a rich, spice-filled sauce. But when tomatoes are at their peak, I can't bear the idea of cooking soft supple fruits until nothing more than the skins and bare essence of their flavor remains.
An experience made possible by the summer sun
I want to celebrate the stunning flavor of the tomato water; to luxuriate in their perfect, sweet, juicy, fruity goodness. And so I created this recipe for a raw tomato sauce. It's a sauce that should only be made in summer but one that, when the weather is right, is the most perfect thing you could bring to the table.
Whole Wheat Spaghetti with Raw Tomato Sauce
This simple pasta recipe makes a healthy meal from the lusty flavor of fresh, raw, ripe summer tomatoes.
Seasonal:
Labor Day, summer
Ingredient:
spaghetti, tomato
Ingredients
1 ½

lbs

ripe

garden tomatoes

1

clove

garlic

optional

¼

c

fresh basil

1

Tbsp

fresh garlic chives

use regular chives if the garlic variety is unavailable

1

tsp

fresh tarragon

1

Tbsp

red wine vinegar

½

tsp

coarse salt

pinch

black pepper

½

tsp

granulated sugar

optional

½

lb

whole wheat spaghetti*

1

tsp

olive oil

approx. 4 Tbsp freshly grated parmesan for serving
Instructions
Wash the tomatoes and divide out one third. Take that third and pulse it in a food processor or heavy duty blender, (I use a Vitamix), until it's frothy soup. If you like your pasta sauce particularly garlicky, you can add the clove of garlic here and pulse until fully pureed.

Core the other two thirds of the tomatoes and chop into ½ inch pieces.

Toss the chopped tomatoes into a mixing bowl with the pureed tomatoes, basil, garlic chives, tarragon, red wine vinegar, salt and pepper. If your tomatoes aren't peak-of-the-season sweet and juicy, you may want to add the sugar. But ripe, in-season tomatoes should be sweet enough on their own.

Gently toss the mixture to fully incorporate and adjust seasoning to your personal taste. The tomato sauce can be prepared in advance and rest at room temperature until serving time.

Make the pasta according to the package instructions, cooking to al dente. (You can cook the pasta to full doneness if you prefer, but I find biting into a strand of spaghetti with just a hint of firmness at the center to be a far more sensual experience.)

Transfer the drained pasta and toss with the olive oil then top with the raw tomato sauce.

Serve warm or at room temperature with a sprinkle of parmesan. (I recommend a tablespoon per serving but adjust to suit your preferences.) If you like your sauce thick, you may want to strain out some of the tomato "water," as this sauce is quite thin. But you can serve the remaining tomato water as a palate cleansing soup--try it! It's delicious!
Notes
*This recipe works with any type of spaghetti. I use whole wheat for the boost of vitamin E as well as the deep, nutty, woodsy flavor it adds to the dish. But you should feel free to substitute with brown rice pasta, spelt pasta or the white kind.
Note: The pasta is perfect for a picnic but I recommend traveling with the pasta and the sauce in separate containers.Transport the pasta at room temperature and top with the sauce and cheese when serving.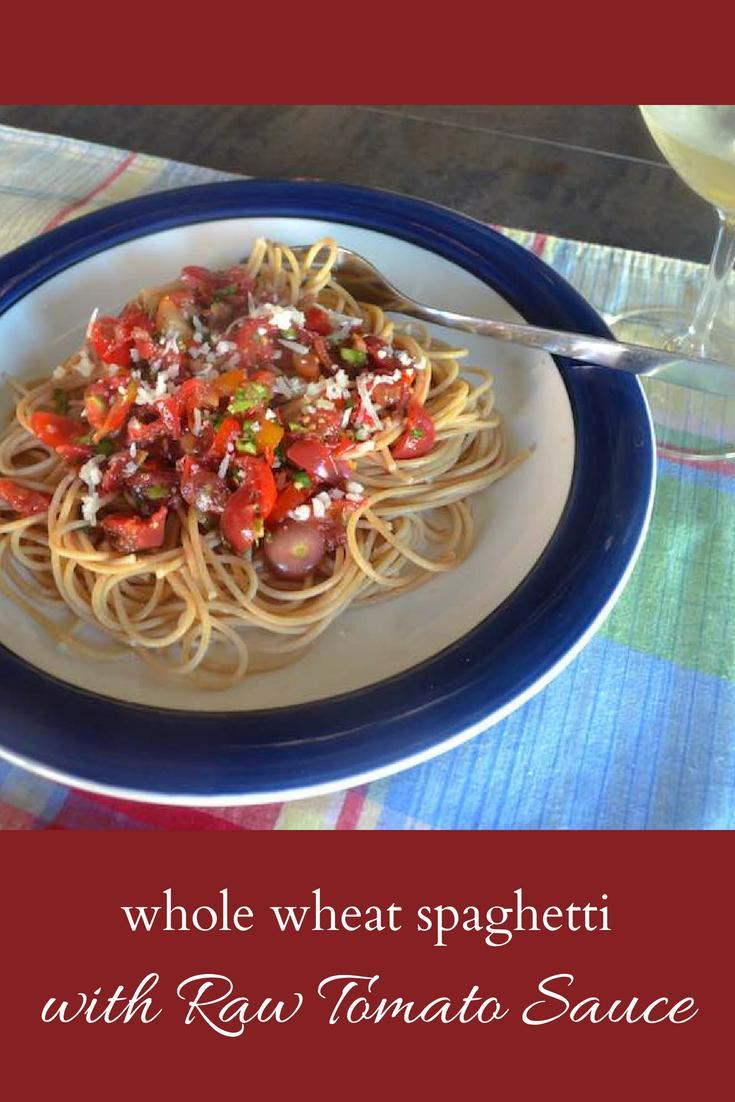 FREE APHRODISIAC NEWSLETTER
Subscribe to our free aphrodisiac newsletter