Heirloom Tomato Gazpacho – a vegan soup for summer
Our articles may contain affiliate links. For more information, view our policies.
Heirloom Tomato Gazpacho elevates cold soup to a new level
I created this Heirloom Tomato Gazpacho recipe as my way to use the late summer's tomato bounty. I used to use beefsteak for my cold summer soups. But once I started growing my own tomatoes, I was able to focus on using the most flavorful varieties in my cooking. What I discovered is that heirloom tomatoes takes the flavor of gazpacho to a much higher level of tomato intensity. It brings serious sweetness, tang and tomato-ness to what was already a great soup.
My gazpacho is heavy on garlic. I did this not only for flavor but to increase the aphrodisiac properties of this easy summer soup. (In case you didn't realize it, tomatoes are among the world's most legendary aphrodisiacs.) It's easy to make a vegan version of this gazpacho. Although I personally prefer my heirloom tomato gazpacho made with chicken stock, vegetable stock work perfectly well. And other than that substitution, the soup is naturally vegan-friendly!
What are heirloom tomatoes?
If you love cooking with fresh produce, I'm sure you've heard of heirloom tomatoes. You've probably even used them. But you may not know what the term "heirloom tomatoes" means, other than it's the name for some funny looking fruit!
Heirloom tomatoes are grown from seeds that are saved from the plants that make the best fruit they're then used season after season. They've been naturally pollinated and retain their original character. Of course, if you've ever visited a farmer's market in August, you know that the term heirloom tomato does not refer to just one kind of tomato.
Which heirloom tomatoes should you use for your gazpacho?
That really depends on a combination of what's available and your personal preference. If you like your soup a bit sweet, you might choose different varieties than someone who likes their soup with a more vegetal flavor.
A good guide to heirloom tomatoes
Those of you who eat heirloom tomatoes regularly have a good idea of which tomatoes to pick to make the soup with the tomato intensity you're looking for. But if you aren't feeling certain of what you're looking for, Cooking Light has a nice guide to the flavors of some of the most popular varieties.
heirloom tomato gazpacho
Print Recipe
Ingredients
1

dozen medium heirloom tomatoes, 7 peeled

1

large cucumber

1

red onion

1/2

head garlic

3

bell peppers

1 yellow and 2 red

1

bunch cilantro

6

oz

vegetable or chicken broth

1/2

french baguette

1

tbsp

olive, grapeseed or avocado oil

pinch

cumin

salt and pepper to taste
Instructions
Cook down 7 peeled tomatoes in your vegetable or chicken broth. Season according to your taste buds. (You will know that the tomatoes have cooked down enough once they have lost their form completely.) Remove, let cool, then blend in a food processor .

Small dice all your veggies as well as the rest of your tomatoes. Mince the garlic, and decide how you would like to see the cilantro-personally I like to mince half of it till it's almost dust and then have some whole leaves for aesthetic.

Heat a pan, searing hot, and toss in your oil with a dash of cumin. (You can do this while the tomatoes are cooking.)

Quickly add your bell peppers to the pan and get a light, even, sear. Remove from pan and let cool.

Combine all the vegetables (with exception of the bell peppers) and garlic into a bowl and let their flavors mingle for couple hours.

Add everything to the tomato base (made in #1). Let sit overnight.

Thinly slice the baguette and toast in a 350F oven till it breaks easily and finely. Crumble into the already-chilled gazpacho.
And if you're looking to try growing your own heirloom tomatoes next summer, check out the Seed Savers Exchange.
Pin this Heirloom Tomato Gazpacho Recipe: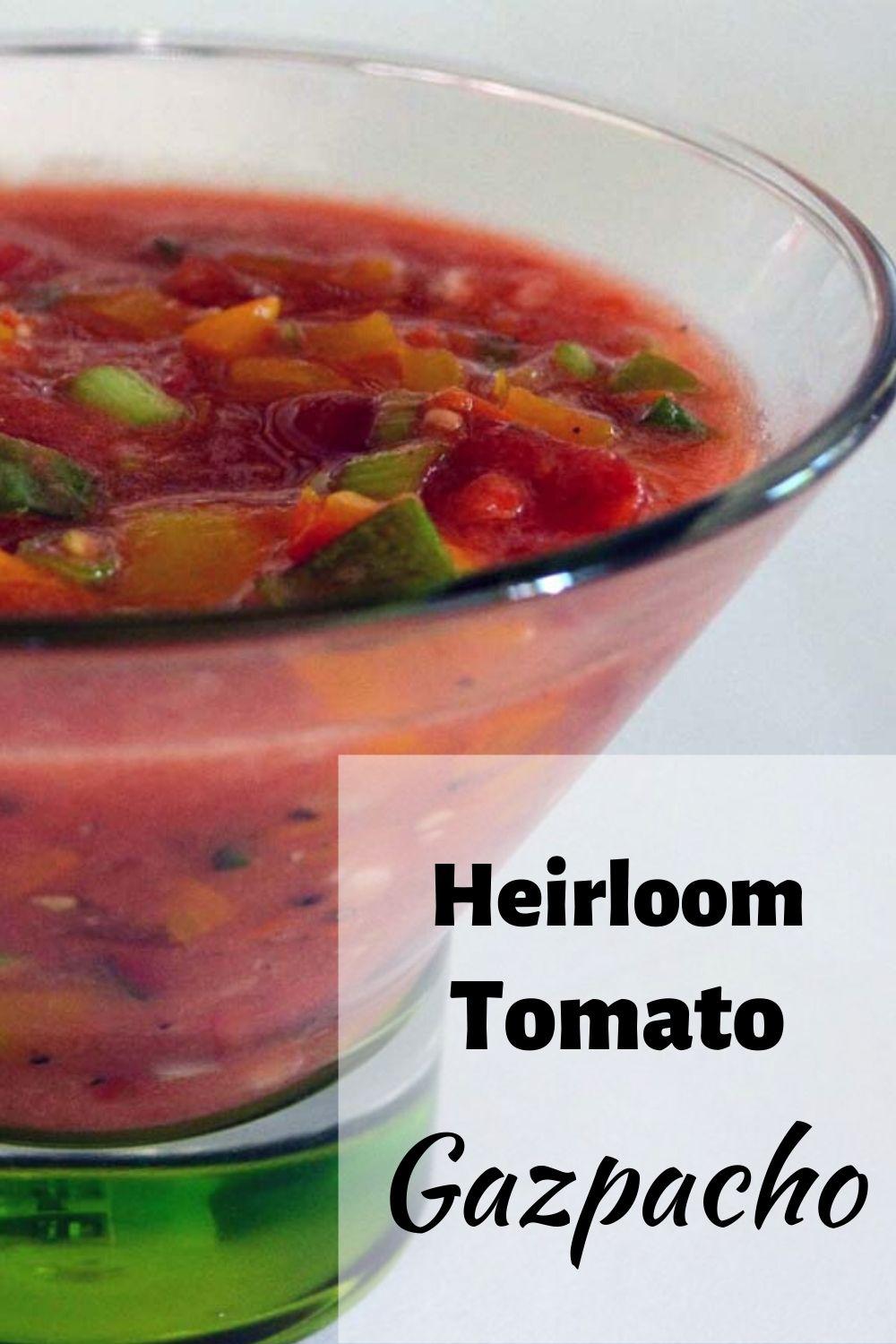 FREE APHRODISIAC NEWSLETTER
Subscribe to our free aphrodisiac newsletter