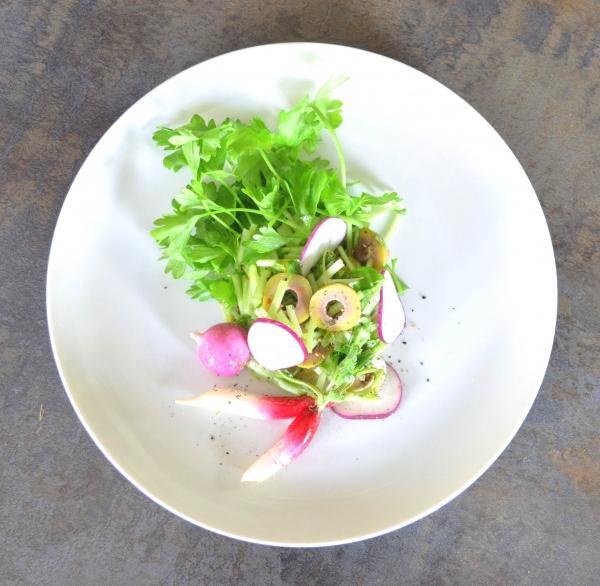 Mediterranean Olive Salad with Celery Recipe
Our articles may contain affiliate links. For more information, view our policies.
My grandmother's cooking was one of the highlights of my childhood. The aromas of the finest Mediterranean ingredients always swirled about her kitchen. One of my favorites was her olive salad, made with thickly sliced Greek, green olives.
You may have experience with the New Orleans style of olive salad, Muffaletta. It's the secret to making a great Muffaletta sandwich. (A muffaletta olive salad is a finely chopped mixture of olives, peppers, garlic and olive oil. That kind of salad with olives is delicious but it's very different than this side salad recipe of my childhood memories.
This olive salad recipe is lighter, more subtly flavored. It is designed to be a refreshing side salad whereas the New Orleans olive and garlic salad is more of a relish or dip. Both are delicious but if you're looking for a new way to do salad and you love olives, this is the recipe for you!
An olive and celery salad for romance
The addition of baby celery, however, is all my own. I was inspired by a trip to the farmers' market to try and recreate my grandmother's olive salad. Springtime is my favorite season at the market. I love the tenderness of baby vegetables. And the surprise ingredients the season might bring – like baby celery.
And since celery is historically and scientifically noted as an aphrodisiac, I thought it would make the perfect addition to a sensual salad. The base of this springtime salad remains as my grandmother made it, with Greek olives. But I layered my version with a variety of textures and flavors for a true sensory experience.
Celery and olive salad ingredients and substitutions
I realize this isn't a typical grocery store ingredient. If you're lucky enough to happen upon some at a farmers' market or can grow your own, make sure you remember this recipe! For the rest of the time, you can use the soft leaves at the center of your celery as a substitution.
My grandmother always used green, Greek olives she sliced thickly before tossing with the vinegraitte. But I find that Sicilian olives work well as a substitution.
I like to use the tender, thin breakfast radishes for this recipe but you can use the common, garden variety. (For the photo, I used a combination of the two to give the salad a variety of shapes and colors.) Just be sure to use fresh radishes. They tend to get bitter if they're too old.
For the vinaigrette, I like to use a neutral oil as opposed to oil with flavor, like olive oil. (The salad already has plenty of olive flavor.) In this case, I use grapeseed oil, but you can also use avocado oil, which has many health benefits and is one of the most versatile oils for cooking. You can also use extra virgin olive oil, if that's all you have on hand.
How to serve this simple salad recipe
I like to serve this easy spring salad as an antipasto. It's a great accompaniment to sandwiches. I even like putting a little on a salami or ham and cheese sandwich. (Make sure you use bread with a good, thick crust, like a french country loaf or baguette. A softer bread might disintegrate because of the added moisture of the salad.)
You can also serve it as an accompaniment to a charcuterie board or on a grazing board. It travels well for picnics but I recommend packing the salad and dressing separately and tossing it at the picnic spot to ensure that the radishes and celery leaves don't go limp.
More great salad recipes
If you're looking for more salad recipes you can use as an appetizer or side dish, here are a few of my favorites:
Brown Rice Salad with Leeks, Golden Beets and Kale
Greek Olive Celery Salad
Print Recipe
Chef Annette Tomei give summer salad a makeover by combining briney olives with bitter celery and the bite of radish. 
Ingredients
1 ½

cups

sliced celery with young

tender leaves if possible

1

cup

pitted Greek large green olives

or Sicilian, sliced thick

2-3

fresh radishes

sliced thin

Salt

Pepper

Optional: if using very fresh tender celery

incorporate the leaves as well, roughly chopped
For the dressing:
1

Tbsp

red wine vinegar

1

Tbsp

grapeseed oil

or avocado oil

1/2

tsp

dried oregano

or 1 teaspoon fresh, chopped
Instructions
Combine the celery, leaves (if using), olives, and radishes in a bowl (incorporate some of the oil marinade from the olives if desired for extra flavor). Season lightly with salt to begin softening the celery.

Whisk together dressing ingredients. Adjust seasoning as desired. Toss dressing with the salad.

Enjoy immediately, or--even better--allow salad to sit for at least 30 minutes before serving.

Serve as an antipasto or as a side with sandwiches, charcuterie or cheeses.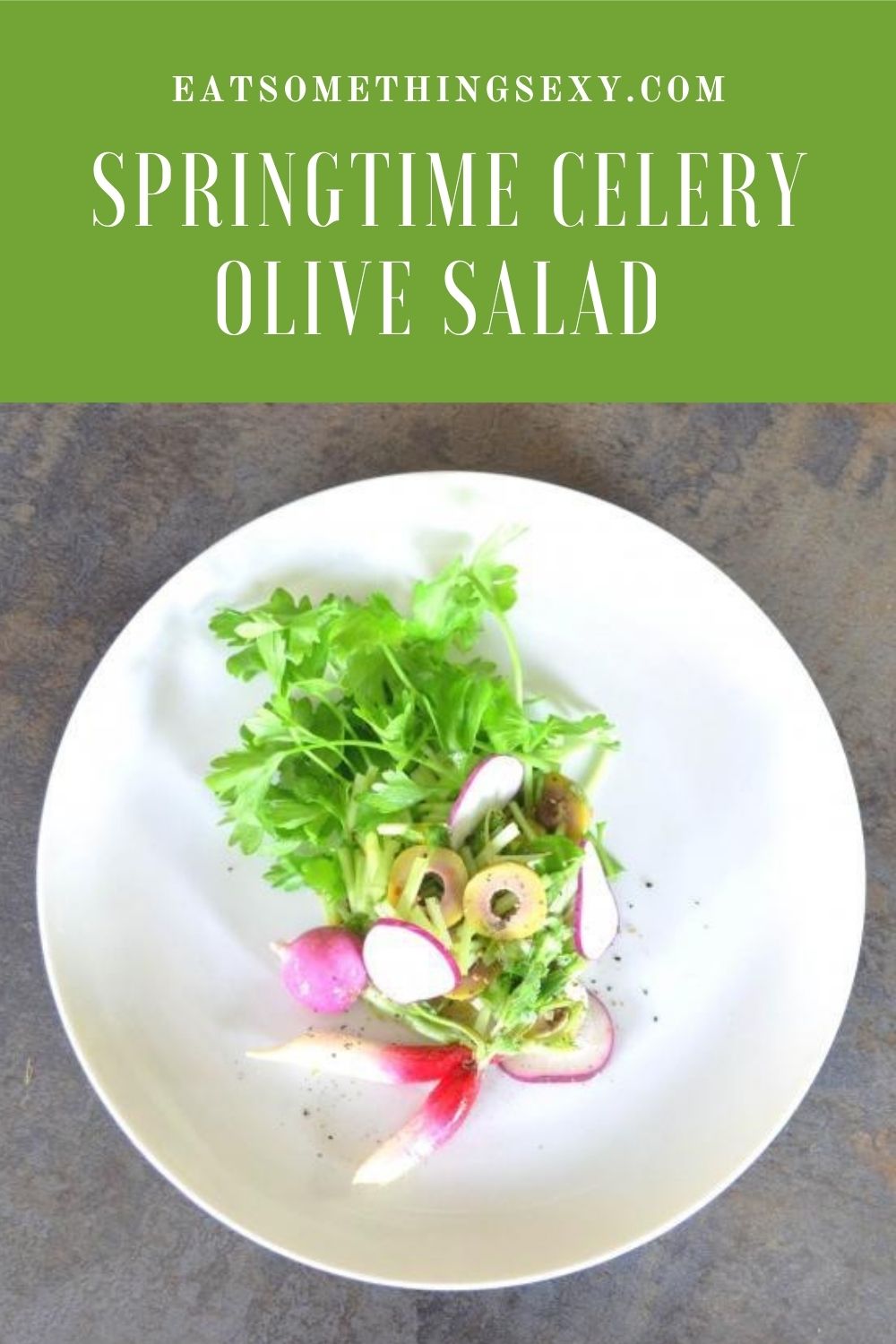 Latest posts by Annette Tomei
(see all)