A Tequila Hot Toddy Recipe
Our articles may contain affiliate links. For more information, view our policies.
A tequila hot toddy? Why not? Most hot drinks fall into the category of Hot Toddies. The history of these beloved cocktails, unsurprisingly, is full of lore. Barroom histories say as much about the teller of the tales as the drinks themselves. And the Hot Toddy is no exception.
TO TRY: Love hot cocktails? Don't miss my Hot Apple Cider Cocktail recipe! 
You Say Taddy, I say Toddy
From the Hindi palm sap beverage, taddy, that was enjoyed by the Brits in India in the 17th century, to the anything-goes hot spirited concoction of today. Hot Toddies have been warming weary souls for centuries.
RELATED: Try this rum version of a hot toddy
What's in a hot toddy?
The basic recipe includes a spirit, (originally whisky or rum), sweetener, citrus and hot water.
The hot toddy is not only historically relevant to pubs and bars, it was considered to be legitimate medicine well into the 20th century. Doctors prescribed toddies for all, even young children. Though the age restrictions have changed, many people still swear by the healing properties of warming spirits and good dose of Vitamin C from the citrus in the form of a delicious, soothing hot beverage.
Need some hot cocktail mugs? Click here for a great selection. 
A hot tequila drink on a tropical holiday
Today "hot toddy" is more of a category of drinks rather than a specific recipe. The components remain the same: spirits, sweetener, citrus, and hot water. But, from there, it's all about getting creative with what you have available. Bartenders and cocktail recipe developers world-wide have pushed the limits of their imaginations in creating new spins on this classic. But what's the best liquor for a hot toddy? That's up to you!
For my hot toddy with tequila, I've focussed on the curative aspect of the drink. Honey, lemon, and ginger are all home remedies I turn to throughout the winter. They soothe scratchy throats, warm the belly and provide lively aromas for a slightly stuffy nose
But do you know what else is great about the ingredients in my tequila toddy? They're all aphrodisiacs!
RELATED: Discover which foods are aphrodisiacs. 
As for the spirit in this spin on a toddy, I chose a mellow, smooth aged tequila. Not only does the tequila provide earthy aromatic backdrop for the ginger and honey, it also reminds me of warmer winters on the Mexican Riviera. And who wouldn't want to be there right now?!
Need a bottle of tequila? Search what's available near you with Drizly.
For more history and tales of different types of hot cocktails, visit me on Wander Eat and Tell.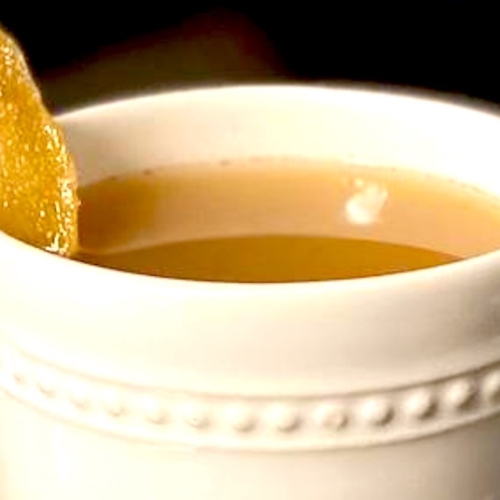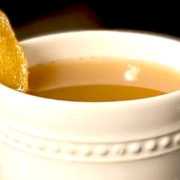 Miel de Jengibre Tequila Hot Toddy
Print Recipe
A tropical twist on a hot toddy cocktail made with tequila and ginger.
Ingredients
1

packet honey ginger tea crystals

I like Prince of Peace brand – Trader Joe's has a 100% ginger that would work too – add your own honey to taste

1

cup

boiling water

2

oz

Partida Reposado Tequila

or your favorite tequila

1

oz

fresh squeezed lemon juice

about 1/4 of a lemon

5

+ drops Scrappy's Firewater tincture

or your favorite spicy bitters
Instructions
In a mug, dissolve the ginger honey crystals in the boiling water, add the tequila and fresh lemon juice, and a few drops of spicy bitters. Adjust to taste.
Pin this hot tequila cocktail recipe:
This post may contain affiliate links.
Latest posts by Annette Tomei
(see all)
Get on our mailing list
Subscribe and get our exclusive list of Six Great Sex-Boosting Snack Foods for FREE! Unsubscribe at any time - privacy policy