A Hot Sorrel Drink Recipe
Our articles may contain affiliate links. For more information, view our policies.
The Jamaican Rum Hot Toddy
This hot cocktail is my new, Caribbean drink for cold winter nights. I like the idea of drinking something tropical in winter. And since this is a hot sorrel drink recipe, it's also a great antidote for the cold.
RELATED: A Hot Apple Cider Cocktail with New England Flavor
What is Sorrel?
When you hear the word sorrel, you might think of a soft, leafy green. That is not the sorrel we're talking about here. The sorrel drink is a sexy Jamaican specialty. It is a punch made from an infusion of hibiscus blossoms or hibiscus tea. It is a punch bowl drink, (rum optional), in a brilliant, crimson red color and a sweet-tart flavor.
Now, sorrel is a drink typically served during the holiday season. In fact, most Jamaicans I know – no matter how far from their tropical homeland they stray – say it isn't Christmas without a Jamaican sorrel drink. And once you try making this slightly spicy, crimson drink, I think you might say it is a necessary part of your holiday celebrations moving forward. But why stop at Christmas? I say hold on to this sorrel cocktail recipe to set the tone for a romantic Valentine's Day, too.
How to make sorrel syrup
To make a sorrel drink, you will need a sorrel syrup, like the one in my recipe below. For the sake of timing, please don't forget that the sorrel syrup must be cooled completely before you use it in this or any sorrel cocktail. (You can keep the sorrel, refrigerated, for seven to ten days.)
The main ingredient in sorrel syrup is hibiscus. (Did you know that hibiscus has many health properties, including some linked with sexual health?) You can use dried hibiscus flowers, sometimes referred to as dried sorrel, but I prefer the ease of using hibiscus tea.
My recipe for sorrel
As you can see from the recipe below, my sorrel is a departure from the original, Jamaican, sorrel drink. Instead of an icy, refreshing punch bowl drink, my sorrel cocktail is served hot. In fact, I'd call it a variation on a hot toddy made with rum and my spiced-up version of hot sorrel tea.
The other major difference between my sorrel recipe and what is known as sorrel in Jamaica is that I'm recommending this drink not just during the Holiday season but as a Valentine's Day cocktail – or at least a drink for a romantic occasion – if Valentine's Day isn't your thing.
RELATED: Adam & Eve Hibiscus Martini
Why sorrel recipes are great for romantic occasions
Although my recipe is a departure from Jamaican sorrel, my sorrel syrup uses the same two main ingredients as a Caribbean sorrel punch. And both of these ingredients happen to be aphrodisiac.
As I mentioned earlier, hibiscus, the main ingredient in the Jamaican drink, is surprisingly nutritious. And it also has a history as an aphrodisiac as well as nutritional links to sexual health and performance. Not bad for a pretty flower!
Ginger, a common holiday season spice, is the other main flavoring in the classic Jamaican sorrel drink. The ginger balances the tart taste of the hibiscus tea, cutting through with a delicious bite. But it also adds another layer to the aphrodisiac possibilities of this Caribbean drink.
Ginger is known for an ability to raise body heat – perhaps even prompt the urge to tear off one's clothes. It also makes the tongue tingle with anticipation. And it makes the lips plump naturally with kissable softness.
RELATED: Ginger – Aphrodisiac & Sexual Benefits
The other traditional sorrel drink ingredients I use in my hot sorrel cocktail, including the fragrant, exotic spices of cinnamon, allspice and clove were all historically celebrated as aphrodisiacs. Which is yet another reason to break this ruby-red drink out for some Valentine's seduction.
Choosing your spirit for this sorrel rum toddy
I make my sorrel hot toddy recipe with Dos Maderas Anejo Rum. It is not Jamaican but it comes from the Caribbean and embodies the spirit of this tropical, winter drink. It is oak-aged and fairly complex, with pleasing sweetness to balance the hibiscus tea. I recommend trying the drink this way but you can always use your preferred rum.
Shop for rum with Drizly, the local alcohol delivery service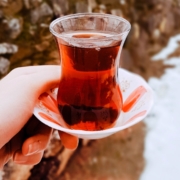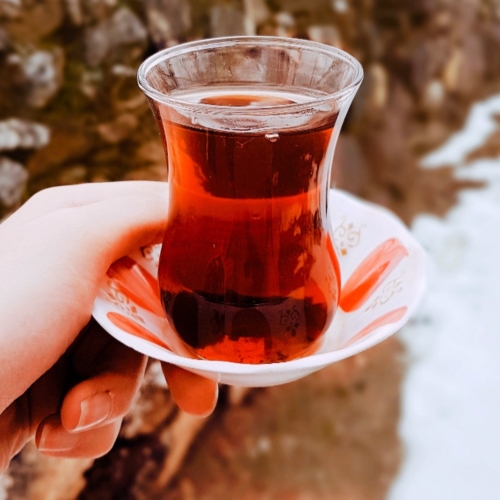 Sorrel Toddy - A Hot Sorrel Drink Recipe
Print Recipe
This tropical hot cocktail makes a great Valentine's Day Hot Toddy because it is layered with aphrodisiac ingredients. Use it to spice up any wintertime date night.
Ingredients
For the Sorrel Toddy:
1-1/2

ounces

sorrel syrup

2

ounces

Dos Maderas Anejo Rum

1

cup

hibiscus tea

cinnamon stick for stirring
For the Sorrel Syrup:
1

cup

boiling water

4

hibiscus flower tea bags

or 12 pieces dried hibiscus flowers

3/4

cup

granulated sugar

4

inch

piece of fresh ginger

cut into 1/2-inch slices and smashed to release juice

2

cinnamon sticks

20

whole allspice berries

cracked (put in a zip bag, press down with the bottom of a saucepan)

20

whole cloves
Instructions
For the Sorrel Syrup:
Place teabags or hibiscus flowers in a mug or heatproof measuring cup. Pour boiling water over. Steep for 10 minutes.

Remove teabags, strain liquid into a measuring cup. You should have 6 ounces (3/4 cup).

In a small saucepan over medium heat, toast the allspice and cloves just until they become aromatic – up to 1 minute, do not burn.

Add the hibiscus infusion, sugar, and rest of spices.

Bring to a rolling boil and remove from heat (before it boils over). Steep an additional 15 minutes or more.

Strain and cool completely.

I store my sorrel syrup in a squeeze bottle in the refrigerator with the cinnamon sticks from the cooking. It's good for about 7-10 days.
To make the cocktail:
Add the sorrel syrup and rum to the hot hibiscus tea. Stir with a cinnamon stick and serve warm.
Pin this sorrel hot cocktail recipe:
Latest posts by Annette Tomei
(see all)
FREE APHRODISIAC NEWSLETTER
Subscribe to our free aphrodisiac newsletter