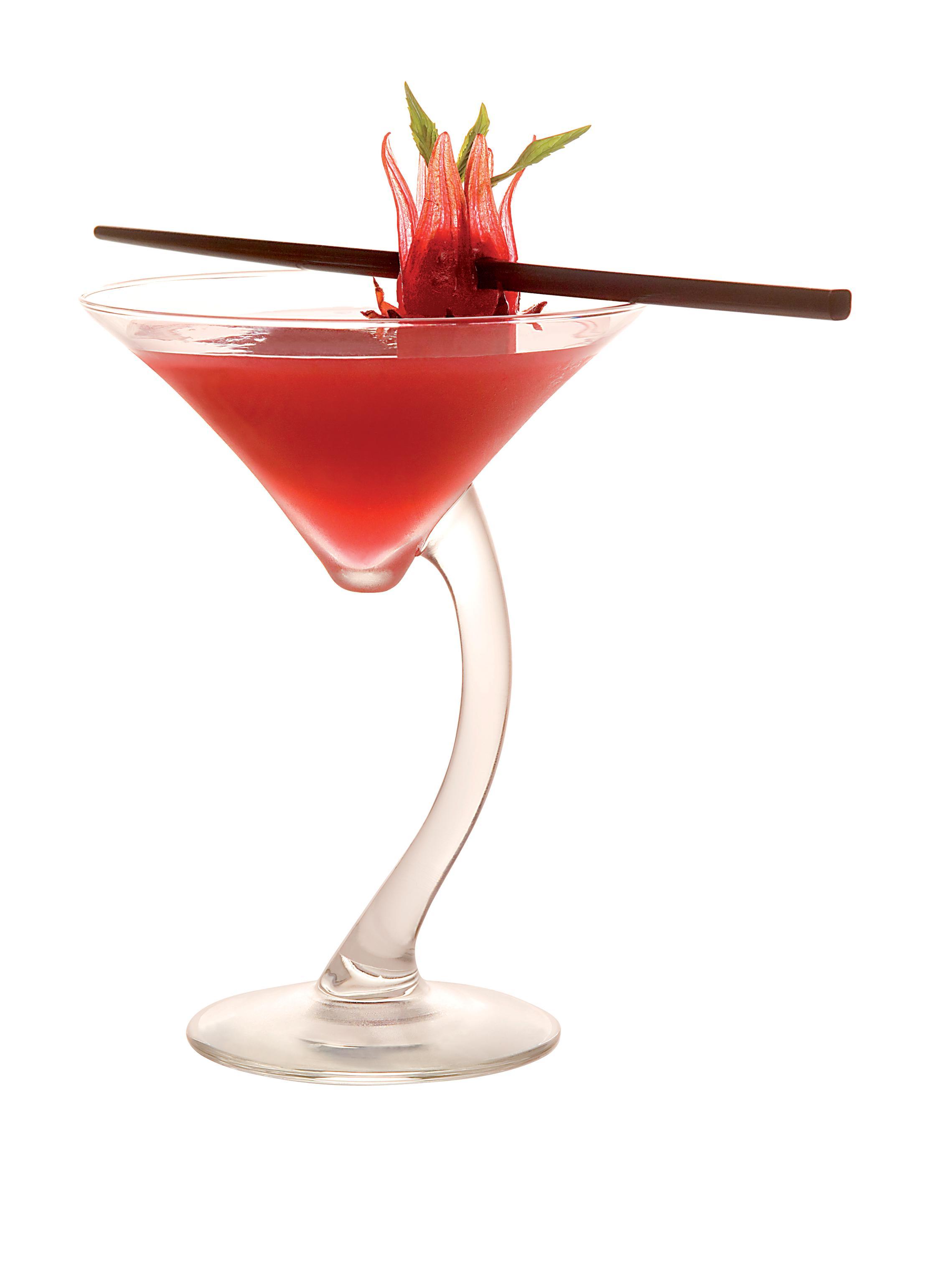 Adam & Eve Hibiscus Martini Recipe
Our articles may contain affiliate links. For more information, view our policies.
A hibiscus cocktail with a romantic link
Even the name of this cocktail evokes sensuality…and maybe a sense of danger. But we think the presentation is really what takes this hibiscus martini over the top. A cherry-stuffed, marinated hibiscus flower serves as a garnish. If you didn't know hibiscus flowers were edible, prepare to be delighted!
RELATED: How to Grow a Garden of Edible Flowers
Learn more about what makes hibiscus such a potent symbol of sensuality. And how this flower's nutrition can boost your love life. It is a cocktail tribute to history's greatest lust story.
A hibiscus martini with some unusual ingredients
This hibiscus vodka cocktail was invented by an Australian gourmet food company called Wild Hibiscus with a surprising specialty. Their entire line is built around hibiscus products. And they knew a website like ours, focused on romance and aphrodisiac foods, would be easily sucked in to the deliciously sensual power of their gourmet products.
TO TRY: The Aphrodisiac – a pomegranate martini
It's true. We're suckers for a gourmet foods company with a sensual focus.
And so when they offered us a recipe that requires the purchase of their proprietary ingredient, we said "What the heck!" We think everyone should try these hibiscus products.
So, in order to make this martini recipe, you will not only need your favorite vodka and one pitted, fresh or jarred maraschino cherry but you'll also need to get Wild Hibiscus flowers in syrup and some apple baby food. (We know, it sounds weird but it works.)
If you're on the fence about buying the Wild Hibiscus flowers, here's a review to help do some convincing. (We truly love them!) In this hibiscus syrup drink, one rests atop the glass like a beautiful bird of paradise. It transforms this cocktail from just another drink into an experience.
A note on hibiscus syrup
Note that the recipe calls for both hibiscus flowers and hibiscus syrup. You can use the syrup from the jar of flowers to make the drink.
Click here to shop for Wild Hibiscus on Amazon.
About Wild Hibiscus
Wild Hibiscus Flower Co. was founded by Australian Lee Etherington in 1999. His first product what the hibiscus flowers in cane syrup used in this recipe. Thanks to the candied hibiscus flowers' popularity with mixologists and people like us, the company has expanded and grown with international acclaim. Today, their farm and factory produce not just hibiscus products but also rose and pea flower extracts and teas.
Check out all of our cocktail recipes
Adam & Eve Martini Recipe
Print Recipe
Ingredients
1

Wild HIbiscus brand hibiscus flower

1

cherry

pitted or maraschino

2

oz

vodka

3

oz

apple puree

baby food works best

1

oz

Wild Hibiscus syrup
Equipment
martini glass

chopstick

shaker with strainer
Instructions
Stuff Wild Hibiscus flower with the cherry then skewer through the side with the chopstick. Set aside for garnish.

On ice, shake together the vodka, apple puree and hibiscus syrup.

Strain into martini glass and top glass with garnish. 1
FREE APHRODISIAC NEWSLETTER
Subscribe to our free aphrodisiac newsletter