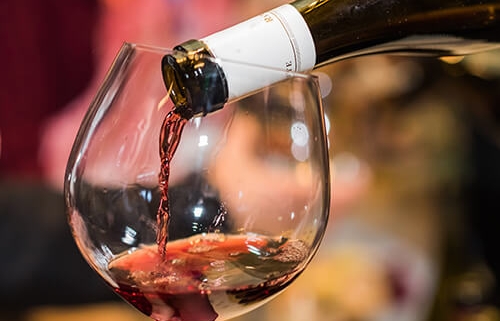 Our articles may contain affiliate links. For more information, view our policies.
The annual for people who love pigs and Pinot Noir
In my recent story on the World of Pinot Noir event held every spring in Santa Barbara, I explained why Pinot Noir events are in a league of their own.
It's about the people. Pinot lovers are passionate people on a quest for knowledge about the grape.
Also, they're a sharing kind of people. They seek kinship with fellow lovers of this fickle grape. It's true of the crowd drawn to World of Pinot Noir and it will be true of attendees of Pigs & Pinot 2019.
A Pinot Noir festival in Healdsburg, California
This Pinot Noir-focused event is held annually in springtime in the northern California town of Healdsburg. For the 2019 Pigs & Pinot, the luxe Hotel Healdsburg and internationally-recognized chef Charlie Palmer are celebrating the 14th edition of this wildly popular event.
This year's festival is held over the weekend of March 15-16. 2019. And it is a celebration of the best in Pinot Noir, much if it from the local Russian River Valley appellation.
In addition, this festival features the best in pork, made into fabulous culinary creations by some of the world's top chefs. When Charlie Palmer invites you to pour or cook at his party, winemakers and chefs show up to raise money and have some fun.
As with World of Pinot Noir, hotel and event packages are the preferred way to go.
But these will set a Pinot lover back between $1800 and $25,000 depending on the level of chosen accommodation. (Accommodations are available not only at the Hotel Healdsburg but also Hotel Healdsburg, H2 Hotel or Harmon Guest House.)
All of the featured hotels are in walking distance of the event. And all are situated around the lovely Healdsburg Plaza.
The 2019 Pigs & Pinot schedule of events
Charlie Palmer and his many famous winemaking friends will celebrate the weekend with a series of events.
Day 1: On Friday night, there's Taste of Pigs & Pinot. For this tasting, dozens of Pinots are paired with dozens of pork dishes for a roaming feast. As a part of the evening, a fantastic silent auction allows guests to stock their cellars while support No Kid Hungry and other Sonoma County charities.
Day 2: On day two of Pigs & Pinot 2019, comedian Mario Cantone emcees the Tournament of the Pig. In this event, two chef teams square off in Iron Chef fashion. Each team will be given a whole pig to create two distinct dishes that are judged by pork-loving experts. Saturday afternoon the Ultimate Pinot Smackdown invites four top sommeliers to bring four of their favorite Pinot Noirs to the table for a comparison tasting. It is up to the guests to vote on who is the Smackdown winner.
Saturday evening is either the Gala Dinner at Dry Creek Kitchen or Swine and Wine dinner at Spoonbar in the H2 Hotel. Both will be celebrations of Pinot and Pork concluding a spectacular weekend of two favorites.
RELATED: The Great Value Pinot Noir & Chardonnay of Alma de Cattleya
More great Pinot Noir events
And if Pigs & Pinot 2019 doesn't fully satisfy your craving for great, American wine, then plan a trip to the granddaddy of Pinot Noir festivals, the International Pinot Noir Celebration in McMinnville, Oregon. It's always held the last full weekend in July. This year it will run from July 26-28, 2019.
The full itinerary is jam-packed with activities that include two large outdoor tastings, a Friday Night Grand Dinner and Saturday Night Salmon Bake, a vineyard tour and winery lunch. There are also numerous seminars throughout the weekend that address different aspects of Pinot Noir cultivation and production. Participants include over 70 international Pinot Noir winemakers and 60 Northwest chefs.
And if that isn't enough Pinot Noir, head back to Healdsburg in autumn for Pinot on the River.
This casual tasting brings about fifty Pinot producers together to pour on the Healdsburg Plaza on a sunny afternoon. All proceeds go to the Boys and Girls Club of Sonoma County. And the organization is gracefully undertaken by Eric Hall and his team at Roadhouse Winery.
Of course, you have a little time to make your plans for the last two. But if you want to make it to Pigs & Pinot 2019, make your reservations ASAP! This is one of the region's most popular events and for good reason.
READ NEXT: Red Wine Aphrodisiac & Sexual Benefits
Latest posts by Barbara Barrielle
(see all)
Get on our mailing list
Don't miss out on a thing! Get news, deals & more!