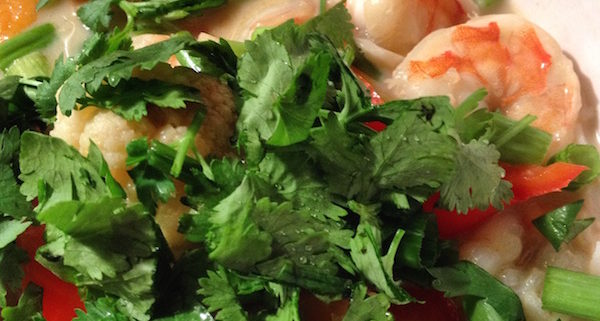 Coconut Shrimp Thai Curry Recipe
Our articles may contain affiliate links. For more information, view our policies.
Shrimp Thai Curry – the sexy side of shrimp
This recipe highlights all that is sexy about Thai food: the contrasts in texture, layers of aphrodisiac herbs and spices and an abundance of coconut. I created this shrimp Thai curry recipe years ago when I was cheffing in a remote, middle-American destination, as far as one could be from the exotic flavors of Southeast Asia. This curry, layered with Thai ingredients, was the meal I would make myself on my night off. It would awaken my palate. And that of anyone lucky enough to share the meal with me.
Layering the coconut flavor
For this shrimp Thai curry, I use both coconut milk and coconut oil to layer the flavor and health benefits of coconut. In Thai cuisine, coconut is used for many reasons, the first of which is its abundance. But it is not just used because it is available. Thai cooking focuses on aromatics and coconut brings a unique, beloved aroma to any dish in which it is included.
An abundance of aphrodisiac ingredients
Of course, coconut is not the only aromatic to awaken the senses in this dish. To add complexity to the aroma and flavor, I layer it with aphrodisiacs including garlic, ginger, chiles. Then of course, it's all combine with the star of this Thai curry, shrimp. If you didn't already know, shrimp is one of the most popular aphrodisiacs of the sea. For reasons I won't have to explain once you've tried this dish, this Thai curry is one sensual dish.
Thai-Style Coconut Shrimp Curry Recipe
Print Recipe
This fragrant curry will fill your house with the mouthwatering aromas of Thai--and it sure beats takeout! 
Ingredients
Prepare in advance:
2

cups

cooked rice

prepared as desired

24

raw jumbo shrimp

peeled and deveined – Optional: shells reserved for stock*

1

small head cauliflower separated into florets

tossed with coconut oil, salt and pepper, roasted to golden brown, or half a large head

2

in

medium-large yams

peeled, cut into half moons, and blanchedboiling salted water until just tender
*Optional Shrimp stock:
cups

sauté the shells from the shrimp in 1 teaspoon coconut oil until they turn pink then add 1 1/2vegetable or chicken stock. Bring to a simmer for 30 minutes then strain.
To prepare the curry:
3

tbsp

coconut oil

2

tbsp

freshly chopped ginger

2

cloves

fresh garlic

chopped

1

tbsp

chopped tender lemongrass

1/8

cup

chopped scallion whites (from 1 bunch

greens sliced thin and reserved for garnish)

1

tbsp

prepared green curry

1

red bell pepper

cut into 1/2-inch strips

yams

from above

cauliflower florets

from above

1

can light coconut milk

1 1/2

cups

light stock (shrimp stock from above

vegetable, or chicken)

1

Thai chile

optional

2

kefir lime leaves

1-2

tbsp

Thai fish sauce

nam pla

1-2

tbsp

soy sauce

2

tbsp

coconut sugar

or to taste, or turbinado sugar

shrimp

from above

zest and juice of 1 lime

greens from 1 bunch scallions

from above

1

bunch cilantro

cleaned and roughly chopped

1/4

cup

chopped roasted peanuts

optional

1

lime

quartered
Instructions
Heat a wok or large straight-side skillet over medium-high heat. Add the coconut oil and heat for a minute.

Add the ginger, scallion whites, garlic, and lemongrass. Sauté until tender (1-2 minutes).

Add the green curry paste, sauté for 30 seconds.

Add the red bell pepper and sauté for a minute.

Add the yam. Brown slightly.

Add the cauliflower florets. Heat through.

Add the coconut milk, stock, kefir leaves and chile. Bring to a boil, then reduce to a simmer.

Simmer for 15-20 minutes until the liquid reduces by 25%.

Season to taste with fish sauce (the key to authentic flavor), soy, coconut sugar, and lime zest while maintaining a simmer.

Add the shrimp and continue to simmer until the shrimp is cooked through (approximately 3-5 minutes).

Add the lime juice. At the same time, warm the cooked rice (if necessary).

To serve: place 1/2 cup rice in a bowl. Top with 6 shrimp, 1/4 of the vegetables and broth as desired (careful for the chile, if used). Garnish with scallion greens, cilantro, chopped peanuts, and a lime wedge.
Pin this Coconut Shrimp Thai Curry recipe: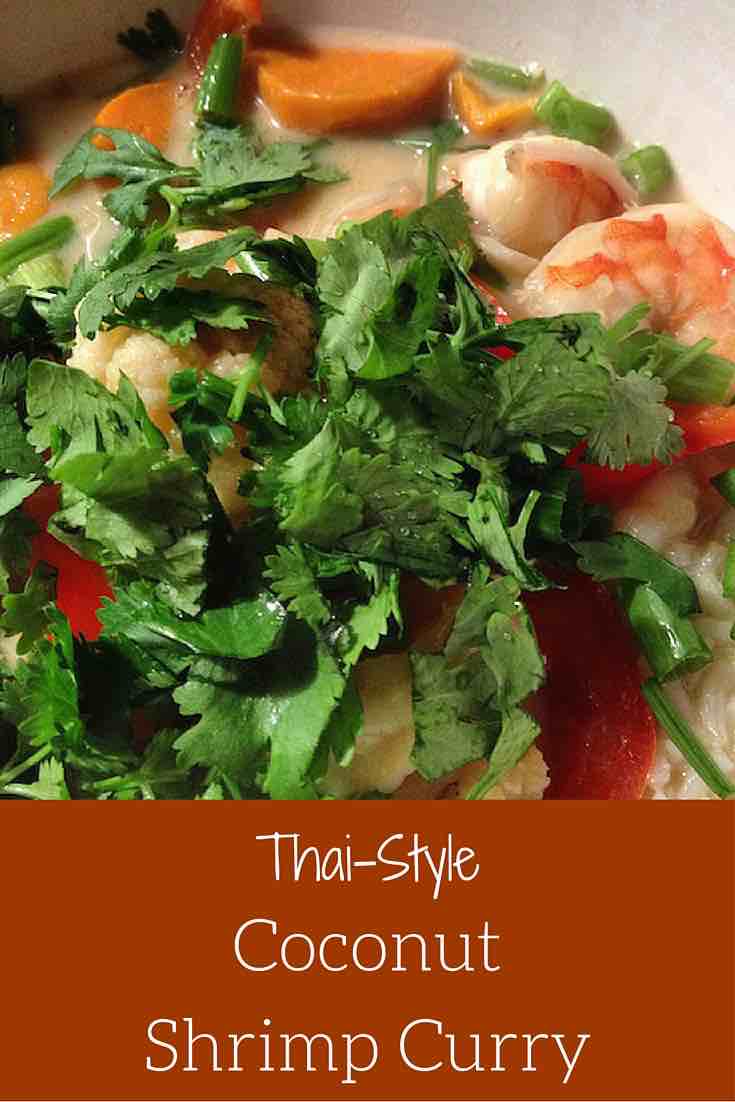 FREE APHRODISIAC NEWSLETTER
Subscribe to our free aphrodisiac newsletter