A Spiced Hot Chocolate Mix for Grownups, a Review
Our articles may contain affiliate links. For more information, view our policies.
Hot chocolate is a drink most often served to children, as a treat to warm up from the cold. But what if you layer your drink with sensual, exotic spices, aphrodisiac dark chocolate pieces and even a hint of chile pepper? Well, then you have a spiced hot chocolate mix that makes a treat for grownups.
I'm not saying that you won't find a child or two with an interest in the bold flavors of cinnamon mixed with bittersweet dark chocolate and a tongue-tingling spike of ancho chile. (Not mine.)
But a drinking chocolate with almost imperceptible sweetness and chile's heat is more closely related to an Aztec's aphrodisiac potion than to any child's hot chocolate fantasy.
The history of drinking chocolate
The Aztecs are believed to be the first to make chocolate into a drink. We don't know the exact details of this drink but we do know that the famed Aztec ruler Montezuma was supposed to have enjoyed it daily before being serviced by his harem.
Of course, we also know that the Aztec drink bore little resemblance to what we think of as hot chocolate today. Their drink was unsweetened and made from ground cacao mixed with water, chile peppers and possibly even cornmeal as a thickener.
After the import of chocolate to Europe, it was the Spanish who started serving something close to the drink we know as hot chocolate today. However, their version was more of a drinking chocolate, a rich drink of rich chocolate melted into hot water, not milk. (Today drinking chocolates may be made with water or milk or a nut milk but it always includes melting actual pieces of chocolate, not using cocoa powder.)
If you'd like to learn more about the history of hot chocolate, The Spruce Eats offers a more in-depth timeline of the drink's history.
Aztec hot chocolate
Like any curious food historian, I've experimented with recreating the aphrodisiac chocolate drink of the Aztecs.
And the results were always terrible.
Without sweeteners, it is impossible to balance the heat of chile powder against the bitterness of pure cacao. At least, I certainly couldn't find a way to make something drinkable out of the combination.
When the Aztecs drank their chocolate drink with chiles, I'm guessing it was probably more like taking medicine than sitting down to enjoy a tasty chocolate treat.
That's likely why the term "Aztec hot chocolate" is used today to not to refer to that bitter medicine or sludge in a cup I made when trying to recreate an Aztec drink. Instead, Aztec hot chocolate is used to describe a delicious, (chili chocolate drink that is made more in the style of drinking chocolate than anything the Aztecs might have actually drunk.
Making spicy hot chocolate at home
But even to follow a recipe to make a spiced hot chocolate at home takes a good bit of effort and some culinary know-how or at least really good instincts. (Or you could end up with sludge in a cup.)
You have to find a chocolate with the right percentage of cacao to enhance the heat of chiles without accentuating the burn.
Then you have to chop it evenly for melting.
Lastly, the drink requires a balance of spices, not just chile, and added in the right amounts to get a drink that is rich and sophisticated with a hint of heat and just a touch of sweetness.
Hot chocolate seems like a simple drink but making Aztec hot chocolate from scratch really isn't that easy.
That's why we're recommending Real Treat Ancho Chile Drinking Chocolate Mix.
RELATED: Find out how make drinking chocolate hot chocolate bombs at home
The best spiced hot chocolate mix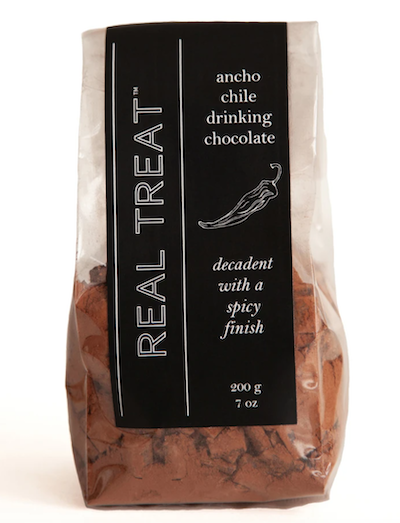 Real Treat's spiced drinking chocolate offers the richness I imagine was appreciated in early European chocolate drinks. And for the heat, this chocolate mix uses ancho chile powder.
Ancho chiles, (which are dried poblano peppers), have mild to medium spice, which is just right for making a Mexican hot chocolate. But they also offer a smoky flavor, which gives the drinking chocolate an interesting, all-new taste sensation.
RELATED: Why chile peppers are among the best foods for women
This hot chocolate with chile pepper is made with a base of evenly cut chunks of dark chocolate. And as I mentioned before, the right chocolate is key in making spicy drinking chocolate.
The cocoa mix also includes cinnamon and a pinch of salt.
There is no added sugar.
The result is a well-balanced drink with just a touch of sweetness.
And this packaged spicy hot chocolate mix is certified organic.
Best of all this drinking chocolate is easy to make. As the recipe instructs, just measure out your desired number of servings by the tablespoon and add it to hot milk or your favorite milk alternative. I preferred 2% milk, (although I use lactose-free milk). But you can use whole milk or skim, oat milk, almond milk, or, if you follow our 10 Best Foods for Women, you might want to use soy milk.
Can you make vegan hot chocolate with this mix?
The drink mix is made with vegan chocolate.
This means that if you melt the chocolate mix into a vegan milk alternative, you can use Real Treat to make vegan-friendly drinking chocolate.
When should you serve this sexy hot chocolate?
This Mexican spiced hot chocolate mix is not sweet enough to be a dessert substitute. If fact, it is far less sweet than the drinking chocolate I've recommended in the past.
But here are a few of my best serving suggestions:
As a cocktail: This is the kind of drink you could serve your lover when he or she walks in the door on a blustery evening. You could even try adding a splash of rum.
During snuggle time: Or mix up a serving for two to enjoy in front of a crackling fire.
For breakfast in bed: You might even consider starting the day, sipping chocolate together in bed when the morning brings a cold start to your day.
But choose wisely when you're going to bring out this Mexican hot chocolate mix. This sophisticated, rich chocolate drink could definitely work some aphrodisiac magic.
Where to buy Real Treat Mexican hot chocolate mix
Real Treat is a Canadian company with distribution throughout the United States and Canada. To find a retailer near you, you can visit the interactive Stockists map on their website.
Or you can just order the Ancho Chile Drinking Chocolate directly from the Real Treat online store. The spiced hot cocoa mix is sold in single packs, bundles of three and bundles of six.
Real Treat also sells a chile-free version of their vegan drinking chocolate mix called their Aromatic Drinking Chocolate Mix. Like the ancho chile version, the aromatic hot chocolate mix is certified organic.
RELATED: Pairing Wine & Chocolate with the Brix Collection
Drinking chocolate photo by Erol Ahmed
Latest posts by Amy Reiley
(see all)
Get on our mailing list
Subscribe and get our exclusive list of Six Great Sex-Boosting Snack Foods for FREE! Unsubscribe at any time - privacy policy