Evidence-Based Almond Benefits For Men (Sexual Health & Overall Health)
Our articles may contain affiliate links. For more information, view our policies.
Why almond is one of the 10 best foods for men
We can all agree that enjoyed in moderation, almonds make a healthy snack, right? The almond benefits for men include the fact that they're a source of protein and fiber.
But what about almond benefits sexually? They're a source of vitamin E, magnesium and manganese, all nutrients linked with men's sexual health. But they also have a few additional nutrients that show promise of supporting male libido and testosterone production.
Let's take a closer look at how almonds benefit men.
view the list of all 10 Best Foods for Men's Sexual Health
Almonds' benefits sexually when it comes to men's health
What's in almonds that will put lead in your pencil?
Well for starters, these nutrient-packed tree nuts contain an amino acid, arginine. This remarkable nutrient helps relax blood vessels and promote healthy circulation. You might have heard of arginine discussed in conjunction with heart health.
But don't forget that without good circulation, you can't have a healthy sex life. That's why this benefit of almonds is so important to men.
RELATED: Turmeric and Tamari Almonds for Healthy Snacking
A testosterone link
Another one of the almond benefits for men might be the nut's high zinc content. (Walnuts are also high in zinc.) Zinc is a necessary nutrient for testosterone production. And although testosterone is a key hormone for men and women, we know that the impact of low testosterone on men can be drastic and include erectile dysfunction.
So there's one school of thought that the zinc in almonds and other nuts can help support testosterone production naturally.
But there are nutritional professionals who promote an opposing point of view. Because nuts are a source of polyunsaturated fatty acids, there is a worry that regularly eating certain nuts, including almonds, could reduce testosterone levels. That's because some studies indicate that polyunsaturated fatty acids can decrease testosterone levels.
However, the general consensus among nutritional professionals seems to be that more research is needed to determine whether or not almonds could reduce testosterone in men.
Almonds benefits to libido
Almonds, and walnuts too, are also sources of selenium, another nutrient beneficial to men's sexual health.
Selenium is important for sperm function. But there is also an indication that a deficiency in selenium can negatively impact sexual desire. And since it is best to get selenium from natural sources, not supplements, almonds make a great choice for ensuring your body gets the nutrient it needs.
Almonds for energy
And, as I mentioned in the introduction, almonds are a source of plant-based protein. A quarter-cup serving contains about 10% of the recommended daily intake of protein. (Remember that physical activity, including a night of passion, requires extra protein.) But 10% is not bad at all for a tasty and portable snack!
Of course, if you're really not a fan of this nut but you still want to get the benefits of almonds for men, you can try walnuts. As I noted above, walnuts offer many of the same nutritional benefits of almonds.
Benefits of raw almonds vs roasted almonds
If you're wondering if raw nuts are better for you than roasted nuts, the long answer is complicated but the short answer is not really.
Unlike some foods which lose nutrients during cooking, almonds and other nuts remain relatively unchanged. Now, the polyunsaturated fats in almonds can be damaged when roasted at high heat. But if the almonds are roasted at a low to medium temperature, this kind of damage appears not to occur.
Almond milk, almond butter and almond flour and men's health
If raw or roasted almonds aren't your cup of tea, consider almond butter. You can also try almond milk but the benefits of almond milk are not as impressive as what you get from straight almonds.
The benefits of almonds for men can also be enjoyed by using almond flour. It's made by blanching the almonds to remove their skins then grinding them to the texture of fine flour. Almond flour has almost all the nutritional benefits of whole almonds, only without the crunch.
RELATED: This rich chocolate cake is one of our favorite recipes using almond flour.
Benefits that support both men and women's health
A mere handful of almonds will deliver vitamin B6 and a nice dose of energy. And these almond benefits come with only a small amount of monounsaturated fats.
The B6 will help send signals to your brain, lower cholesterol, and aid in the production of insulin, niacin, hemoglobin and antibodies. This is great news for women as well as men!
RELATED: Discover the aphrodisiac history of almonds and other nuts
Almond oil benefits
Another way to get some of the benefits of almonds is with unrefined almond oil.
The benefits of almond oil are many and some might surprise you. Almond oil contains 70% monounsaturated fat, which means it promotes heart health. (And a healthy heart leads to good blood flow and the ability to achieve sexual arousal.) And although almond oil lacks some of the nutrition you get from eating almonds, it is rich in vitamin E, also known as "the sex vitamin."
Almond oil benefits for skin
Almond oil is proven beneficial when applied topically. It can be used in skincare for both men and women. When used for skin health, almond oil can protect the skin from sun damage and aging
Cooking and recipes
Chocolate Almond Seduction Cookies
Wild Rice Pilaf with Toasted Almonds and Pomegranate
Fig and Tulsi Lassi with Honey and Almonds
Almond Cake with Honey Balsamic Strawberries

10 Best Foods for Men
Up Next: Oats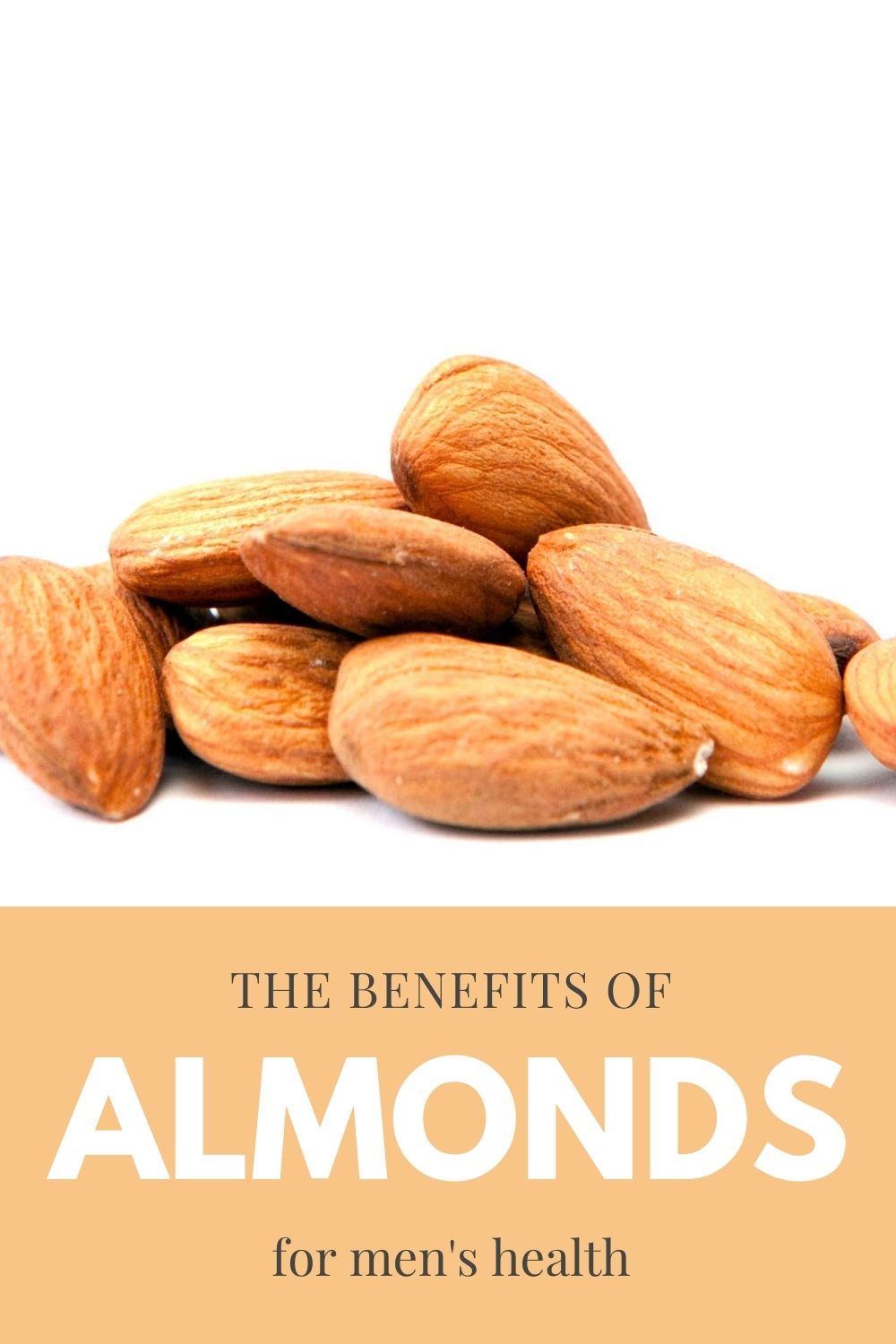 This article was written in 2015 and most recently updated in April 2021.
Latest posts by Amy Reiley
(see all)
FREE APHRODISIAC NEWSLETTER
Subscribe to our free aphrodisiac newsletter