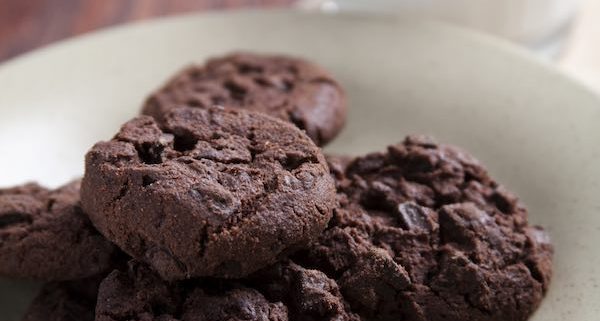 Our articles may contain affiliate links. For more information, view our policies.
I call these chocolate cookies seduction cookies
This site is all about the relationship between food and romance. And there may be no single ingredient that bonds food and romantic love more thank chocolate. And to have a batch of homemade chocolate chocolate chip cookies? Well, that might be the date night equivalent of a home run.
And, if romance is on your mind, (and why shouldn't it be?), why make just any old cookie when you can make aphrodisiac cookies? I'm sharing this recipe for Chocolate Chocolate Chip Cookies with Almonds (aka Chocolate Almond Seduction Cookies) from my cookbook, Romancing the Stove, because I think everyone should have this rich, dark chocolate almond cookie in their recipe file.
These dark chocolate almond cookies are a gift of love
Baking for someone is an act of love. Fortunately, this recipe makes the gesture simple and inexpensive. And although a box of these double chocolate cookies works well as a host gift or Mother or Fathers Day gift, I recommend making them as a romantic present. As you've probably already guessed, I've layered these chocolate chocolate chip cookies with aphrodisiac ingredients. Bake them for your one true love on Valentine's Day. Or make them for a quiet Holiday season gift the two of you can share.
RELATED: Homemade dark chocolate truffles make a great food gift. 
The aphrodisiac benefits of these double chocolate almond cookies
This recipe is basically a classic double chocolate chip cookie recipe. Except that it has a hint of sweet almond and the best chocolate cookie texture you could hope to bake. The cookies call for a blend of white flour and almond flour. This makes the cookies practically a health food. (Not really.) But the almond flour does add some fiber along with a more substantial texture and a hint of earthy sweetness. And almond is an aphrodisiac. In fact, almond is a great source of vitamin E, also known as "The Sex Vitamin." Learn more about vitamin E's role in your sexual health.
Now, to give my chocolate almond cookies their unbelievably gooey, soft texture, I used a combination of brown sugar and egg whites. In addition, to help keep them a little more heart and sex-drive healthy, I used applesauce instead of oil. And trust me, you won't miss the added fat.
How do you get the most intense chocolate flavor in these chocolate almond cookies?
The trick to getting the most rich, chocolatey flavor is to use a quality, high-fat cocoa powder and dark chocolate chunks instead of semi-sweet to make them dark chocolate chocolate chip cookies.
The dark chocolate not only makes a difference in the depth of chocolate flavor, dark chocolate is more aphrodisiac than milk, white chocolate or chocolate baking pieces. And if you're thinking romance, you should definitely make your homemade chocolate cookies with the finest choice of ingredients. You see, dark chocolate contains a higher percentage of cacao than what you'll find in semi sweet or milk chocolate. And it's actually cacao, not chocolate, that offers health benefits for your heart and libido. Here are some more fascinating facts about cacao.
This chocolate almond slice cookies recipe can be made in advance
This double chocolate chip cookies recipe with almonds can be prepped in advance and frozen. After you've made the cookie dough, roll it into two evenly shaped logs and store in the freezer for up to a month. (Just make sure it's tightly wrapped.) Then any time you need a dark chocolate fix, just slice off the number of cookies your heart desires and bake a small or large batch to rich, chocolatey goodness.
Welcome to the world of sexy cookies!
RELATED: If you love to bake cookies, check out all of our favorite cookie recipes.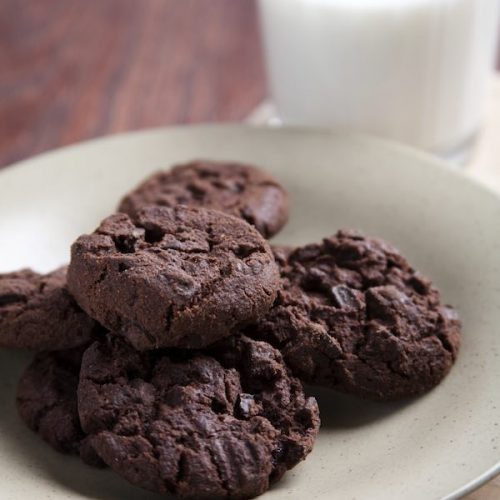 Chocolate Almond Seduction Cookies
Print Recipe
This recipe makes intense, dark chocolate cookies with oozing, melted chocolate chips and a hint of sweet almond. Make the dough in advance and store it in the freezer for when a chocolate craving strikes. 
Ingredients
2/3

cup

all-purpose flour

1/3

cup

almond meal

1/4

tsp

baking soda

1/4

tsp

salt

1/2

cup

high-fat cocoa powder

sifted

4

tbsp

unsalted butter

softened

1/2

cup

brown sugar

packed

1/2

cup

granulated sugar

3

tbsp

unsweetened applesauce

1/2

tsp

vanilla extract

1/2

tsp

almond extract

1

large egg white

3/4

cup

dark chocolate chips or baking chunks
Instructions
Combine flour, almond meal, baking soda, salt and cocoa in a small mixing bowl. Set aside.

In a mixing bowl, stir butter until creamy. Add the sugars and mix until combined, about 1 minute by hand. Then add applesauce, vanilla, almond extract and egg white, stirring for an additional 2 minutes.

Add the flour mixture, stirring until thoroughly combined.

Fold in the chocolate chips.

Coat your hands lightly with oil and shape the cookie dough into two 5-inch logs. Wrap logs in plastic wrap and freeze 1–2 hours or until firm.

Preheat oven to 350 degrees.

Coat baking sheet(s) with cooking spray.

Unwrap frozen logs and slice into approximately 24 rounds (about 1/4-inch thick). Place the rounds on the baking sheet 1-inch apart.*

Bake on the center rack for 8–9 minutes then remove from sheet. Note: Cookies should be soft. (If cookies are difficult to remove from the sheet, allow them to cool on the sheet for 30 seconds before removing.)

10. Eat warm or allow cookies to cool on a rack.
Notes
You can store the dough in the freezer for up to a month, cutting and baking when the desire for warm cookies strikes.
If you like this recipe, check out the whole book! Romancing the Stove is available on Amazon in paperback and kindle versions:
Pin this Chocolate Chocolate Chip Cookie recipe:
FREE APHRODISIAC NEWSLETTER
Subscribe to our free aphrodisiac newsletter