Easy Ricotta Gnudi Recipe – You've Got to Try this Naked Ravioli
Our articles may contain affiliate links. For more information, view our policies.
Gnudi is a light, pillowy variation on gnocchi. It's pronounced, "nudie." For that reason alone, this spinach and ricotta gnudi recipe is a popular dish around our office. And today we're sharing our favorite version with this easy recipe for gnudi. But what is gnudi, exactly?
What is Gnudi pasta?
Gnudi is basically the stuffing of a ravioli. In other words, gnudi are fluffy cheese dumplings made with minimal flour and cooked in salted, boiling water as you would a traditional pasta.
These small, pillow-shaped pastas are made from a base of ricotta and sometimes include spinach, as they do in my gnudi recipe below.
RELATED: Love pasta? Try this Smoked Salmon Pasta with Light "Cream" Sauce
Some history of gnudi ricotta pasta in Italy
In Tuscany where the pasta originated, gnudi made without spinach are sometimes called ricotta gnocchi. And in other parts of Italy, ricotta gnocchi are sometimes called strangolapreti. This apparently translates to "priest choker."
I have absolutely no idea why such an elegant pasta would be anointed with a name like "priest choker." However, among the American names for these fluffy pillows of cheese, is "naked ravioli." How can you not love that? If you would like more information on Italy's gnocchi and gnudi history, you might be interested in this article from Saveur.
The importance of good ingredients when making gnudi
Because gnudi is a simple dish, good ingredients will shine. And because ricotta is the main ingredient in this easy dumpling recipe, the key to making great gnudi is using good ricotta.
How to buy the best ricotta for this gnudi recipe
Because the ricotta is the star of this simple Italian recipe, it needs to be good. I recommend using whole milk ricotta. Some chefs recommend using a traditional sheep's milk ricotta. (Ricotta is traditionally made from whey. But in the United States, the most commonly sold ricotta is made from whole milk, not whey.)
For this recipe, I recommend the whole milk ricotta cheese because I like the creamy consistency it gives this fluffy gnudi. But make sure you get flavorful ricotta. It is a cheese with a subtle flavor but it should have an ethereal quality and faintly sweet and salty flavor. Some grocery store brands are virtually flavorless.
A note about parmesan cheese
Although the parmesan plays a minor role in this Italian recipe as compared with the ricotta, choosing a good cheese is still important to making the best gnudi. I recommend not only buying good parmesan cheese and freshly grating it for this dumpling dough. You can use parmesan cheese shreds if you're pressed for time but it really doesn't take much more time to grate your own. And I really think you'll notice the difference.
To make gluten-free gnudi
Because this traditional gnudi recipe uses ricotta cheese for a base, this is one Italian pasta recipe that's naturally low carb. There are only 5 tablespoons of flour in the ricotta dumplings (plus some flour for coating).
However, you can make completely gluten-free gnudi with a simple modification. As you can see in the recipe below, I call for all-purpose (wheat) flour. However, those with sensitivities can make a gluten-free version with rice flour in place of the all-purpose flour.
An Italian recipe for a romantic dinner
There is something sexy about gnudi. (See my notes on gnudi pronunciation above.) Just saying, "gnudi" brings a smile to my lips. Try it!
But what I truly love about this recipe, more than rolling this Italian word across my tongue, is the ease of this simple recipe.
This recipe for gnudi is great for beginners. It's one you can count on for a special evening. But you won't have to spend the whole day in the kitchen. This is something I look for in a great date night recipe. But when gnudi is made with love, it feels like one of those home-cooked meals that took hours to produce. (Like most pasta dishes, gnudi is cooked in a pot of boiling water. But unlike most homemade pasta dishes, this gnudi pasta recipe can be made in less than half an hour.)
Shop for a great pasta pot with Sur la Table
But there's another reason I recommend serving gnudi for a romantic dinner. Nearly every ingredient in this dinner recipe has a history as an aphrodisiac.
A gnocchi made with ricotta instead of potato and semolina, good gnudi recipes like this one star the aphrodisiac of cheese. If you didn't realize cheese has the power to excite the flames of passion, you need to read my article on the aphrodisiac power of cheese.
But cheese is not the only aphrodisiac incorporated into my gnudi. To bind the filling you use the aphrodisiac of eggs. And to bring the flavor complexity, you mix in Parmesan – more cheese!
Although in Tuscany, gnudi is often tossed with sage butter before serving, I recommend topping this gnudi with your favorite marinara. After all, the tomato is considered by some historians to be the original forbidden fruit.
Serving suggestions
As I mentioned, ricotta gnudi are traditionally served with brown butter and sage or a simple tomato sauce. I recommend a simple marinara with this gnudi since, as I mentioned, tomato is regarded as a potent aphrodisiac. (And personally, I prefer the sweetness of the marinara with the spinach over the flavor of brown butter sauce.)
If you want a touch of extra fragrance, top the warm marinara with finely chopped, fresh basil, (also an aphrodisiac), just before serving.
Light, simple and slightly exotic, this easy variation. on gnocchi is at the top of my list for a weeknight date night. (Just be sure to plan ahead so you have enough time to drain the ricotta.) And to add to the aphrodisiac experience, why not serve it with a crisp, white, Italian wine like this Bianco from Cinque Terra.
Shop for Italian white wines on Drizly, my favorite local alcohol delivery service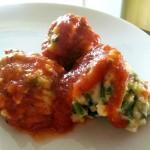 Easy Spinach and Ricotta Gnudi
Print Recipe
This simple recipe takes the stress out of making pasta. You'll love the simplicity and the flavor, which is like ravioli without the dough. 
Ingredients
1

cup

whole milk ricotta

10

oz

frozen spinach

thawed

2

eggs

1

egg yolk

1

cup

freshly grated Parmesan

1

tsp

salt

1

tsp

black pepper

5

tbsp

all-purpose flour (for a gluten-free version, use rice flour)

3/4

cup

flour for coating

1 1/2

cup

your favorite marinara sauce
Instructions
In a strainer lined with cheese cloth or a coffee filter, drain the ricotta for at least 1 hour. In a separate strainer, drain the spinach.

Add the egg and egg yolk to the bowl of an electric mixer and beat for 1 minute.

Add the ricotta and beat for an additional minute.

Squeeze the spinach to get out any extra water then add it, along with the Parmesan, to the bowl. Stir in the salt and pepper as well as the flour and thoroughly mix.

Put a large pot of salted water on the stove, covered. Bring the water to a boil while you shape the gnudi.

Pour a little flour onto your work surface and coat your hands with some extra to help keep the dough from sticking.

Form the ricotta mixture into balls slightly smaller than golf balls.

Dredge each ball in the flour and set aside to rest while you bring a pot of water to a boil.

When the water is boiling, slide the gnudi into the water, being careful not to crowd the pan. You may need to cook in batches. Cook until they all float to the top and have firmed up, about 4 minutes.

Using a slotted spoon, transfer the cooked gnudi to paper towels to drain.

Serve with warm marinara.
Pin my easy spinach gnudi: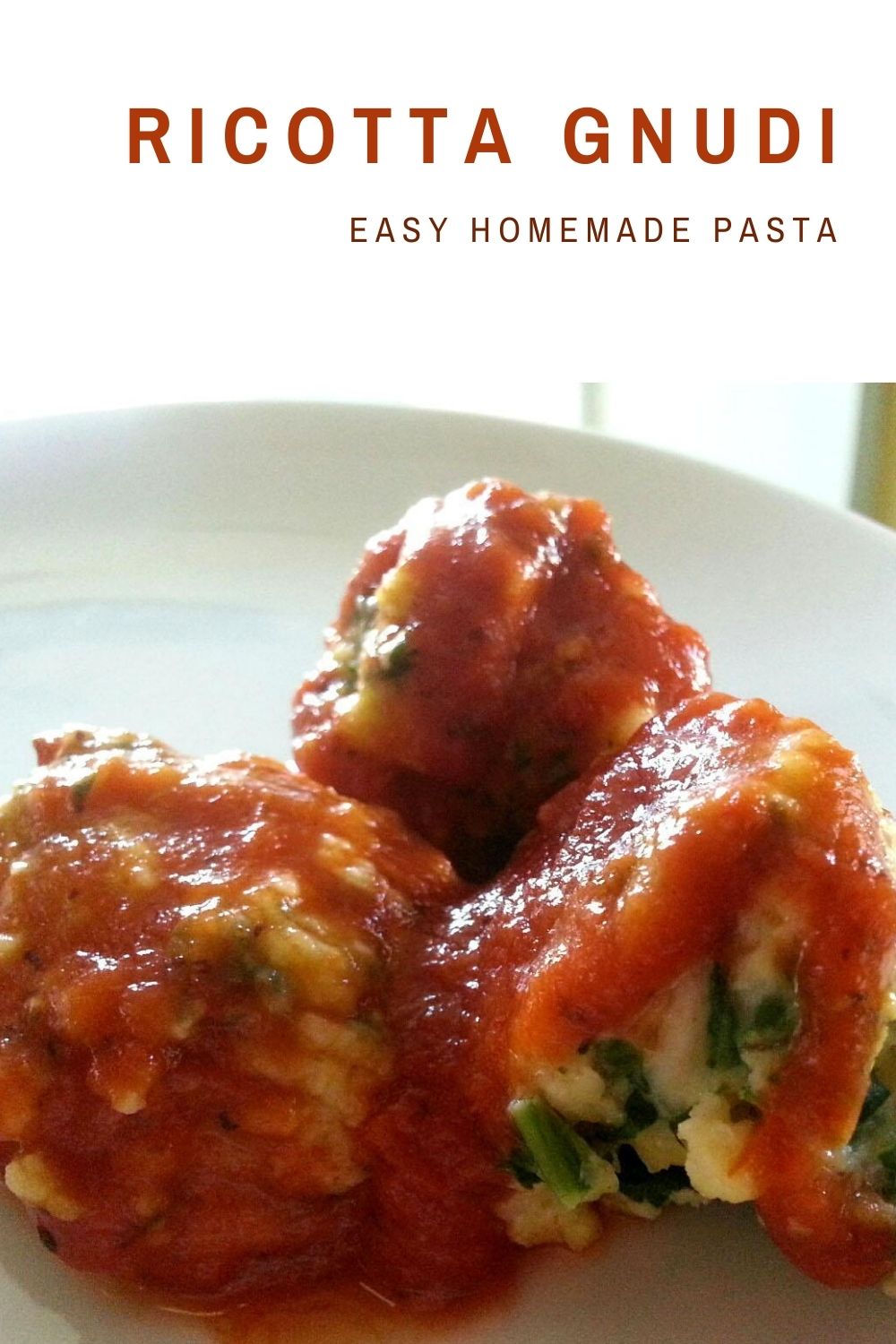 Latest posts by Amy Reiley
(see all)
Get on our mailing list
Subscribe and get our exclusive list of Six Great Sex-Boosting Snack Foods for FREE! Unsubscribe at any time.