Gnudi is a light, pillowy variation on gnocchi. The Americanized pronunciation for the dish is "nudy." For that reason alone, it's a popular dish around our office. And today we're sharing our favorite version with this easy recipe for gnudi. But what is gnudi, exactly?
What is Gnudi?
Gnudi is basically the stuffing of a ravioli. These small, pillow-shaped pastas are made from a base of ricotta and sometimes include spinach, as they do in my gnudi recipe below.
In Tuscany where the pasta originated, gnudi made without spinach are sometimes called ricotta gnocchi. And in other parts of Italy, ricotta gnocchi are sometimes called strangolapreti. This apparently translates to "priest choker." I have absolutely no idea why such an elegant pasta would be anointed with such a name. However, among the American names for these fluffy pillows of cheese, is "naked ravioli." How can you not love that? For more information on Italy's gnocchi history, I like this article from Saveur.
A recipe layered with aphrodisiacs
Now don't get me wrong, I love a suggestive name. But what I truly love about this recipe is the ease. This is such an easy recipe. And I love the fact that nearly every ingredient has aphrodisiac potential. A gnocchi made with ricotta instead of potato and semolina, it stars the aphrodisiac of cheese. If you didn't realize cheese has the power to excite the flames of passion, discover how it can play with your body and mind.
A naturally low-carb pasta
And because this recipe for gnudi uses cheese for a base, it's naturally low carb. In addition, those with sensitivities can make a gluten-free version with rice flour in place of the all-purpose flour. But cheese is not the only aphrodisiac incorporated into my gnudi recipe. To bind the filling you use the aphrodisiac of eggs. And to bring the flavor complexity, you mix in Parmesan. Although in Tuscany, gnudi is often tossed with sage butter before serving, I recommend topping this gnudi with your favorite marinara. After all, tomato is considered by some historians to be the original forbidden fruit.
Serving suggestion
Light, simple and slightly exotic, this gnudi recipe at the top of my list for a weeknight date night. And to add to the aphrodisiac experience, why not serve it with a crisp, white, Italian wine like this Bianco from Cinque Terra.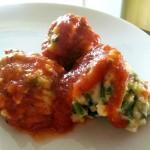 Low-Carb Spinach Gnudi (naked ravioli)
This simple recipe takes the stress out of making pasta. You'll love the simplicity and the flavor, which is like ravioli without the dough.
Cooking Style:
Vegetarian
Diet and Health:
gluten-free, healthy-ish, low carb
Seasonal:
Holiday season, Mother's Day, Valentine's Day
Ingredient:
Ricotta, spinach
Ingredients
1

c

whole milk ricotta

10

oz

frozen spinach

thawed

2

eggs

1

egg yolk

1

c

freshly grated Parmesan

1

tsp

salt

1

tsp

black pepper

5

tbsp

all-purpose flour (for a gluten-free version, use rice flour)

3/4

c

flour for coating

1 1/2

c

your favorite marinara sauce
Instructions
In a strainer lined with cheese cloth or a coffee filter, drain the ricotta for at least 1 hour. In a separate strainer, drain the spinach.

Add the egg and egg yolk to the bowl of an electric mixer and beat for 1 minute.

Add the ricotta and beat for an additional minute.

Squeeze the spinach to get out any extra water then add it, along with the Parmesan, to the bowl. Stir in the salt and pepper as well as the flour and thoroughly mix.

Pour a little flour onto your cooking surface and coat your hands with some extra to help keep the dough from sticking.

Form the ricotta mixture into balls slightly smaller than golf balls.

Dredge each ball in the flour and set aside to rest while you bring a pot of water to a boil.

When the water is boiling, slide the gnudi into the water, being careful not to crowd the pan. You may need to cook in batches. Cook until they all float to the top and have firmed up, about 4 minutes.

Using a slotted spoon, transfer the cooked gnudi to paper towels to drain.

Serve with warm marinara.
Pin this Gnudi Recipe:
FREE APHRODISIAC NEWSLETTER
Subscribe to our free aphrodisiac newsletter