Recipe for Smoked Salmon Pasta with Light "Cream"
Our articles may contain affiliate links. For more information, view our policies.
Creamy smoked salmon pasta
Who knows pasta better than the  The National Pasta Association? That's what we thought when they sent us this Smoked Salmon Pasta recipe. (One taste and we'll bet you're going to agree.) But what we love best about this dish isn't the pasta, it's the light spin they've put on cream sauce.
By using low fat milk in combination with reduced fat sour cream, they've managed to cut the cholesterol, (which is bad not only for your heart but also for your sex life). Yet thanks to the sour cream, the sauce maintains body and richness. We also like that slight tang the sour cream brings to the dish. It pairs nicely with the smoked salmon.
The allure of salmon
And about the salmon…You know Omega-3 rich salmon is an aphrodisiac, right? It also adds a lean source of protein to the dish. That gives you the kind of energy you need to get through the day and (hopefully) into a night of passion.
What is Pappardelle?
The version of this recipe the National Pasta Association recommends calls for Pappardelle. These broad, flat noodles originated in Tuscany. They're typically served with heavy, hearty sauces. Another reason we love this unexpected twist of Smoked Salmon Pappardelle. The noodles are typically made with wheat flour but you can find versions made from other flours if you're trying to avoid gluten.
Brunch pasta
Smoked Salmon Pasta with Light "Cream" is a pasta recipe suitable for brunch or lunch. But don't overlook it as a dinner dish. This is really the kind of pasta that works for any occasion. To complete the experience, don't forget an elegant bottle of wine. (Perhaps the one you used in the sauce?) I recommend something acidic, like a Sauvignon Blanc or Dry Gewurztraminer, to cut through the richness of the sauce.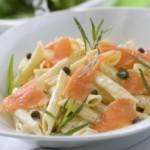 Smoked Salmon Pasta with Light "Cream"
Print Recipe
Pasta in cream sauce gets a makeover with this light and lovely seafood dish. 
Ingredients
8

oz

pappardelle or any wide noodle

1/2

cup

reduced fat sour cream

1/4

cup

low-fat 1% milk

1/4

cup

roughly chopped dill

plus additional for garnish

1 1/2

tbsp

extra virgin olive oil

1

cup

finely chopped shallot

1 1/2

tsp

tomato paste

2

tbsp

dry white wine

3

oz

roughly chopped smoked salmon
Instructions
Bring a large pot of salted water to the boil. Cook the pappardelle according to package directions. Drain and reserve.

While the pappardelle is cooking, whisk together the sour cream, milk and dill. Season to taste with salt and plenty of freshly ground black pepper. Reserve.

Heat medium sauté pan over medium heat. Add the olive oil and cook the shallots until softened and just starting to brown, about 3 minutes.

Stir in the tomato paste and push it around to caramelize a bit, about 30 seconds. Deglaze the pan with the wine. Reduce by half, about 2 minutes.

Remove pan from heat. Stir in the pasta, the smoked salmon and the sour cream mixture.

Return the pan to low heat just briefly. Don't overheat or the sauce may "break" and the salmon's texture will be too firm.

Divide between bowls and sprinkle with additional dill.
Pin this recipe for Smoked Salmon Pasta with Light "Cream"
Latest posts by Amy Reiley
(see all)
FREE APHRODISIAC NEWSLETTER
Subscribe to our free aphrodisiac newsletter