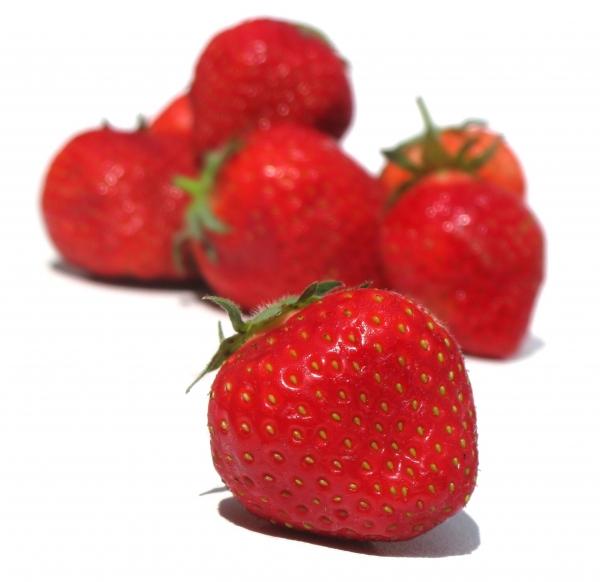 The 10 Best Foods for Women #3
There are many health benefits of strawberries for women. But the number one reason women should be eating strawberries? The manganese, folate, fiber, K, and C found in strawberries will help your sex hormones stay balanced. And as one of the benefits of these nutrients, they should help diminish the symptoms of PMS–what a relief! If that's not enough, there's a link between strawberries and breast cancer prevention. Strawberries, (along with raspberries and blackberries) and high in ellagic acid, known for it's cancer-fighting properties. Learn more about ellagic acid from Web MD. 
Strawberries are amazing, sweet, and great for sharing but they are also low in cholesterol, sodium, and saturated fats. Which means the keep your heart fit for lovin'.  The manganese, folate, K, and C will continue to support your reproductive system. They will also help prevent bone loss throughout your life to keep you long, lean and looking your best. That's right eat more strawberries to age more gracefully!
More on the Aphrodisiac Powers of Strawberries
Some of our favorite strawberry recipes:
Strawberries 'n' Cream Buttermilk Pancakes
Greek Yogurt, Chia and Lemon Biscuits with Strawberries
Deep Dish Strawberry and Rhubarb Tart
Almond Cake with Honey Balsamic Strawberries
10 Best Foods For Women
Up Next: Eggs
FREE APHRODISIAC NEWSLETTER
Subscribe to our free aphrodisiac newsletter
https://www.eatsomethingsexy.com/wp-content/uploads/2010/10/aphrodisiac-strawberries-e1537984559124.jpg
582
600
Amy Reiley
https://www.eatsomethingsexy.com/wp-content/uploads/2017/01/Amy-Reileys.png
Amy Reiley
2014-02-04 01:43:10
2018-09-26 11:09:01
The Health Benefits of Strawberries--a powerhouse food for women