Strawberry Chia Pudding Recipe with Acai Berry Puree
Our articles may contain affiliate links. For more information, view our policies.
This strawberry chia pudding recipe makes a great breakfast or healthy dessert. It's easy to put together and is a creamy, sweet and satisfying treat that can be made in advance.
This is a wonderful choice of dessert any time strawberries are in season. With only 5 ingredients, it's a simple recipe and one that is approved for many diets. The recipe is both dairy-free and gluten-free. (To make a vegan strawberry chia pudding, use agave nectar in place of honey.)
Chia seed pudding benefits
Chia seeds could easily make the list of the world's most healthy foods. Fiber-rich, the seeds are a source of protein, manganese, calcium and omega-3 fatty acids. They are also a source of the powerful antioxidant quercetin, which is associated with a reduced risk of heart disease.
Chia seeds are extremely versatile but one of the best ways to use them is to make a chia pudding. Although you can eat chia seeds whole and dry, according to our nutrition director, Delahna Flagg, chia seeds are easier to digest when soaked (as they are when you make them into pudding). So you'll get more nutrition from eating a chia seed pudding than from sprinkling the same amount of chia on your salad.
Additionally, there is a sensory pleasure when you transform dry chia seeds into a creamy pudding. The seeds swell up and develop a gel-like consistency when soaked. The result is a pudding that's creamy but there's just a hint of crunch at the center of each seed, making the experience far more interesting than slurping down your average bowl of custard.
And since this chia seed pudding recipe layers the benefits of chia with the flavor and health benefits of the superfood acai, you're really getting a powerhouse of nutrition from your dessert!
If you don't know where to find chia seeds, you can order chia online.
What is acai?
The ingredient in this chia pudding recipe that gives it deep color is acai puree. But color is not the only thing acai brings to this recipe.
Acai is called the superfruit of the rain forest and for good reason. This nutritious berry is a source of fiber, protein, calcium and is considered a good source of vitamin A. But it is most notably an excellent source of powerful antioxidants. (It is said to have 10 times the antioxidant power of red wine.) And acai is also a noted aphrodisiac.
Making an acai dessert
For this recipe, you'll use acai berry in a frozen puree form. Acai is rarely sold as a fresh berry because it is difficult to transport. You will most often find it sold as juice or fruit puree. Most acai dessert recipes will call for using the frozen packets.
To make this acai berry dessert, I recommend letting the acai puree thaw slightly. This way, it will blend more quickly. (If you're using a powerful blender like a Vitamix, there is no need to thaw the frozen acai.)
Adding acai to this pudding recipe will give the final flavor richness. It also enhances the strawberry flavor and gives the final dessert a bigger berry flavor than you get from a chia seed pudding made just with strawberries.
How to make this strawberry chia pudding
As I mentioned, making chia pudding is incredibly easy. This pudding only calls for five ingredients. It also takes only three steps to make. Once you've assembled the ingredients, you just blend, mix and chill.
Ingredients
Fresh strawberries – This recipe is best when it is made with peak-of-season strawberries. I've been asked, "Can you use frozen strawberries?" Unfortunately, the answer is no. For this strawberry recipe, fresh is best. In fact, if you can get fresh-picked, or better yet homegrown strawberries, you won't believe the great flavor it brings to the pudding.
Frozen acai fruit puree – As I mentioned earlier, you'll add a 6-oz (standard size), frozen acai packet to this pudding. You might want to thaw it slightly for easier blending.
Nut milk – Just use your favorite non-dairy milk, such as cashew or almond milk or whatever you have on hand. To give the pudding a tropical flavor, try using coconut milk.
Honey – Although this pudding gets a little sweetness from the strawberries and acai, it needs a touch of extra sweetness. I use honey but if you want to make this recipe vegan, you can use agave nectar.
Chia seeds – Obviously, you'll need dry chia seeds to make this recipe. Chia can be stored in the pantry for up to one year. If you aren't sure whether your chia is too old, taste a couple. If there's any bitterness, throw them out. You only need 2/3 cup chia seeds for this recipe, so make sure you store whatever's leftover in a dry place.
Pudding toppings – I recommend garnishing your strawberry and acai berry chia pudding with more fresh strawberries. (Or, if you just want the creamy, sweet pudding, you can skip toppings altogether.) I've included additional topping ideas below.
Chia seed pudding topping ideas
Although a good chia pudding is great on its own, toppings can add to the presentation. Beyond sliced strawberries, this pudding can be topped with a variety of healthy and tasty ingredients to give it additional flavor, texture and eye-appeal. My topping choices include:
Shredded mint leaves
Edible flower petals, such as rose or lavender
Slivered almonds
Mixed berries
You can also turn it into a chia pudding breakfast bowl like an acai bowl. Just serve it in a bowl topped with sliced bananas, chopped nuts and/or granola and fresh berries as a filling and delicious breakfast treat.
TRY NEXT: Passion Fruit, Quinoa and Greek Yogurt Breakfast Parfait
Can you freeze chia strawberry pudding?
This chia strawberry pudding will last in the refrigerator for 4-5 days. But you can also freeze it.
The best way to do it is to portion it out into individual freezer-safe containers and freeze single servings. These will keep for up to four weeks.
More chia seed recipes
Greek Yogurt, Lemon & Chia Seed Biscuits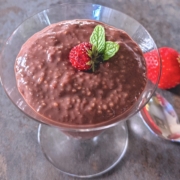 Chia Pudding with Strawberries and Acai Berry Puree
Print Recipe
This easy, five-ingredient chia pudding recipe features the flavors of fresh strawberries and acai fruit.
Ingredients
1

cup

fresh strawberries

6

oz

frozen acai puree

6

oz

your favorite nut milk

2

Tbsp

honey*

2/3

c

chia seeds

Additional sliced strawberries for garnish or your favorite chia pudding topping

optional
Instructions
In a blender, puree the strawberries, acai puree, nut milk and honey until smooth.

Transfer the acai mixture to a medium-size mixing bowl and stir in the chia seeds. Stir thoroughly before covering. Transfer to the refrigerator and chill for a minimum of 3 hours, (or overnight).

To serve, divide the pudding among parfait glasses and top with fresh strawberry slices or other toppings, (optional).
Notes
*To make a vegan chia pudding, substitute agave nectar for the honey.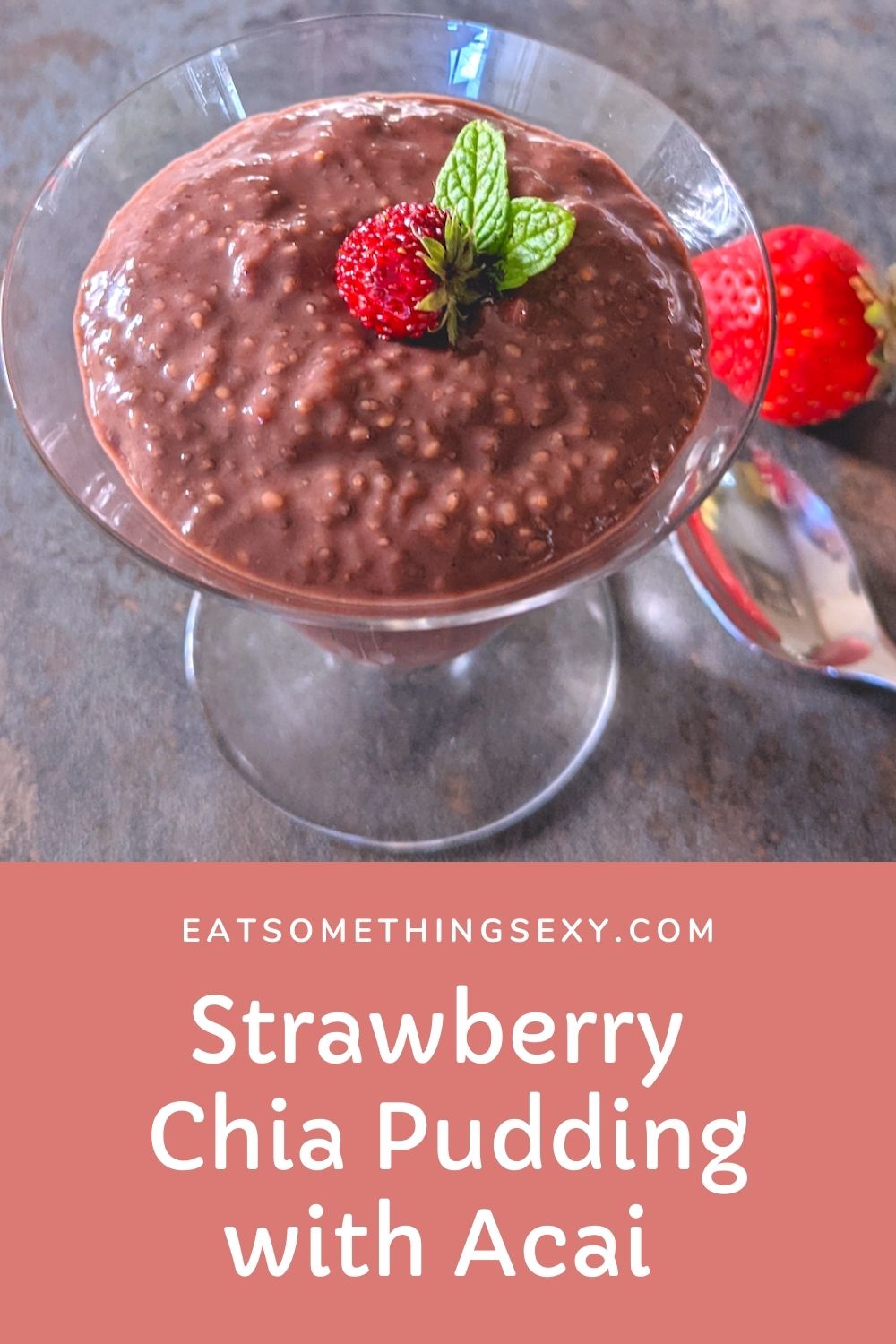 Latest posts by Amy Reiley
(see all)
FREE APHRODISIAC NEWSLETTER
Subscribe to our free aphrodisiac newsletter