Chia Seed and Coconut Pancakes–a naturally gluten-free breakfast
Our articles may contain affiliate links. For more information, view our policies.
The ultimate breakfast in bed
When you're talking about a romantic breakfast in bed, nothing beats pancakes! The smell of fluffy hot cakes wafting through the air is almost an aphrodisiac unto itself. And because pancakes are such a blank canvas, they're perfect for dressing up with all your lover's favorite garnishes. Unfortunately, your average short stack doesn't really have much to offer as far as your libido is concerned. The gesture of making pancakes tugs at the heartstrings but there's really not much there to put a fire in your loins. That's why I created my version of Chia Seed and Coconut Pancakes. This rendition puts together a no-fail breakfast-in-bed classic with two powerful aphrodisiac ingredients to create the romantic version of a "power brunch." 
Naturally gluten-free
If you're familiar at all with chia seeds, then you know they're on the hot list of superfoods right now. In addition to providing the body with fiber, iron and calcium, chia seeds have been shown to naturally boost testosterone production. Coconut, another noted aphrodisiac, replaces white flour in these pancakes. (YES! That means they're naturally gluten-free!) Coconut flour is proven to support healthy metabolism and it offers the body protein essential for stamina.
A hint about serving
If those aren't enough reasons to try these coconut pancakes, I think you'll appreciate them for their flavor. Slightly heavier and less sweet than typical pancakes, they offer a delicate coconut flavor that would work both as a sweet or a savory pancake. In my house, we eat them topped with traditional syrup and a handful of berries. But we've also been known to eat them smeared with peanut butter and turned into pancake "sandwiches." One more suggestion? These pancakes make a great base for bacon and pancake sandwiches!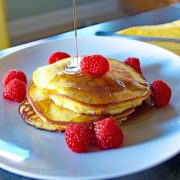 Coconut and Chia Seed Pancakes
Print Recipe
This pancake recipe combines the aphrodisiacs of chia seeds and coconut flour to create one health-boosting breakfast in bed with a flavor so delicious you'd never guess it was healthy! 
Ingredients
1/4

cup

coconut flour

1/2

tsp

baking powder

1

pinch

salt

3

tbsp

grape seed oil

plus extra for frying the pancakes

1

tbsp

honey

3

large eggs

at room temperature

1/3

cup

1 or 2% milk

(sub almond milk)

1/2

teaspoon

vanilla extract

2

tsp

chia seeds

syrup and sliced

fresh fruit for serving
Instructions
In a medium bowl, stir the grape seed oil and honey until combine. Whisk in the eggs in one at a time. Add the almond milk, almond extract, vanilla extract and cha seeds. Set aside for 5 minutes to allow the chia to "bloom."

While the chia is "blooming," combine the coconut flour, baking powder and salt in a small bowl.

Fold the dry ingredients into the wet ingredients with a spatula. Mix until just combined.

Heat approximately 1 tablespoon grape seed oil in a large sauté pan over medium-high heat.

Add the batter 1 heaping tablespoon at a time. Cook for about 2-3 minutes before flipping. (This batter doesn't bubble as dramatically as traditional pancake batter, so you will have to watch them carefully to know when to flip.) Cook for 1-2 minutes on the second side.

Cook the pancakes in batches until all of the batter has been used, adding more oil to the pan as needed. Serve immediately with your favorite syrup and a garnish of fresh fruit.
Pin this Chia Seed and Coconut Pancakes recipe:
FREE APHRODISIAC NEWSLETTER
Subscribe to our free aphrodisiac newsletter