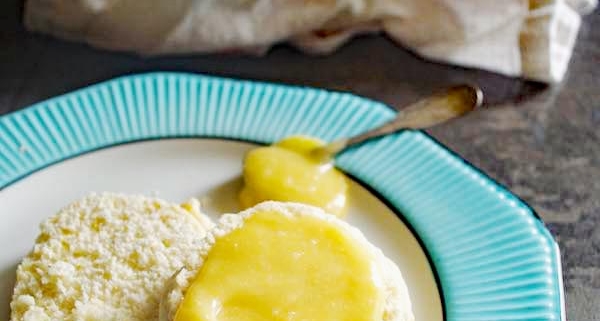 Passion Fruit Curd Recipe using Passion Fruit Puree
Our articles may contain affiliate links. For more information, view our policies.
Sometimes called passion fruit butter, passion fruit curd is a spreadable topping with an addictive reputation. By using passion fruit puree, also called lilikoi puree, to make this curd recipe, I've simplified the steps to making this seductively silky, not too sweet topping that is sure to become your baked goods' new best friend.
Love passion fruit? You MUST try my passion fruit cake recipe
What is a fruit curd?
Curd is an unfortunate word. It sounds slightly dirty and entirely unappetizing. I think the person who named it curd was someone who loved this flavored mixture of butter, egg yolk and sugar so much that he didn't want to have to share it, thus the repugnant name.
Because the reality of curd is anything but potty mouth slur it sounds like as it slides off your tongue. Curd is most commonly flavored with lemons but there's no reason you can't change it up from the basic lemon curd. In fact, my favorite curd isn't made with citrus at all, it's a curd made with passion fruits.
Working with passion fruit
Passion fruit is the fruit of a tropical vine in the passion flower family. Some people mistakenly call it passionfruit but the name is two words, as in fruit of passion.
Passion fruits, called lillikoi in Hawaii, have hard skins and a juicy center filled with crunchy black seeds. For this recipe, I do not use fresh passion fruit. Instead, I use bottled passion fruit puree.
I do this for two reasons. The first is to add to this curd recipe's simplicity. It's quicker and easier to measure from a bottle than to source and scoop the flesh from the fruits. The second is that, although I personally love the texture of passion fruit seeds, most people prefer a smooth and creamy texture to a fruit butter like this one.
Passion fruit puree vs passion fruit juice
Passion fruit puree can be purchased at specialty food stores. You can also order it from Amazon.com. But do not try to substitute with passion fruit juice. Passion fruit puree has no added sugar and water. Passion fruit juice is sweetened and will change both the consistency and flavor of this recipe.
I do not recommend using frozen passion fruit pulp as a substitute for the puree either. Although frozen pulp is a fantastic product for using in cocktails and desserts, this passion fruit curd recipe was specifically created with puree and since curd can be a finicky dish to make, any alterations to the ingredients can ruin the consistency and flavor.
Why I love this passion fruit curd recipe
I think this 5-ingredient curd recipe might be the world's most perfect food. Not too sweet or too tart, it has intensity and a lingering tang. It has a texture as creamy as small-batch ice cream, without the shock of cold.
Uses for this lilikoi curd recipe
If you're like me, you will just eat this lilikoi curd by the spoonful. But, of course, it's meant to be smeared on scones. I also use this recipe as a spread on whole-grain toast, as a layer in vanilla cakes, to flavor plain yogurt, as a topping for vanilla, mango or coconut ice cream and to disguise dry muffins and other baked goods that are starting to go stale. Passion fruit curd really is the perfect food–except for the name, of course.
Special equipment needed to make this curd
Like most fruit curd recipes, this one is made using an indirect heat method. And you will need the right equipment to cook with indirect heat:
OR
a heatproof mixing bowl fitted securely inside a small saucepan
You will also need a good whisk, but most cooks with a passion for baking already have this on hand.
Since this recipe calls for egg yolks, not whole eggs, you may also want an egg separator, like this handy gadget sold on amazon.com. (You can save the leftover egg whites to make an egg-white omelet or meringue.)
Technique tips for making a fruit curd
The technique for making curd can seem intimidating to inexperienced cooks.
Don't be afraid!
Once you get the hang of it, the process of making curd becomes a rewarding experience of its own. The constant, gentle whisking is hypnotic, meditative. It gives you time to shut down and concentrate on nothing but you and the metal tool at the end of your hand.
The trick to a good curd is patience. You must make sure your mixture isn't too hot before you add the eggs. (If you add them too quickly, you can scramble them and wind up with tiny chunks of egg in your curd. This can be strained out through a fine mesh sieve but it is a hassle and a sticky one at that.)
In addition, you must stir constantly until your curd mixture thickens. It really doesn't take that long but if you give up too soon, your mixture will never achieve that creamy texture that gives curd its seductive appeal.
Love making fruit curd? Try this recipe for a pink grapefruit curd with hints of strawberry and basil.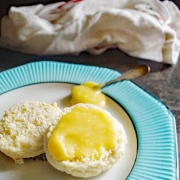 Passion Fruit Curd
Print Recipe
There might not be any more perfect food than creamy, seductively sweet Passion Fruit Curd. And with this step-by-step recipe, you can make it at home. 
Ingredients
3

egg yolks

1/2

cup

granulated sugar

1/4

cup

unsweetened passion fruit puree

(sold at specialty food retailers or online)

pinch

of salt

4

oz

unsalted butter

cut into 1/2-inch cubes
Instructions
Add an inch of water to the bottom pan of a double boiler or a small saucepan and heat to a simmer.

Add the top half of the double boiler or use a metal bowl that fits rests in the saucepan with the bottom of the bowl above the level of the water. (Your bowl cannot be touching the water or your eggs will cook too quickly.)

Turn the heat to medium and add the egg yolks, sugar and passion fruit puree to the bowl. Stir constantly until the sugar dissolves and the mixture begins to thicken. (Test it to see if it coats the back of a spoon. When it does, it's done.)

Remove the bowl from the heat and add the salt and the butter, one cube at a time. Stir each cube until it melts before adding the next.

Stir vigorously for about one minute after the last cube is added.

Let the curd cool to room temperature before transferring to a storage container.

Store in the refrigerator for up to 3 weeks.
Pin this passion fruit recipe:
Latest posts by Amy Reiley
(see all)
Get on our mailing list
Subscribe and get our exclusive list of Six Great Sex-Boosting Snack Foods for FREE! Unsubscribe at any time.