The Best Baby Spinach and Ricotta Pizza Recipe
Our articles may contain affiliate links. For more information, view our policies.
This recipe comes to us from Chef Angela Dimino. This spinach and ricotta pizza recipe is her answer to the question, "What do chefs eat at home?"
Angela is a working chef with a practical side. For this homemade white pizza recipe, you don't have to make a homemade pizza crust. Angela's directions are to use your favorite pizza dough recipe.
But you can also use your favorite prepared or frozen dough for this white pizza. Although a great, homemade pizza dough always makes for an unforgettable pie, a ready-to-go dough makes for good food, fast.
Don't miss Angela's recipe for Italian Sausage Risotto with Sweet Peas
What is white pizza?
This ricotta cheese pizza would be classified as a white pizza. Also called white pie, a white pizza is a tomato sauce-free style of pizza. It is a traditional, Italian pizza and it may call for a variety of cheeses. This white pizza recipe features creamy ricotta as the star, with a blend of shredded cheeses as supporting actors.
However, some white pizzas incorporate blends of shredded cheeses, goat cheese, fresh mozzarella or burrata and even Alfredo sauce. A balance of toppings is what's essential. Otherwise, your pizza can turn into a gooey or gummy mess.
Is white pizza the same as pizza bianca?
Many recipes interchange the terms white pizza and pizza bianca. But Roman pizza bianca is actually more like focaccia than white pie recipes like this ricotta-based pizza. (Here's some fantastic information from Serious Eats on traditional pizza bianca and how to make it at home.)
How do you make a great ricotta cheese pizza with spinach?
As I mentioned earlier, there are as many bad white pizzas out there as there are great pizzas. So how do you make sure your white pizza with ricotta is among the good ones?
Although Angela's recipe as it is written below sets you up for success, there are a few tips to keep in mind when choosing and prepping your ingredients:
Use good ricotta – What is good ricotta? It should have a fresh flavor, no sourness. And if the texture looks grainy, don't use it. Great ricotta cheese is a creamy cheese, and it's going to bring that seductive texture to your white pizza. (Some good brands include Sorrento, White Rose and Whole Foods 365.)
Freshly grate your hard cheeses – You can purchase pre-grated parmesan and pecorino Locatelli, but pre-grated cheeses contain preservatives that prevent them from melting as easily as freshly grated cheese.
Use a good crust – Good pizza starts with the crust. This doesn't mean you have to make your crust from scratch but if you're buying a pre-made crust, do your homework (either research or taste-testing) to find a crust with good flavor and texture. If you want to try making your own crust, Sally's Baking Addiction has an easy-to-follow homemade pizza crust recipe for beginners.
Do you cook the spinach before putting it on the pizza?
This ricotta spinach pizza recipe calls for adding baby spinach that has been sautéed in advance. You can make the spinach earlier in the day and allow it to cool. But you can even make it a day in advance and store it in the refrigerator. Just make sure to allow the spinach to come to room temperature before using.
(Some recipes for pizza with fresh spinach call for adding the uncooked spinach to the pizza near the end of the baking. But because we want to impart a little extra flavor with olive oil and seasoning, this recipe cooks the spinach before adding it to the pie.)
Be sure to sauté the spinach in fresh olive oil. It doesn't have to be an extra virgin olive oil – we'll save that for making salad dressings and finishing dishes with an olive oil drizzle. But if you've had the oil for a couple of months, be sure to check that it is still good before you use it.
Alternatively, you can use avocado oil for cooking the spinach. But whatever oil you use, don't forget to season the baby spinach with salt and pepper.
Love vegetarian pizza? Try our cauliflower crust pizza recipe
Equipment you need to make great homemade pizza
A good pizza pan, like this cast iron one
A cheese grater, (the best pizzas are made with freshly-grated cheese)
A pizza cutter, (you don't actually need this but it makes cutting pizza much more fun than trying to angle a knife in the pan!)
You don't need a pizza stone to make this pizza recipe. Angela suggests using a round or 9 x 13 pizza pan. You can use a cookie sheet, so long as it has a lip. If you do use a pizza stone, you will also want a pizza peel, as this tool makes removing the pizza from the oven easy.
To make this white pizza, you will also need a sauté pan to cook the spinach, a bowl for the dough to rise and a knife and cutting board to chop the oregano.
Why this spinach and ricotta pizza just might be an aphrodisiac
According to a study by the Smell and Taste Treatment & Research Foundation, the one-of-a-kind aroma of pizza increases blood flow.
Now you might be thinking, "This is significant to me…Why?" If this is where your mind goes, I would like to ask you to pause and just think for a moment about the significance of blood flow. Yes, it means you're alive. But think about that hyper sensation of being alive you get when the blood flows to a certain zone called the erogenous zone. Basically, what the research is concluding is that pizza can give your body a boost in feelings of sexual excitement.
The powerful aroma of cheese
Why would pizza of all foods do this? Perhaps it's the fact that the scent of many kinds of cheese resembles a female pheromone. And, of course, when cheese is heated, the aromas intensify. The intense cheese smell is particularly notable with a white pizza like this pizza with ricotta cheese, which calls for a blend of four cheeses. However, I think we should also consider that the one-of-a-kind yeasty tang of freshly baked dough has something to do with it.
A spinach ricotta pizza recipe for a vegetarian date night dinner
Now I'll bet that when you first clicked on this recipe for a homemade spinach pizza, the last thing you were expecting was a lesson in how to get the blood flowing to your nether regions. But besides being a one-pan meal, let's face it, this Italian ricotta pizza is a potential form of foreplay.
Try pairing it with a wine with pheromone-like aromas and you're all but assured a home run with this easy homemade pizza recipe!
More great ricotta cheese recipes
Ricotta Toast with Asparagus, Lemon and Mint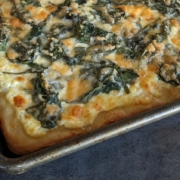 Baby Spinach and Ricotta Pizza
Print Recipe
This recipe from Chef Angela Dimino shows you how you can make good food fast. A one-pan vegetarian meal, it's easy and satisfying. 
Ingredients
1

lb

fresh or frozen pizza dough*

12

oz

sautéed baby spinach in olive oil over medium heat (about 1 minute) with salt and pepper to taste and then cooled

15

oz

ricotta cheese

1/4

cup

grated parmesan cheese

1/4

cup

grated locatelli cheese

1/2

cup

shredded mozzarella cheese

1

tbsp

fresh oregano chopped

1

tsp

red pepper flakes

1

tbsp

cornmeal

salt and pepper to taste
Instructions
Place dough in an olive oil-coated bowl covered in plastic. Allow the dough to rise at room temperature for 1 hr.

Preheat oven to 500 degrees.

Take cornmeal and dust the bottom of an 8 inch round or 13" by 9" rectangle pizza pan.

After dough has been allowed to rise, stretch out the dough to fit in the pizza pan that has been dusted with cornmeal on the bottom.

Spread ricotta over the top of the dough evenly and then sprinkle the parmesan cheese over the ricotta.

Take the spinach and evenly distribute it over the ricotta and then sprinkle the locatelli and mozzarella on top along with the chopped fresh oregano and red pepper flakes.

Place pizza into the 500 degree preheated oven and cook for ten minutes and then lower oven temp to 350 degrees and cook until cheese is melted and crust is golden brown. About 10 to 15 minutes depending on your oven.
Pin this homemade spinach and ricotta cheese pizza recipe:
Latest posts by Amy Reiley
(see all)
Get on our mailing list
Subscribe and get our exclusive list of Six Great Sex-Boosting Snack Foods for FREE! Unsubscribe at any time.