Homemade Cauliflower Crust Veggie Pizza Recipe
Our articles may contain affiliate links. For more information, view our policies.
Pizza is a winner for almost any occasion. It's delicious, it's fun and it's finger food! You can make pizza any number of ways but one of the most unique is to make it with a flour-free crust.
This cauliflower crust veggie pizza recipe offers everything you love about homemade pizza but without all the carbs. The recipe is easy, delicious and secretly nutritious. You're going to love this one!
Why make a cauliflower crust veggie pizza?
Pizza truly is one of the best food groups on the planet. It is reminiscent of childhood birthday parties. It's the food of staying in for a cozy night at home with movies and quite possibly, some of the best cold breakfasts I can remember in my 20s.
But as a grown-up, I think a little harder about what goes into my body. That's why I created a recipe for a vegetarian pizza with cauliflower crust. This way, I can still get that nostalgic flavor, but I'm getting the nutrition my body needs.
How do you make a pizza crust with cauliflower?
Cauliflower is a veggie having a moment in the spotlight. And although I wasn't the one to come up with the idea, I wanted to find my own way to use this cruciferous vegetable to make my own version of a gluten-free, cauliflower crust pizza.
In doing so, I took out the carb. And I replaced the nutrient-less dough and exchange it with one of the healthiest foods on the planet: cauliflower.
To make a pizza crust using cauliflower is surprisingly easy. You just chop up that head of cauliflower and throw it in a food processor. (Click here for my favorite food processor.) Don't worry, if you don't have a food processor, you can use a cheese grater. It's just more labor-intensive.
Note that I always use fresh, not frozen cauliflower for this recipe.
Once you've "riced" the cauliflower, you just steam it and combine the cauliflower rice with egg and cheese. The result is something you can spread out like a pizza crust on a baking sheet and treat the same way you would traditional pizza dough.
You'll note in my crust recipe that I also add a few seasonings but this is how to make a basic cauliflower pizza crust.
Why would you make a cauliflower pizza dough?
Why would you want to replace the glutinous, stretchy goodness of a traditional pizza crust with a vegetable? The answer is simple!
You may not have realized it, but just one cup of cauliflower has almost 100% of your daily vitamin C. And that supports your immune system and nourishes a healthy libido.
But that's not all. It is also full of B vitamins, vitamin K, and omega-3 fatty acids. Cauliflower also contains carotenoids, such as beta-carotene.
What are carotenoids? They're super strong anti-oxidants that reduce your risk of cardiovascular disease and cancer.
In addition, cauliflower is considered an anti-inflammatory food. And it's full of fiber, which will help you look and feel your most sexy.
So curl up on the couch for movies with one of these cauliflower crust pizza, you may feel like getting even cozier without the dough-induced food coma.
Cauliflower veggie pizza additions and variations
I call this my seven-ingredient recipe. That's because I actually use a few seasonings to put my own special twist on cauliflower pizza crust. In addition to egg and mozzarella, you're going to need a few herbs and some fresh garlic, which by the way, is an aphrodisiac.
Of course, this recipe is really just a blank canvas. What happens from here is really up to you. But I recommend you do some research into the best aphrodisiac veggies, herbs and spices to create a masterpiece of aphrodisiac ingredients all your own.
Maybe a tomato and basil with a pinch of black pepper. Better yet, with chile flakes! Maybe arugula and artichoke hearts. Or, if you're not strictly vegetarian, you could go with a white pizza topped with clams and caviar.
What can you serve with this healthy cauliflower crust pizza?
The great thing about this cauliflower crust pizza is that it's basically a whole meal in one wedge. You get a serving (or more, depending on how you top it) of vegetables plus protein, fiber, etc and a whole lot of flavor.
But if you want to add a salad or side dish, here are a few of my favorites to serve with pizza:
Caprese Salad with Cherry Tomatoes for Two
Then, of course, there's the question of what to drink with pizza. Serving a nice bottle of wine can take pizza night from just another evening to something special. Personally, I can't resist Prosecco and pizza. But if you're not a sparkling wine fan, you're sure to find something else that's to your taste in our wine recommendations.
Homemade Cauliflower Crust Pizza
Print Recipe
Take the gluten out of your pizza crust the natural way--make it out of cauliflower! You'll love how easy it is to make this crust and how easy it makes it to get your veggies.
Ingredients
1

cup

cooked

riced cauliflower

1

cup

shredded mozzarella cheese

1

egg beaten

1/2

tsp

dried oregano

1/2

tsp

dried basil

1

tsp

crushed garlic

1/2

tsp

garlic salt

olive oil

1

cup

pizza sauce

your choice of pizza toppings

go heavy on the veggies!
Instructions
to rice the cauliflower:
Take 1 large head of fresh cauliflower, remove the stems and leaves, and chop the florets into chunks.

Add to food processor and pulse until it looks like grain. Be careful not to over-pulse or you will puree it. (If you don't have a food processor, you can grate the whole head with a cheese grater).

Place the riced cauliflower into a microwave-safe bowl and microwave for 8 minutes (some microwaves are more powerful than others, so you may need to reduce this cooking time). If you don't have a microwave just steam the cauliflower before you rice it.
to make the pizza crust:
Preheat oven to 450 degrees.

Spray a cookie sheet with non-stick cooking spray.

In a medium bowl, stir together 1 cup cauliflower, egg and mozzarella.

Add basil, oregano, crushed garlic and garlic salt, stir.

Transfer to the cookie sheet, and using your hands, pat out into a 9" round.

Brush olive oil lightly over top of mixture to help with browning.

One large head should produce around 3 cups of riced cauliflower. If you have any left over, you can use it to make more pizza or store in the fridge for up to a week to add to other dishes.
Notes
Whatever toppings you decide to add make sure if they need to be thoroughly cooked to do it mostly beforehand, as it will only be broiled for about 15 minutes. And of course, I will not pretend that this is the exact same dining experience as it is with dough, this is more of a knife and fork pizza, but a healthy and delicious one.
Pin this vegetarian cauliflower crust pizza recipe: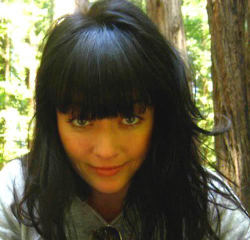 Latest posts by Vanessa Vanya
(see all)
Get on our mailing list
Subscribe and get our exclusive list of Six Great Sex-Boosting Snack Foods for FREE! Unsubscribe at any time - privacy policy