Italian Sausage Risotto with Sweet Peas and Chicory
Our articles may contain affiliate links. For more information, view our policies.
The secret to this great risotto recipe? A little patience and an unshakeable focus on building flavor. Summer grilling favorite, spicy Italian sausage, plays a starring role in this flavorful dish. Meanwhile, sweet green peas and the pleasant bitterness of tender green chicory balance the richness in a pinch.
What is chicory?
Chicory is a tender green vegetable that is in the same family as escarole, radicchio, dandelion, and endive. The primary flavor is bitter–and I don't mean that in a bad way. The flavor of bitter is not given enough credit in North American cuisine.
It gives wonderful structure and depth to a recipe and comes in many forms. Cooking chicory and other bitter greens brings out their innate sweetness, giving a recipe depth and balance, and giving you a delicious new green vegetable to work into your repertoire.
Tips and substitutions
You can easily substitute chopped radicchio, escarole, endive, or dandelion greens in this risotto recipe, as well as broccoli rabe, arugula, or spinach. If you use broccoli rabe, you will need to sauté it with the sausage in advance because it takes longer to cook.
If fresh peas are available from your garden or the farmer's market, this is a great way to show them off. Otherwise, good quality IQF sweet peas are the way to go (the frozen ones in bags).
In addition to the Arborio rice,  this risotto recipe calls for homemade chicken stock. If you don't have time to make the chicken stock from scratch, use a good quality, sodium-free, pre-made stock. You can make it even more flavorful by reinforcing the pre-made stock. To do this, simmer the stock with any chicken bones you have, and/or roasted mirepoix (carrots, celery, onions) for 45 minutes then strain.
You can also make the stock in advance and freeze it for future use – it's so delicious, even on its own. And good stock makes the difference between a good and an unforgettable risotto.
Want to try another variation on risotto? Check out our Butternut Farrotto.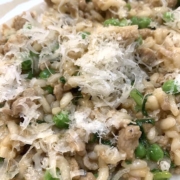 Italian Sausage Risotto with Sweet Peas and Chicory
Print Recipe
Sweet or spicy Italian sausage softened with sweet peas and balanced by tender chicory.
Ingredients
Rich Chicken Stock
1/4

cup

olive oil

3

stalks

celery

cut in 1-inch pieces

2

each

carrots

peeled and cut in 1-inch pieces

6-8

cloves

garlic

peeled, cracked

1

each

medium yellow onion

peeled, quartered

1/4

cup

tomato

chopped (fresh or canned)

4

ounces

cremini mushrooms

quartered

3

lbs

chicken parts

bones, necks, backs, wings

5

stems

fresh parsley

3

stems

fresh thyme
Italian Sausage Risotto with Sweet Peas and Chicory
4

each

Italian sausage links

removed from casing (or 1/2 lb. loose sausage)

2

tbsp

unsalted butter

1

tbsp

olive oil

2

each

shallots

chopped fine

1

tsp

kosher salt

1

cups

Arborio rice

1/2

cup

dry white wine

5

cups

homemade or good quality prepared chicken stock

(you may not use it all)

6

oz

fresh chicory greens, escarole, dandelion, or radicchio

cleaned and torn into bite-size pieces

1

cup

cooked peas

fresh or frozen

1

tbsp

unsalted butter

1/2

cup

finely grated Parmesan cheese

plus more for garnish

salt and freshly ground pepper

to taste
Instructions
Rich Chicken Stock
Toss the chicken bones and parts in half of the olive oil. Lay them on a baking sheet and roast for 25-30 minutes or until golden brown. Remove to a stock pot.

Add cool water to the stock pot to cover the chicken by approximately 1 inch. Simmer over medium heat for 15 minutes while the vegetables roast.

Toss all the vegetables (known as mirepoix) in the remaining olive oil. Arrange them in a single layer on a baking sheet and roast them 15 minutes or until golden brown.

Before adding the roasted vegetables to the stock pot, skim off any floating impurities using a ladel large spoon (keep a bowl nearby to do this often through the cooking process). Add the roasted mirepoix and herbs.

Bring the stock to a boil then immediately reduce it to a gentle simmer. Skim frequently, as needed. Cook for 2 hours.

Carefully strain the hot stock into another pot, a large bowl, or roasting pan. Discard the solids.

For the risotto, hold the stock warm for use. Cool any remaining stock thoroughly before packaging to freeze or refrigerate.
Risotto
Heat a straight sided skillet or shallow pot (Dutch oven) over medium-high heat. Add a teaspoon of the olive oil then brown the sausage thoroughly. Careful not to burn the bits on the bottom. When cooked, hold warm in a bowl.

Have the chicken stock holding warm in a pot nearby, with a ladel.

If there is more than 1 tablepoon of fat, drain most of it off, leave at least 1 teaspoon (more for more flavor). Return pan to medium heat. Add the remaining olive oil. Add the shallots and some salt. Saute until tender.

Add the rice. Stir well with wooden spoon. Coat the rice with the oil and cook until the rice grains are chalky and opaque.

Add the wine and stir until it is fully absorbed/evaporated.

Once the wine is absorbed, add 3 ladels of warm stock. Stir frequently until all the stock is absorbed. Liquid should simmer. If it is at a full boil, reduce heat as needed.

Continue adding stock 1-2 ladels at a time, stirring frequently until the liquid absorbs before adding the next round.

Once you've used more than half of the stock, start checking for doneness. The rice should be al dente but not chalky in the center. Reduce heat to low.

Once the rice is al dente but not chalky, stir in chicory (or other greens) and 1/4 teaspoon of salt. Stir, cooking 2 minutes until the greens are wilted.

Add the cooked sausage and any of its juices as well as the peas. Then add the butter and grated cheese. Stir well. Texture should be creamy, and slightly loose. If necessary, stir in 1-3 tablespoons fo warm stock to adjust consistency.

Adjust seasoning as needed with salt and freshly ground black pepper. Serve immediately in warm pasta bowls.
Pin this Italian Sausage Risotto recipe:
Latest posts by Annette Tomei
(see all)
Get on our mailing list
Subscribe and get our exclusive list of Six Great Sex-Boosting Snack Foods for FREE! Unsubscribe at any time.