Easy Butternut Farrotto Recipe (farro risotto)
Our articles may contain affiliate links. For more information, view our policies.
Winter weather requires hot, comforting food. The trouble with comfort food is that so much of it tends to be high in fat and low in nutrients. That's why I started making my winter, date night risotto with farro. Known as farrotto, risotto made with farro is as nourishing as it is comforting. And in this recipe, where it's combined with sweet butternut, garlic, thyme and the right touch of freshly grated parmesan cheese, it becomes more than a health food. It is a memorable recipe for a romantic dinner or any night you need a little comfort food.
What is Farro and why do you want to cook with it?
Farro is one of the oldest – possibly the oldest – grain known to man. Its use has been traced back to the ancient Egyptians. In fact, it was found in the tombs of Egyptian kings. It is a nutty grain with a satisfyingly chewy texture.
As an ingredient, it is much more commonly used in Italian than American cooking. In fact, it has been cultivated in Italy for centuries. However, this healthy grain is rising in popularity across the Western world It can be used in soups and as a replacement for rice or barley in salads. But my favorite use for this grain is in this rich, pasta-like dish.
How farro differs from arborio
Using farro in risotto recipes gives the dishes a different flavor and texture than what you get from arborio, the grain used to make a traditional risotto.
Farro is a firm, whole grain with a mildly nutty flavor. In this recipe, I call for toasting it in the oven before adding it to the risotto pot. This oven-toasting augments the grain's natural flavors and helps individualize the grains. It also helps to prevent the texture of the final dish from going gummy.
Understanding the different kinds of farro
Farro is sold at most health food and specialty food stores. (But if you can't find farro locally, do not substitute with another grain, like barley, to make this recipe. You can always order farro online.) The type of farro I use in my farro risotto recipe is pearled farro. There are three types of farro available:
Whole farro is the most nutritious but also the most difficult to cook.
Semi pearled, still has some of the bran.
Pearled is the quickest cooking and still offers an eye-widening number of nutrients.
TO TRY: Barley Risotto with Apples and Parmesan
How to make farro risotto
You're going to use the same cooking technique as you would for making risotto with arborio rice only you're using pearled farro. The only difference is that you're going to toast the farro before you start. The key to a creamy farrotto (or any risotto) is attention. You're going to add the liquid 1/2 cup at a time, stirring almost constantly, until the liquid is absorbed then add the next cup. Repeat this process until all of the liquid is absorbed and the farrotto is soft and creamy in appearance and taste. That's really all there is to making a creamy and satisfying risotto made with farro.
Ingredients
Simple recipes like this one call for buying the best ingredients you can find. Make sure to use chopped fresh, not dried thyme. And for the best cheese flavor, use freshly grated parmesan instead of buying time-saving pre-grated cheese.
Before you start to cook with your olive oil, garlic and shallot, make sure that they are fresh. If you can't remember when you bought them, they may need to be replaced.
Also, be sure to use unsalted butter. When you cook with salted butter, you lose some control over your seasoning because the butter already has some salt but you don't know how much. By adding your own salt, you can decide when the dish is properly seasoned.
How to choose your cooking wine
This farrotto recipe calls for a cup of white wine. Do not use the product sold on grocery store shelves as cooking wine. Instead, choose a dry, white wine you would want to drink. In fact, why not use the wine you're going to serve at dinner? That way you can enjoy the rest of the bottle with your meal.
Why this farro recipe is perfect for a vegetarian date night
This risotto variation is not only a deliciously creamy, soul-satisfying dish, but it's also layered with nutrition. As I mentioned, farro is a whole grain. But did you know that this and other whole grains are not only fiber-rich but they contain nutrients to support your sex life? Yep! a farro risotto is sexy food!
The grain is rich in several nutrients important to maintaining sexual health including zinc, iron and magnesium. (Although I mentioned that pearled farro offers less nutrition than less processed versions of the grain, a serving still contains more than 10% of the RDA for several nutrients.)
Aphrodisiac ingredients
In addition to the farro, my risotto recipe includes several historically aphrodisiac ingredients, like garlic, thyme and even cheese and good-for-you winter vegetables of squash and kale. You can also make it a pumpkin risotto instead of a butternut dish if you want to add another one of my favorite aphrodisiacs.
Also worth noting is that this healthy butternut squash farro risotto features kale, which may not be sexy but is considered one of the best foods for women's sexual health. So if you're looking for comfort food to feed your lover, this might be the dish!
Of course, this recipe is also a great fall side dish or plant-based main course. Even though it's my pick for a cozy date night at home, it's also a great vegetarian Thanksgiving option or a healthy side dish for any holiday meal.
RELATED: Traditional Risotto with Sweet Peas and Chicory.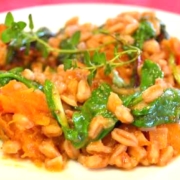 Butternut Farrotto with Kale and Parmesan
Print Recipe
A creamy version of butternut squash risotto made with farro.
Ingredients
1 1/2

cup

pearled farro*

12

oz

butternut

cut into 1/2 inch pieces

2

tsp

olive oil

2

tbsp

unsalted butter

1

clove

garlic

finely chopped

1

large shallot

finely chopped

1

tbsp

fresh thyme leaves

1

cup

dry white wine

4

cup

vegetable stock

3

tbsp

Parmesan

grated

2

cup

baby kale

salt to taste

sprigs of thyme for garnish

optional
Instructions
Preheat oven to 425 degrees.

Toast the farro in the oven for 8-10 minutes until it begins to turn golden and smell toasted.

Toss the butternut with oil and roast in the 425 degree oven for 30-35 minutes.

Melt the butter in a large saucepan over medium heat. Add the garlic, shallot and thyme and cook for 3-4 minutes, until shallot is translucent.

Add the white wine and turn heat to medium high. Cook the wine down by half, scraping any shallot and garlic bits down from the sides of the pan.

Add in the toasted farro and 1/2 cup of the vegetable stock. Cook, stirring, until the vegetable stock is absorbed. Repeat, adding the stock 1/2 cup at a time until there is only 1/2 cup of stock left. This should take about 20 minutes, give or take 4-5.

Add the last 1/2 cup of stock along with the roasted butternut, stirring until all the liquid is absorbed.

Stir in the Parmesan and kale before serving, then season with salt to taste. You can garnish with fresh thyme sprigs if desired.
Notes
*If you aren't sure what type of farro to use, please see the details in the introduction on the types of farro. 
A note on the provided nutrition information
The nutrition information provided has been estimated by an online nutrition calculator and is not a substitute for a professional nutritionist's advice.
Nutrition
Calories:
310
kcal
|
Carbohydrates:
51
g
|
Protein:
7
g
|
Fat:
7
g
|
Saturated Fat:
3
g
|
Polyunsaturated Fat:
1
g
|
Monounsaturated Fat:
2
g
|
Trans Fat:
0.2
g
|
Cholesterol:
12
mg
|
Sodium:
689
mg
|
Potassium:
472
mg
|
Fiber:
10
g
|
Sugar:
4
g
|
Vitamin A:
8795
IU
|
Vitamin C:
35
mg
|
Calcium:
140
mg
|
Iron:
2
mg
TRY NEXT: Roasted Winter Squash with Whole Grains
Pin this healthy butternut squash farro risotto recipe: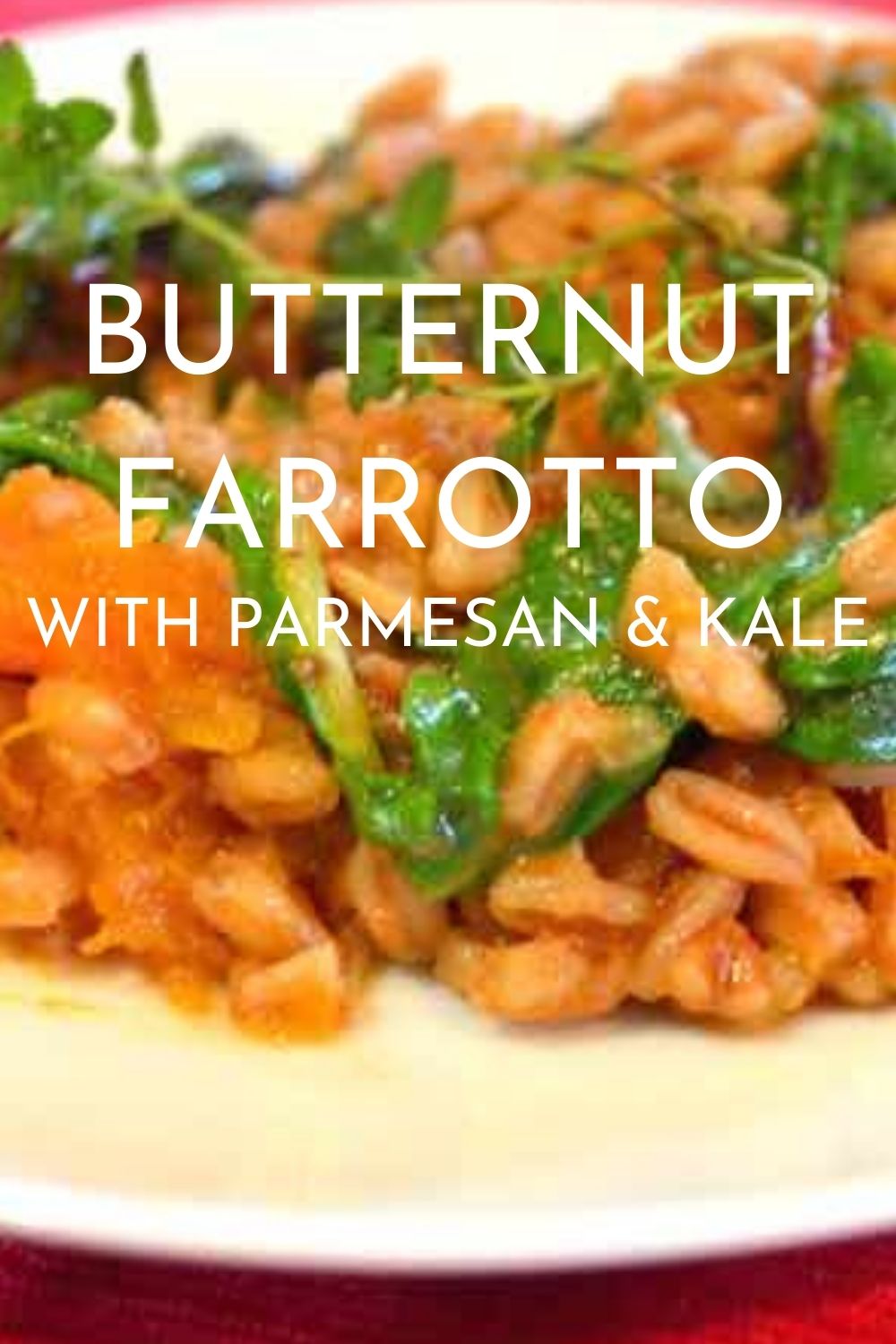 Latest posts by Amy Reiley
(see all)
Get on our mailing list
Subscribe and get our exclusive list of Six Great Sex-Boosting Snack Foods for FREE! Unsubscribe at any time - privacy policy