Roasted Winter Squash Recipe with Whole Grains
Our articles may contain affiliate links. For more information, view our policies.
This hearty, roasted winter squash dish is a great vegetarian entrée or can be served as a side dish for carnivores. (I recommend pairing it with roasted pork shoulder or pork tenderloin…And perhaps a Pinot Noir!) What's best about this recipe is that it pairs roasted butternut squash – or whatever squash you're using – with a creamy, comforting dish of ancient grains. This winter squash recipe is healthy, yet indulgent.

TO TRY: Warm Quinoa with Melted Goat Cheese
A healthy side dish or vegetarian main course
As I mentioned, this roasted squash dish works as a pilaf-type side dish. And it also works a vegetarian dinner. So, this winter squash recipe yields 4-8 servings, depending on how you use it. You can make it with quinoa, although I prefer this grain bowl with barley – it makes a more indulgent-feeling dish in my estimation. I've included both variations. So you decide for yourself.
I typically make this dish with butternut squash but, again, use your favorite roasted winter squash. But what I recommend doing is mixing the ingredients together, risotto-style. It makes cleanup easy, as you just scoop everything into one container.
FAQ
The cooking instructions for the grain in this baked butternut squash dish is the same whether you choose to use pearl barley or quinoa. And it really couldn't be easier. It's a heat it and forget it recipe, cooked the same way you would cook rice. But the difference is that barley and quinoa both offer a great deal more nutrition – not to mention texture – than white rice.
Should you use barley or quinoa?
Quinoa, touted by some health experts as a superfood, is known as a great source of fiber and as a source of plant-based protein. But did you know that pearl barley has slightly more fiber and significantly more protein than you get from quinoa?
Pearl barley is barley that has been polished so that the outer hull and some of the interior bran layer is removed. This makes for a quicker cooking, easier to chew grain. It does strip barley of some of the nutrition. But pearled barley is still considered a whole grain and, as you can see when compared with quinoa, offers substantial nutrition.
Can you freeze this roasted squash dish?
This is also a recipe great for freezing. Just portion it out and freeze leftovers for future meals, (to use within 2 months).
How do you make a vegan version of this roasted winter squash grain bowl?
With the exception of one ingredient, this winter squash recipe is naturally vegan. To make it a vegan squash pilaf, simply swap out the tablespoon of butter for vegan butter. (You'll also want to be sure to use a vegan-friendly wine.) As I mentioned, this healthy squash dish is rich in plant-based protein and is a remarkably nourishing version of comfort food for a vegan-friendly dinner.
Check out all of our vegan recipes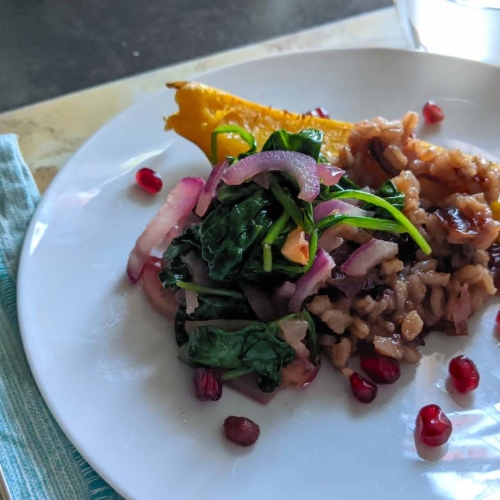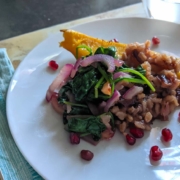 Roasted Winter Squash with Whole Grains
Print Recipe
This simple and healthy roasted squash recipe brings all the flavors of fall and winter into one dish.
Ingredients
1

medium winter squash (kabocha

butternut, acorn, etc.), halved or quartered, seeds removed

1

tbsp

olive oil

Salt and fresh-ground black pepper

3/4

cup

pearl barley

or quinoa

1 1/2

cup

water

1

tsp

salt

1/2

cup

raisins or dried cranberries

1

tbsp

maple syrup

1

medium red onion

sliced thin

1

medium apple

cored and sliced thin (peeled or not)

1

tsp

olive oil

1

tbsp

butter or vegan butter

Salt and fresh-ground black pepper

1

bunch greens (chard

kale, mustard greens, spinach, etc.), cleaned, torn into bite-size pieces dried

1/4

cup

dry white wine

in addition to the one you should be drinking at this time

More salt and fresh-ground black pepper

1

pomegranate worth of seeds for garnish and snacking while you cook
Instructions
Prepare the squash:
Preheat the oven to 400 degrees. Lightly oil a 13x9x2 baking pan.

Cut and clean the squash. Rub with olive oil. Sprinkle with salt and pepper. Place skin down in the baking pan. Add approximately 1/2 inch of warm water to the pan.

Bake for 40-50 minutes or until squash is tender.
Prepare the barley or quinoa:
Pour the barley grains onto a baking sheet to check for "foreign matter" (small pebbles and dirt lumps), then rinse the barley well. (For quinoa, you can just rinse.)

Place in a 2 -quart saucepan with the water, salt and raisins.

Bring to a boil over high heat, reduce the heat to low, cover, and simmer for approximately 40 minutes. (15-20 for quinoa or until the liquid is absorbed.)

When cooked through, fluff with a fork and stir in the maple syrup then season with salt and pepper to taste.
Prepare the Greens:
Heat olive oil and butter in a sauté pan (or sexy reduction saucepan!) until butter bubbles and melts. Add the apples and don't move the pan until they begin to caramelize. Add the onions, sauté until tender and golden. Season with salt and pepper.

Reduce the heat to low, place the greens on top of the sautéed onions and apples. Sprinkle with a bit of salt and pepper. Add the wine and cover the pan until the greens begin to wilt. Stir gently and season to taste.
To serve:
As an entrée, place a piece of roasted squash on a plate. Top with greens and a scoop of the barley. Garnish with pomegranate seeds and a drizzle of the infused maple syrup around the plate.

For a more casual effect, scrape the squash from its shell into the barley mixture, fold in and re-season. Serve the greens on the side or fold them in also.
Pin this roasted winter squash and whole grain bowl recipe: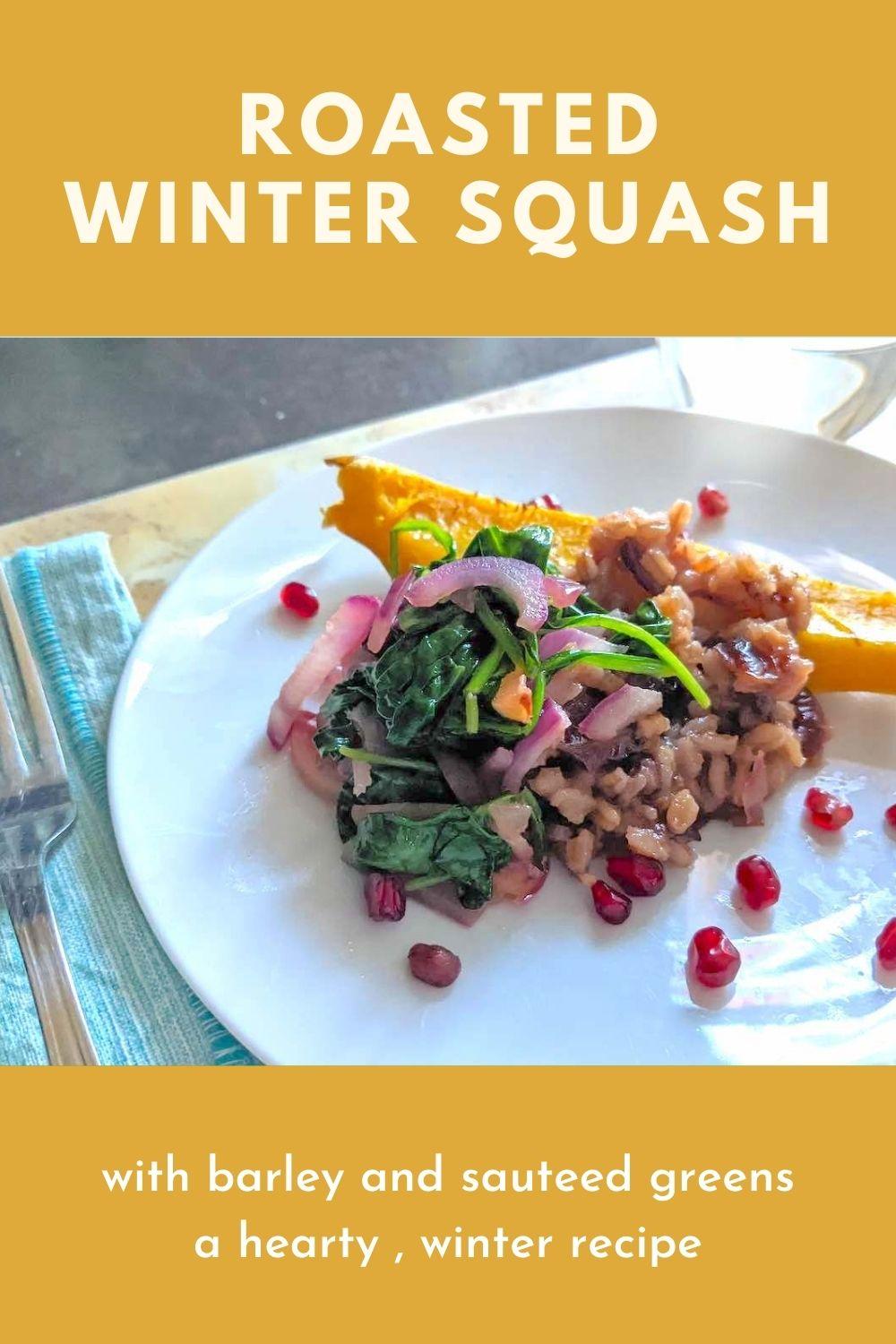 Latest posts by Annette Tomei
(see all)
Get on our mailing list
Subscribe and get our exclusive list of Six Great Sex-Boosting Snack Foods for FREE! Unsubscribe at any time - privacy policy