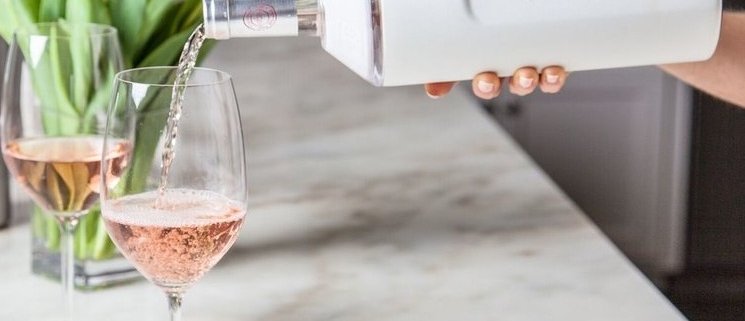 The Best Single Bottle Wine Chiller (Vinglacé review)
Our articles may contain affiliate links. For more information, view our policies.
When it comes to keeping wine cold, I've tried it all. From the old-school ice bucket to the Corksicle to a thermal wine bottle koozie and everything in between. And in general, I've had varying success with the options available for keeping a bottle of wine cold. And then I was invited to try the Vinglacé insulated wine chiller. And I am a convert. Based on my extensive testing, I'm convinced this single bottle wine chiller is the best portable wine cooler.
RELATED: Have you tried my favorite Champagne sealer?
What is a single bottle wine chiller?
A single bottle chiller is a cooler for your wine. It is not designed to chill the wine from room temperature to drinking temperature. For that, you need a single bottle electric wine chiller. Individual wine refrigerators, although they are handy for cooling down a bottle of wine, are fairly clunky and need to be plugged in. On the other hand, a single bottle chiller is a portable wine gadget designed to maintain the temperature of a bottle of wine for long periods of time without refrigeration. It is typically used with white wines, rosés, or even certain red wines that benefit from being served at a slightly cooler temperature.
Portable wine bottle chillers are double-walled, insulated containers that are made to fit snuggly around a bottle of wine. They make a lightweight, no-fuss alternative to an ice bucket. Some wine chillers come with thermal pockets for gel-filled ice packs that require freezing prior to use. Other options may require freezing the container before use. And some require the addition of ice cubes. The insulating properties of the portable wine chiller help to maintain the wine's temperature and keep it cool for an extended period, allowing you to enjoy your wine at the desired serving temperature.
Single bottle, insulated wine coolers are supposed to be a simple alternative to ice buckets. They are usually designed to be portable and convenient for picnics, concerts and other outdoor events. Those with a lightweight design are even good for hiking and camping.
What makes the Vinglacé chiller the best single wine cooler?
This low-tech gadget is easy to use and offers a sleek, smart design. It's a stainless steel, double-walled cylinder with vacuum insulation. It's reasonably lightweight and good for travel. There are no ice pouches, no pre-chilling, no loading it up with stacks of ice cubes. You just unscrew the top, load in the bottle and screw the top back on. Pull the cork and you've got cold wine for hours.
My Vinglacé single bottle wine cooler review
I spent an entire summer testing out a Vinglacé chiller in various conditions. Overall, the results were impressive, although, like most products, it has a few drawbacks. I've outlined everything I love and dislike about this single wine cooler but let's start with the good.
The Vinglacé wine bottle chiller wins points for ease of use. A simple two-piece design, all you have to do is screw on the top and go. And it truly keeps wine at drinking temperature for several hours in a normal environment. But just to test it to its limits, I even tried it on a humid day at the beach during a heatwave. The wine bottle fits snuggly inside the Vinglacé white wine chiller and stayed cold for two hours. But I'd say a couple of hours is its limit in extreme heat and sun. Still, that should give you enough time to drain the bottle.
I also tried using the Vinglacé cooler with Champagne, (in normal, non-heatwave conditions). The sparkling wine stayed at my preferred, icy temperature for about the same amount of time. But again, two to three hours is the limit for keeping a frigid chill on a bottle of bubbly.
But in addition to keeping wine at just the right temperature, this individual wine cooler gets high marks for being among the most mess-free and environmentally friendly wine thermoses I've tried. I love that it doesn't waste water. I also love that I never have the cleanup from dripping water all over the floor. (Am I the only one who spills the water in a wine bucket?) You don't have to wrap the bottle in a towel (that you'll later have to wash), to avoid dripping condensation on your friends. And since I'm both lazy and phobic when it comes to having ice water drip down my arm, this really is the best wine-chilling gadget for me.
RELATED: The Best Wine Tumblers
Now, onto my issue with this wine gadget. The Vinglacé thermos does not hold all bottle sizes as the company promises. Because of their not-so-standard shapes, the cooler lid doesn't fit all Bordeaux, Riesling or Champagne bottles.
And I had one additional issue when using it as a cooler for Champagne. Occasionally, I had the problem that I couldn't get the lid back off the Vinglacé cooler once the bottle was empty. Because it's a tighter fit with a Champagne or sparkling wine bottle, I occasionally found that once the lid was screwed on tightly, the seal held so well that I had to wait until the bottle warmed up to get it back open. It's fine if you're only drinking one bottle. But when you want to switch one bottle out for the second, you might be out of luck. But such a minor setback doesn't stop me from calling this the best wine bottle cooler I've ever tried.
Why you should give this white wine chiller as a gift
The makers of this individual wine cooler considered form as well as function. The cooler is sleek and attractive in stainless steel but it also comes in a variety of colors like coral and copper. So you can give this wine chiller as a gift that matches the recipient's home design style.
The next time you're looking for a gift for a wine lover, skip wandering through a wine store trying to find the right bottle of wine. Instead, give them a gift that keeps on giving with a Vinglacé chiller. The company even offers sets with the wine chilling bucket and two matching, insulated glasses. It's truly a gift your favorite wine lover can use for years.
Where to buy
To check out all of the colors and styles, head to the Vinglacé website.  directly from the manufacturer. Prices range between $90 for a single chiller to $150 for a wine bottle chiller and wine tumbler set. You can place an order directly from the manufacturer's website. Or you can order from Amazon and get free shipping with Prime. Amazon offers both single bottle wine chillers and chillers with wine tumblers or Champagne tumblers. The choice is yours!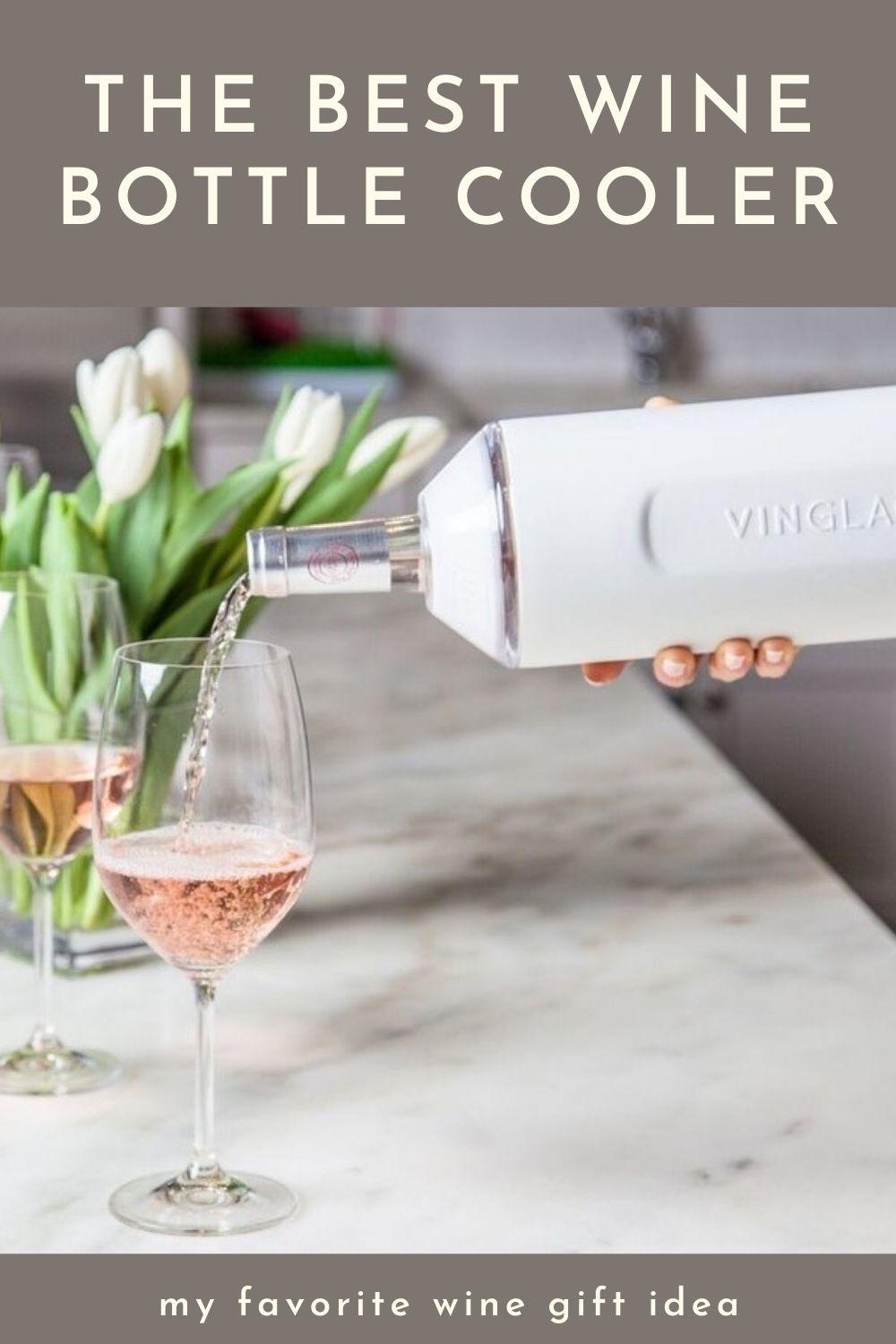 Product photos courtesy of Vinglacé
This Vinglacé product review was written in 2019 and most recently updated in July 2023
Latest posts by Amy Reiley
(see all)
Get on our mailing list
Subscribe and get our exclusive list of Six Great Sex-Boosting Snack Foods for FREE! Unsubscribe at any time.