The Best Wine Tumblers, Including Stemless Crystal and Insulated Stainless Steel
Our articles may contain affiliate links. For more information, view our policies.
Today wine tumblers are commonplace. They come in a variety of sizes and materials and even colors. With so many choices, it's hard to know what are the best wine tumblers…or why we even need them at all. So if you're reading this but you're still wondering, "Do I need a wine tumbler?" The answer is yes, yes you do!
In this article, we'll explore the best stemless wine glass made from crystal as well as look at the wine world's newest phenomenon, insulated wine glasses for your outdoor wine-drinking enjoyment. Once you start shopping, you might be surprised to discover the wide range of elegant, stemless glasses. Luckily, we're here to guide you toward the best.
What are the best stemless wine glasses?
Believe it or not, there was a time, not very long ago, when there was little to no choice for those looking to enjoy wine in something without a stem. Some of us even resorted to paper cups.
But in February of 2004, Austrian stemware innovator Riedel crystal, released what was the first wine-specific stemless wine glasses, (now known as wine tumblers), naming the line Riedel O. According to the manufacturer, the name "O" refers to the glasses rounded shape, but I have a few interpretations of my own.
Just because they were the first doesn't necessarily make the Riedel tumblers the best. But as a matter of fact, if you're looking for stemless crystal tumblers, Riedel is still as good as it gets.
I sincerely can't recommend any crystal stemless wine glasses more than the O series from Riedel. Beyond the innuendos invoked by sexy glass shape, the "O" glasses combine quality and craftsmanship.
Riedel has been making fine glassware since 1756. To say that they understand wine glasses is an understatement. Their tumblers, like all of their stemware, are crystal. Crystal can be shaped more thinly from glass, which eliminates the lip of the glass and allows the wine to flow more freely into your mouth, improving the sensuality of the drinking experience.
And although a crystal tumbler can enhance the wine-drinking experience, there's something even more remarkable about Riedel "O" tumblers. These stemless wine glasses are wine-specific tumblers. The bowl of the glasses replicates those of Riedel's Vinum series of stemware. (The Vinum series was the world's first wine-style-specific glasses ever made by machine. Which means they were the first affordable glasses made in shapes to suit specific kinds of wine.) And this is why I call them the best wine tumblers made from crystal.
This means that if you want a truly exquisite wine-drinking experience from a stemless wine glass, you want to buy the glasses for the type of wine you're going to drink.
Riedel stemless wine glass shapes
Each glass shape is designed to showcase the typical characteristics of specific wine styles. The O glass line includes:
Syrah/Shiraz Tumbler
Champagne/Sparkling Wine Stemless Flute
Cabernet/Merlot Tumbler
Pinot/Nebbiolo Tumbler
Riesling/Sauvignon Blanc Tumbler
Viognier/Chardonnay Tumbler
Oaked Chardonnay Tumbler
New World Pinot Noir Tumbler
Old World Syrah Tumbler
Beyond the stemless wine tumbler, the line includes chic, stemless crystal glasses for water, whiskey and other spirits.
RELATED: The Importance of Good Wine Storage
The pros and cons of the Riedel stemless wine glasses
Crystal wine tumblers are beautiful. And they put a sophisticated spin on casual wine drinking. I use these tumblers myself. No, I do not own a full set of all the tumblers.
I use the Riesling/Sauvignon glasses, (which I also use to drink Gruner Veltliner, unoaked Chardonnay, etc.). And I use either the New World Pinot or the Cab/Merlot glass for my reds. I love this combination and I couldn't imagine my kitchen without my Riedel "O" glasses.
But there are some things this glassware is not good for. These glasses are impossible for cocktail soirees. Without a graceful stem to balance, the drinker is forced to clutch the glass by the bowl, potentially heating the wine within.
That's the one and only drawback of these beautiful wine tumblers.
RELATED: Top 5 Recipes for a Picnic Date
These glasses are also a solid choice for dinner at home, be it a dinner party or a more intimate evening. Reaching to hold your lover's hand, there's no danger of tapping the bowl of a stemmed glass and sending it crashing to the table.
And there are no worries when your Uncle Eddie gets going with his grand gestures at the next family reunion. Your wine is safe from his full-body storytelling style. Sturdy but sensuous these low-to-the-table wine glasses are nearly spill-proof. Best of all, Riedel's O series of crystal stemless wine glasses are dishwasher safe.
One quick tip, if you're going to pack your Riedel crystal tumblers to go on a picnic. Don't leave the glasses loose in your basket. Instead, place them snuggly in their original boxes for safe transport.
Alternatively, you could invest in my insulated wine tumbler recommendation below!
Where to buy the best crystal tumblers
Riedel's chic tumblers are sold through most fine wine retailers. They are also available for delivery from Amazon. You will have to buy the glasses as a wine tumbler set of two or more. They are not available for individual sale. But then, who would waste glassware that looks this good on drinking alone?
Click here to compare prices on Riedel O no stem wine glasses


What is an insulated wine tumbler?
Unlike the Riedel stemless glasses above, which are made of wafer-thin crystal, insulated tumblers are usually made from food-grade stainless steel. These durable wine glasses are made for people who are on the move but still know how to appreciate a good glass of wine.
These stemless glasses are also double-walled, which means they can hold your wine at the correct temperature even in the summer sun. (And because they're insulated stainless steel glasses, they keep all drinks cold, not just your Rosé. They can do double-duty as iced tea tumblers or glasses for your favorite cocktail, too – use them for all your cold drinks!)
Many of these tumblers also come with lids. If you're wondering, "When would I want a wine glass with a lid?" think about beach parties. These glasses may block some of the aromas of your favorite wine but they also keep your drink sand-free, not to mention bug and leaf-free.
Why would you want stainless steel wine glasses?
Crystal is our preference for material when it comes to wine glasses. But glassware is a bad choice for at least two occasions: drinking on a sailboat or on the beach. (They're also not the safest choice for pool decks and hot tubs. And they are hard to pack for hiking and camping.)
If you like your wine with a side of sand between your toes, you're going to need to invest in some insulated wine tumblers to keep your wine cold in a good-looking drinking vessel.
RELATED: My favorite Insulated Wine Bottle Cooler
Why I recommend Yeti brand tumblers for summer wine drinking
There are several insulated stainless steel wine glasses on the market to choose from but I like the Yeti. It is not the cheapest option but for several reasons, I think it is the best.
The Yeti Rambler 10 oz double-wall, vacuum-insulated wine tumbler with the Magslider lid is one of the most durable travel wine glasses on the market. (Yeti has been around since 2008 and the brand has a reputation for durability.)


Like the Riedel O tumblers, these stainless steel stemless wine glasses are dishwasher safe. And as someone who has actually run them through a dishwasher, I can say that dishwashing really does work well for these tumblers.
I will say that the experience of drinking from an insulated tumbler is not the same as drinking from stemless crystal. You can't appreciate a wine's aromas or color nearly as you would drinking from a traditional glass. These durable wine glasses are designed for appreciating fine wines.
That being said, the double-wall vacuum insulation on these outdoor wine tumblers is really effective at keeping your Prosecco, Piquepoul or Provençal Rosé at the right temperature, no matter how high the sun gets. (In my experience, wine served in these insulated cups holds its temperature for close to an hour before it starts to warm. That's plenty of time to sip a refreshingly chilled glass of wine.) Additionally, they don't sweat on the outside so no dripping or water rings left behind. Best of all, the lid ensures no sand in your insulated wine tumbler when you're frolicking at the beach. Because you know who likes drinking sand? Nobody.
Where to buy insulated wine glasses
Visit the Yeti website to learn more about their glasses and locate stores carrying the tumblers. Yeti's insulated wine glasses are also sold on Amazon, where you can select from a huge variety of colors. (They're sold as both single 10-oz tumblers and two-glass sets.)
Click here to shop for your Yeti on Amazon.com

Final thoughts
In conclusion, with Riedel O glass wine tumblers for land and Yeti stainless steel wine tumblers for sea, you will be fully wine accessorized for all of life's most important occasions. And if you're looking for a gift for a wine lover, a Yeti insulated wine tumbler set is our pick for the best hostess gift of summer.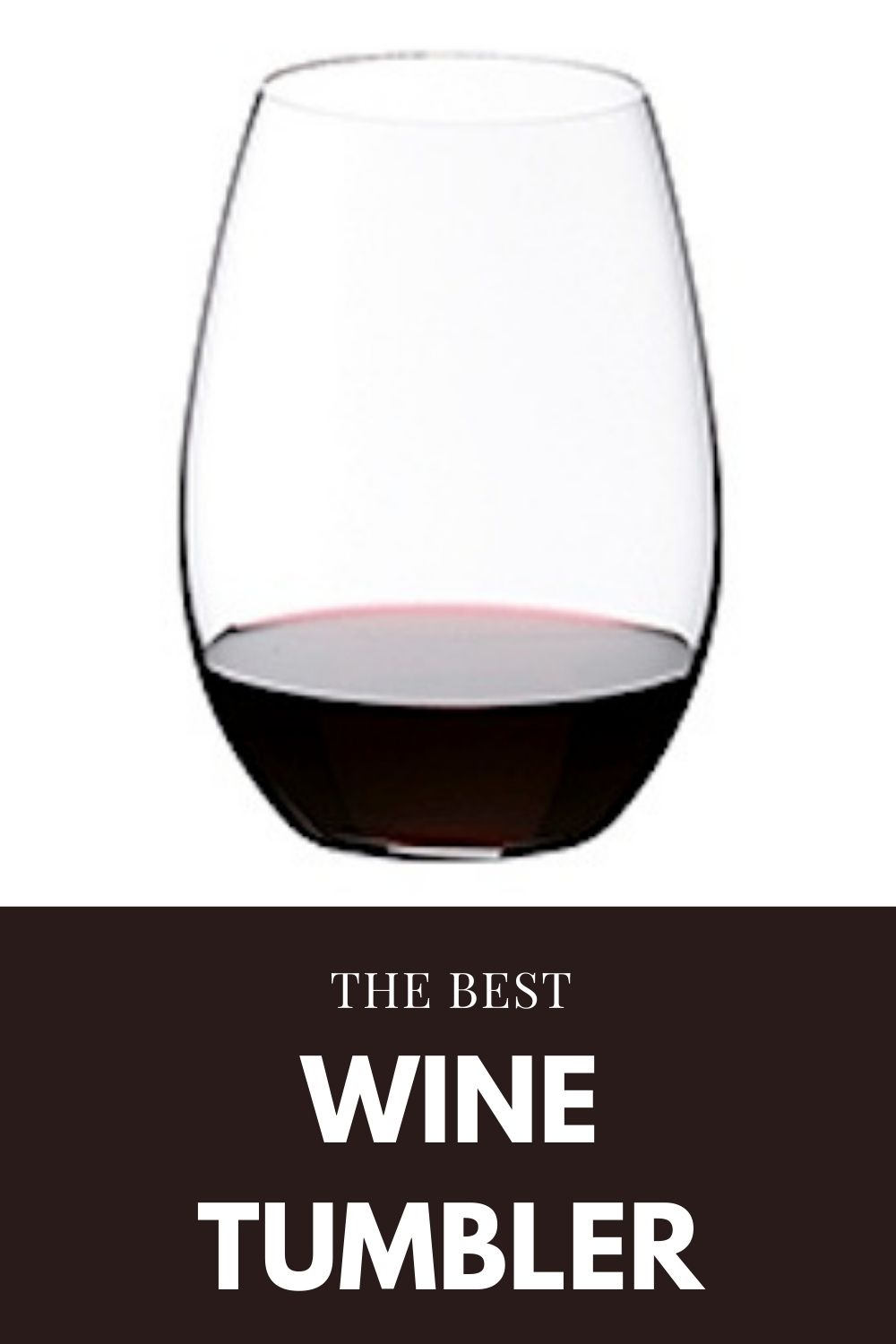 This article was written in 2004 and most recently updated in June 2023. 
Latest posts by Amy Reiley
(see all)
Get on our mailing list
Subscribe and get our exclusive list of Six Great Sex-Boosting Snack Foods for FREE! Unsubscribe at any time.