Our articles may contain affiliate links. For more information, view our policies.
Today wine tumblers are commonplace. They come in a variety of sizes and materials and even colors. With so many choices, it's hard to know what are the best wine tumblers.
But there was a time, not very long ago, when there was little to no choice for those looking to enjoy wine in something without a stem.
In February of 2004, Austrian stemware innovator Riedel crystal, released what was the first wine-specific stemless wine glasses, naming the line Riedel O. According to the manufacturer, the name "O" refers to the glasses' rounded shape, but we have a few interpretations of our own.
Today we're saluting the glasses that started the wine tumbler trend that wine lovers today can't imagine living without. And we're recommending our favorite of the newcomers for anyone who needs serious durability in their travel wine glass.
What are the best stemless wine glasses?
We can't more highly recommend any crystal stemless wine glasses than the O series from Riedel. Beyond the innuendos invoked by sexy glass shape, the "O" glasses combine quality and craftsmanship.
Most remarkably, these are wine specific tumblers. The bowl of the glasses replicate those of Riedel's Vinum series of stemware. (The Vinum series was the world's first machine-made–affordable–variety-specific wine glasses ever made.)
Riedel stemless wine glass shapes
Each glass shape is designed to showcase the typical characteristics of specific wine styles. The O glass line includes:
Syrah/Shiraz Tumbler
Champagne/Sparkling Wine Stemless Flute
Cabernet/Merlot Tumbler
Pinot/Nebbiolo Tumbler
Riesling/Sauvignon Blanc Tumbler
Viognier/Chardonnay Tumbler
Oaked Chardonnay Tumbler
New World Pinot Noir Tumbler
Old World Syrah Tumbler
Beyond the stemless wine tumbler, the line includes chic, stemless crystal glasses for water, whiskey and other spirits.
RELATED: The Importance of Good Wine Storage
The pros and cons of the Riedel stemless wine glasses
Crystal wine tumblers are beautiful. And they put a sophisticated spin on casual wine drinking. But there are some things this glassware is not good for. These glasses are impossible for cocktail soirees. Without a graceful stem to balance, the drinker is forced to clutch the glass by the bowl, potentially heating the wine within.
That's the one and only drawback of these dishwasher safe, crystal wine tumblers.
However, we've grown so used to the wine tumbler that it's almost impossible to imagine a romantic picnic with any other type of glassware.
Packing stemmed glasses in a traditional picnic basket is almost impossible without breakage. But crystal tumblers can be transported snugly tucked in their boxes and nestled next to the rest of your picnic provisions.
RELATED: Top 5 Recipes for a Picnic Date
These glasses are also a solid choice for dinner at home, be it a dinner party or a more intimate evening. Reaching to hold your lover's hand, there's no danger of tapping the bowl of a stemmed glass and sending it crashing to the table. And there's no worries when your Uncle Eddie gets going with his grand gestures at the next family reunion. Your wine is safe from his full body storytelling style.
Sturdy but sensuous these low to the table wine glasses are nearly spill-proof. Best of all, Riedel's O series of crystal stemless wine glasses are dishwasher safe.
Where to buy the best wine tumblers made from crystal
Riedel's chic tumblers are sold through most fine wine retailers. The are also available for delivery from Amazon. You will have to buy the glasses as a wine tumbler set. They are not available for individual sale. But then, who would waste glassware that looks this good on drinking alone?
Click here to compare prices on Riedel O no stem wine glasses

Best insulated wine tumbler
Crystal is our preference for material when it comes to wine glasses. But glassware is a bad choice for at least two occasions: drinking on a sailboat or on the beach. If you like your wine with a side of sand between your toes, we recommend that you invest in some insulated wine tumblers.
RELATED: My favorite Insulated Wine Cooler
There are several insulated wine glasses to choose from but we like the Yeti.
The Yeti 10 oz wine insulated tumbler with the magslider lid is one of the most durable travel wine glasses on the market. Like the Riedel O tumblers, these are dishwasher safe.
And double wall vacuum insulation on these outdoor wine tumblers keeps your drink at the right temperature, no matter how high the sun. Best of all, the lid ensures no sand in your insulated wine tumbler.
Because you know who likes drinking sand?
Nobody.
Click here to shop for your Yeti on Amazon.com

So in conclusion, with Riedel O glass wine tumblers for land and Yeti stainless steel wine tumblers for sea, you will be fully wine accessorized for all of life's most important occasions.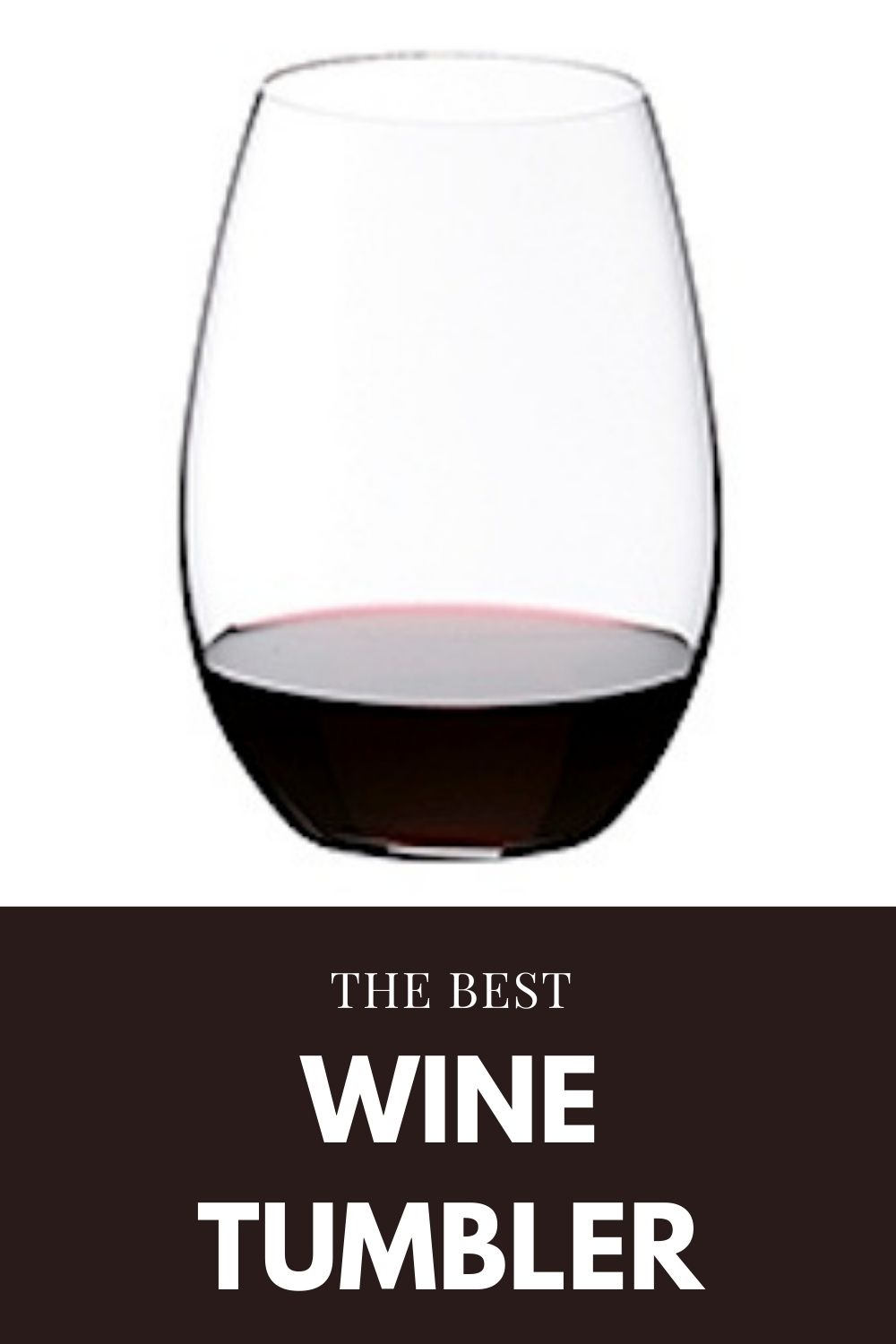 This article was written in 2004 and most recently updated in June 2021. 
FREE APHRODISIAC NEWSLETTER
Subscribe to our free aphrodisiac newsletter