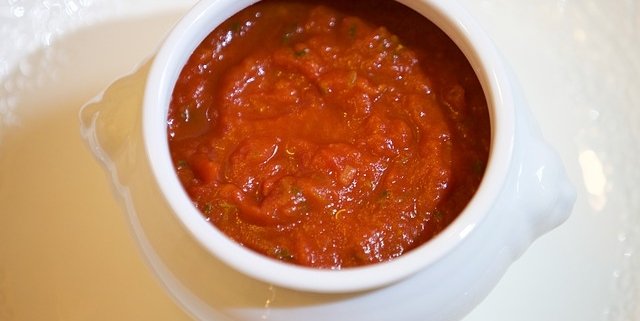 Salsa Agrodolce – sweet and sour the Italian way
Our articles may contain affiliate links. For more information, view our policies.
Although Anne Janzen no longer works as a caterer to the stars, she's saved an index of her a-list clients' favorite dishes. And lucky for us, she's willing to share! Now the head of Farm Fresh Events, Anne is more likely to wear her administrator hat than a chef's toque. But when she cooks for herself, this Salsa Agrodolce is one of her favorite late summer/early autumn recipes.
What is Agrodolce?
Agrodolce is basically the Italian version of sweet and sour sauce. To classify as an agrodolce, a sauce must be made from a reduction of both a sweet element, (usually sugar), with a sour element, (typically vinegar). (The basic concept is not dissimilar to a French gastrique.) According to Fine Cooking, the sauce's origins are Sicilian. And there are about as many variations on this sauce as there are native, Sicilian ingredients. (This includes onions, capers, olives, eggplant and, of course, tomatoes.) Typically, it uses what's in season to create a low-stress, full flavored sauce for enhancing vegetables, pasta, fish, meat or poultry.
Anne's version of Salsa Agrodolce uses peak-of-season tomatoes, slowly reduced with that traditional combination of sugar and vinegar. Comments Anne, "This perfumed, subtly-flavored sauce has become one of my go-to favorites for a fresh piece of fish or meat. I feel that, used judiciously, this is a sauce that enhances, rather than disguises, natural flavors. It is one of my favorite recipes for utilizing those end of season tomatoes!" (Don't forget, the tomato is an aphrodisiac of legendary repute!)
Anne does not puree her final sauce, leaving it with a natural hint of texture. However, if you prefer a smooth sauce, pureeing before serving gives the final Salsa Agrodolce an elegant, velvety texture.
For another one of Anne's great tomato season recipes, check out her Heirloom Tomato Jam recipe.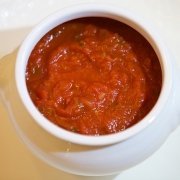 Salsa Agrodolce
Print Recipe
This easy sauce recipe from Chef Anne Janzen brings a hint of Sicilian tradition to your favorite meat, fish or vegetables. A tangy sauce, it's one that elevates the flavor of poultry, red meat or fish.
Ingredients
1/4

cup

olive oil

1/2

cup

onions

chopped

1/4

cup

fresh parsley

minced

2

cups

tomatoes

peeled and diced

3/4

tsp

salt

few grinds black pepper

1

heaping tbsp fresh basil

chopped (or 1/4 tsp dried)

1

tbsp

sugar

1

tsp

cinnamon

3

tbsp

red wine vinegar
Instructions
Heat your saucepan and add the oil.

Add the onions and saute gently for 5 minutes.

Add parsley and saute another 2 minutes.

Mix in your tomatoes, salt, and pepper. This is also the time to add your basil if you are using dried. Otherwise – save your fresh basil until you remove the sauce from the heat.

Cook this over low heat for 15 minutes.

Mix in the sugar, cinnamon and vinegar.

Cook for an additional 10 minutes.

Remove from heat and stir in fresh basil (if using fresh).
Notes
Anne prefers her sauce with a hint of texture. But if it is your preference, you can puree the sauce to a smooth consistency. 
Pin this Salsa Agrodolce recipe: