The Best Pumpkin Bundt Cake Recipe Ever
Our articles may contain affiliate links. For more information, view our policies.
I love this autumn cake! This moist and perfectly spiced pumpkin bundt cake recipe is my go-to dessert for the entire fall season of dinner parties and celebrations, from Halloween to Thanksgiving. Best of all, this easy, made-from-scratch cake is sure to be a hit with anyone who tries it.
How to make this pumpkin bundt cake recipe
This recipe was originally published in Chef Chrysta Wilson's sassy cake baking cookbook, Kiss My Bundt. As with all of Chrysta's recipes, it makes baking from scratch fun and stress-free.
With this cake recipe's step-by-step instructions baking a made-from-scratch cake is easy, it really is! But Chrysta has a few key steps she recommends you follow every time you make this recipe to ensure a moist cake with just the right density.
Sifting
First of all, sift your dry ingredients, not just the flour but also the baking soda, baking powder, pumpkin pie spice and salt. Sifting flour and other dry ingredients helps incorporate air and creates a foundation for a light cake.
Then, make sure to scrape.
Scraping the bowl
Scraping the sides of the bowl as you mix is so important to Chrysta, she even wrote herself a scraping song, which she sings as she works. If you don't scrape the bits of dough caught on the sides and bottom of the bowl and make sure they're incorporated, your cake will not have the right consistency.
Grease and flour
Lastly, thoroughly grease and flour the pan. This step is in incredibly important for bundt cakes since you're going to turn the cake out of the pan and showcase its natural curves. Chrysta prefers a baking spray that includes flour, like Baker's Joy, but you can also grease, then flour. Just make sure to knock any excess flour out of the bundt pan.
Why you can't use pumpkin pie filling in this cake recipe
One more note to make this the most successful pumpkin cake possible, please do not use pumpkin pie filling.
This fall bundt cake recipe calls for pumpkin puree. This canned product is made from pure cooked, mashed pumpkin or squash. (The USDA allows canners to mix other winter squashes with pumpkin to achieve the right puree consistency. So your pumpkin puree may contain other squashes but it will still offer that distinctive pumpkin flavor.)
Canned pumpkin pie filling is not the same as pumpkin puree.
Pumpkin pie filling has added sweeteners and baking spices. If you're following Chrysta's recipe, these added flavorings will make your pumpkin spice bundt cake too sweet and overly spiced. (Here's an article from Good Housekeeping with more information on the difference between pumpkin puree and pumpkin pie filling.)
Pumpkin cake variations
Because this cake recipe calls for pumpkin puree and brown sugar as well as pumpkin pie spice, it is moist and flavorful enough to serve on its own without any frosting. However, Chrysta has some easy pumpkin cake variations to help you put your own spin on this pumpkin spice bundt.
Make it a pumpkin chocolate chip bundt cake
Add chocolate chips to the batter if you like the combination of chocolate and pumpkin. This is a great way to get a frosting-like effect without having to make frosting. (And a chocolate pumpkin bundt cake can be hard to resist!)
Top it with cream cheese frosting or a cinnamon glaze
Chrysta likes to serve this pumpkin bundt cake with cream cheese frosting. The tang of cream cheese is a delicious and not too sweet topping for the sweet and spicy cake. Here's a great cream cheese frosting recipe from The New York Times if you don't already have one. (There's also one in the Kiss My Bundt Cookbook.)
But you can also try serving this pumpkin bundt cake with glaze. Chrysta uses a cinnamon glaze, made from powdered sugar and milk, with vanilla extract and a touch of cinnamon. You can also make a cinnamon maple glaze for your pumpkin bundt with either maple extract or maple syrup.
Important tips for making the best bundt cake every time
Using good equipment and the right ingredients will help ensure beautiful homemade cakes every time you bake. Here are some of Chrysta's best tips for making a stunning pumpkin cake. Best of all, these tips work for any made-from-scratch bundt cake you feel like baking, it doesn't have to be pumpkin.
What pan should you use?
Chrysta loves this classic Nordic Ware bundt pan, (I use it too), but you can use any bundt shape or style you like. Just make sure your pan has a 12-cup capacity.
How to know when your bundt cake is done
Anyone who has ever tried baking a cake knows that one of the trickiest steps is recognizing when to take your cake out of the oven.
Because every oven is different (and some may have hot spots), Chrysta's recommendation is to rotate your cake 180 degrees halfway through the approximate baking time.
Then start checking your cake for doneness at the earliest time in the instructions, (for this moist, spiced bundt cake, it would be 40 minutes if you're using a bundt pan).
Use a cake tester or toothpick, (Chrysta uses coffee stirs) to check for doneness in the center of the cake. When the cake tester comes out clean, your cake is ready to come out of the oven. Be careful not to overbake your cake.
If your cake does not want to release from the bundt pan right away, let it rest for 5 minutes before trying to release the cake again. Let the cake rest on a wire rack until completely cool before frosting or glazing.
Note that you don't have to make a bundt pumpkin cake. You can use this cake batter recipe to make any cake shape. It works well as a layer cake, sheet cake and even as pumpkin cupcakes – especially when you top them with cream cheese frosting!
Following these baker's tips will help ensure that you produce a cake with the right consistency every time you bake, not just with this moist pumpkin cake recipe but with any made-from-scratch cake recipe you try.
When to serve this pumpkin spice cake
There are so many occasions just right for this easy pumpkin bundt! And if you like this subtly spiced cake as much as I do, you're going to want to use this recipe for all of them.
Halloween party – Try making pumpkin cupcakes if you're feeding a crowd. This batter recipe yields 24 cupcakes.
Holiday breakfast – Make it a loaf cake!
Thanksgiving – This is the best pumpkin pie alternative. Add chocolate chips for an extra indulgent treat or top it with a cinnamon maple glaze for a more traditional flavor
Christmas brunch – This low-stress dessert recipe can be made the night before and stored in the refrigerator. Just pull it out about a half hour before you plan to bake, preheat the oven and fill the house with those delicious baking spice scents.
New Year's Day with your lover – See my notes below on why this cake is an aphrodisiac
Why homemade pumpkin cake might be an aphrodisiac
If you've ever read about pumpkin spice, you knew I would get to this point eventually. After all, this site is called Eat Something Sexy!
Now I realize that a harvest cake may not be the first food that comes to mind when you consider date night desserts but there are some interesting facts about this bundt cake recipe ingredients that may change the way you think.
This pumpkin spice bundt cake recipe is actually loaded with aphrodisiac ingredients, starting with the pumpkin!
You might be surprised to learn that pumpkin has an aphrodisiac history. But its history as a food of love stretches back for centuries. Not only that but pumpkin is loaded with nutrients to get you in "the mood." Learn more about the aphrodisiac side of pumpkin. It might surprise you!
And then, of course, there's the pumpkin spice. According to clinical studies performed by the Smell and Taste Treatment and Research Foundation, a combination of pumpkin spice and lavender proved to be arousing to men. Yes! The mere scent of pumpkin pie spice aroused men. If it's a man you have your mindset on seducing, you wouldn't even have to bake the cake to reap this benefit of this autumn spice blend.
RELATED: Kitchen Spices Can Improve Your Sexual Health
More great pumpkin recipes
Pumpkin Pie Pudding
Healthy Pumpkin Smoothie
Pumpkin Apple Cider Cocktail
Soft & Chewy Pumpkin Spice Cookies
Kiss My Bundt Homemade Pumpkin Bundt Cake
Print Recipe
An easy-made-from-scratch pumpkin cake recipe from Kiss My Bundt: recipes from the award-winning bakery by Chrysta Wilson. This easy cake recipe is a great choice for any autumn occasion from Halloween to Thanksgiving. 
Ingredients
3

cups

flour

1

tbsp

baking powder

1

tbsp

baking soda

1

tbsp

pumpkin pie spice

1

tsp

salt

4

eggs

room temperature

1

cup

granulated sugar

1

cup

brown sugar

packed

15-16

oz

can pumpkin purée

NOT pumpkin pie filling

1

cup

vegetable oil

grape seed or avocado oil recommended
Instructions
Preheat oven to 350 degrees.

Sift together flour, baking powder, baking soda, pumpkin pie spice and salt. Set aside.

Using an electric mixer, beat eggs on medium speed until frothy, 3-4 minutes.

Turn mixer speed to low and slowly add sugars. Beat until very thick.

At a medium speed, mix in pumpkin purée and oil, mixing until thoroughly incorporated.

With the mixer on low, add dry ingredients to the wet 1/2 cup at a time. Do this slowly so that the batter doesn't develop clumps.

Transfer batter to a 12-14 cup bundt pan that has been coated with a baker's cooking spray that includes flour (or greased and floured). (Alternatively, you can use the batter to make 24 cupcakes, 2 cake rounds or one loaf cake.)

Bake cake until an inserted toothpick or cake tester comes out clean--about 40 minutes. (Cupcakes will cook in less than half the time.)

Invert cake onto a cooling rack or serving plate. If cake resists, cool in the pan for 15 minutes before inverting. (If cake still resists, cool an additional 15 minutes in the pan.) If you're planning to frost or glaze, cool completely, at least 1 hour before frosting.

Serve plain or top with cream cheese frosting or a vanilla or cinnamon glaze.*
Notes
*Have you ever tried "crunchy cake?" When the bundt cake is still warm, it has a crunchy exterior and warm, pillow-like interior. (As it cools, the steam softens the exterior.) But this warm cake with a surprising crunch or, "crunchy cake," is a treat everyone needs to try at least once! 
Get more of Chrysta Wilson's bundt cake recipes
This easy pumpkin bundt cake is one of my favorite recipes from Chrysta Wilson's cookbook Kiss My Bundt.
This book taught me how to make successful, moist and fluffy cakes from scratch – and ones that turn out just right every time. In addition, the book teaches how to experiment with cake flavors. In fact, this book inspires me to try some innovative new ingredients each time I bake a homemade cake.
With this pumpkin spice cake recipe, for example, I sometimes add a streusel topping to have a pumpkin coffee cake instead of the classic pumpkin bundt cake with cream cheese frosting. It's a great variation. Give it a try and let us know what you think in the comments below.
Pin this fantastic fall bundt cake recipe: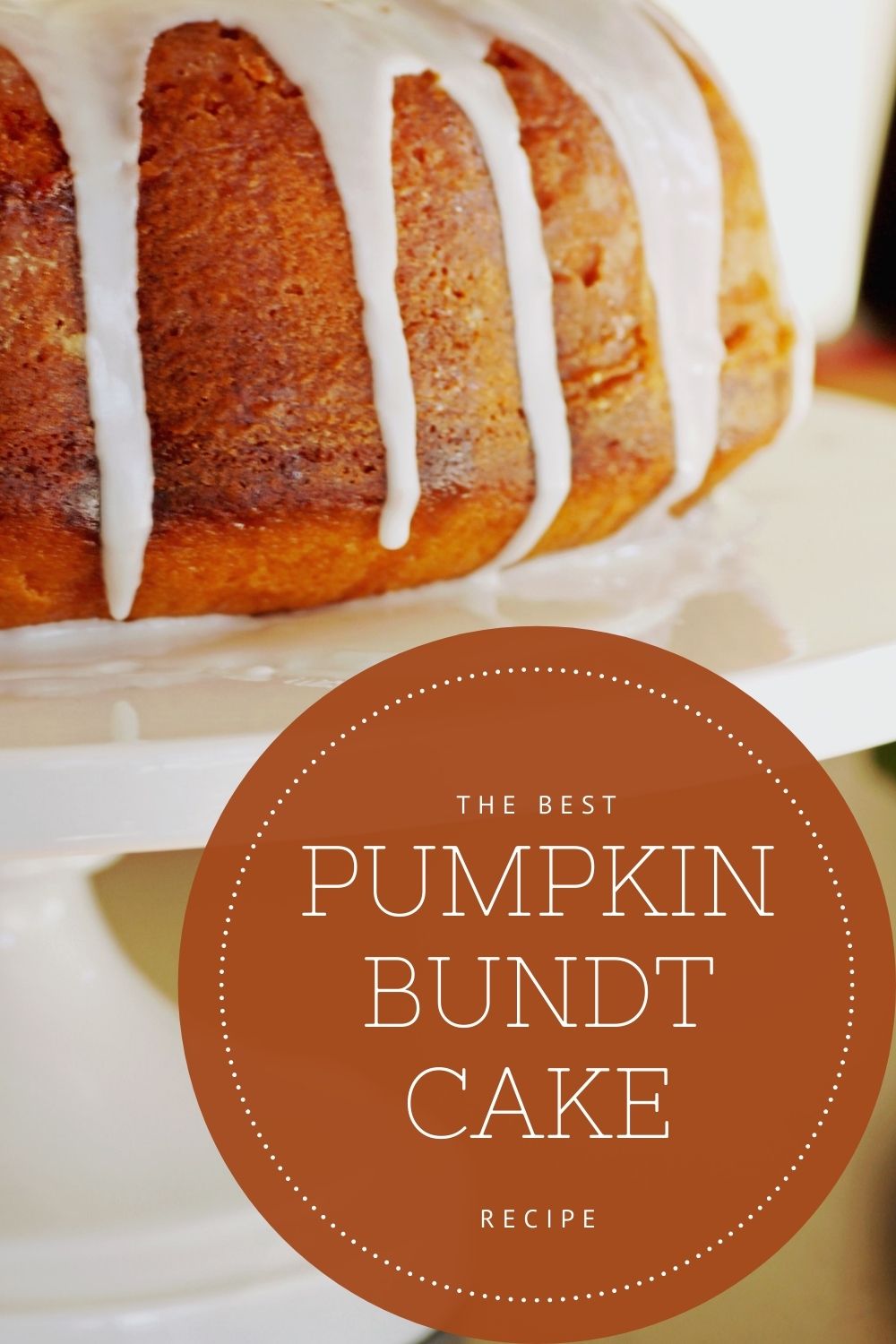 Latest posts by Amy Reiley
(see all)
Get on our mailing list
Subscribe and get our exclusive list of Six Great Sex-Boosting Snack Foods for FREE! Unsubscribe at any time.