Kitchen Spices Can Improve Your Sexual Health
Our articles may contain affiliate links. For more information, view our policies.
The old adage "spice up your life" couldn't be more true. Just cook with spices and you'll see.
Step #5 of the 10 Steps to Sexy Diet
Although not nearly as fashionable in Western cooking as they once were, or should be, spices like turmeric, nutmeg, cinnamon and clove have been used in cooking since the Stone Age. And for many good reasons, you should use kitchen spices, most of which directly benefit your health.
Spices are Stimulants
Common kitchen spices are proven to stimulate. From your senses of taste, touch and smell to your cardiovascular and neurological health, spices excite your senses. The tingling sensation that initially occurs in your nose and mouth when you smell and taste spices radiates throughout your body. The result is that it reawakens your sensitivity. It is likely the reason that spices have been regarded as aphrodisiacs since the beginning of recorded time. THIS is why you should add spice to your diet.
TO TRY: Warming Saffron Chai with Cardamom
Cook with spices to help cut sodium
Cooking with aphrodisiac spices like turmeric, paprika, cinnamon, nutmeg, coriander and saffron in your dishes will help you cut sodium, not to mention calories and fat, from your cooking. How? By adding intense, taste bud-tickling, guilt-free flavor. The more flavor your dish naturally offers, the less likely you are to reach for the salt shaker.
And while you may not link your sodium intake with your sexual health, there's a big connection. Excess sodium intake is linked to hypertension and heart disease. Hypertension, or high blood pressure, is a leading contributor to erectile dysfunction. When you have high blood pressure, you are at risk of clogged arteries. This is not only hard on your heart but it can reduce blood flow to the pelvic region, which can make sexual arousal and satisfaction challenging if not impossible. Isn't it nice to know that by careful use of cooking spices, you can still have full-flavored food without risking high blood pressure?
More health benefits of spices
According to Professor Bharat Aggarwal, author of Healing Spices, many spices contain compounds that fight oxidation and inflammation, the processes underlying most chronic diseases. So not only will cooking with spice awaken your inner sensualist, but these spices will fight potential illnesses while you enjoy their effects on the games of love.
RELATED: Try a turmeric face mask
Spices are also linked with boosting your immune system, curbing sugar cravings and reducing symptoms of depression. Although not all experts agree on these claims, studies link spices and weight loss. There is some evidence that spices can boost your metabolism. So if you're looking to shed a little excess weight, now is the time to add spice to your diet.
Essential kitchen spices
What spices you keep in your kitchen are entirely up to your personal preferences. The best spices to stock are the ones you love. If you are a baker, you'll want to make sure you have a supply of cinnamon, nutmeg and ginger, (which is one of our all-time favorite aphrodisiac ingredients). You may also want allspice, which lends a unique flavor to both savory and sweet cooking.
If stocking your pantry with aphrodisiac ingredients, you'll want to consider saffron, which is the most legendary of the aphrodisiac spices, (not to mention one of the world's most luxurious ingredients). It's one of the less common spices for the home pantry but one of the most exotic. And if you ever read about that famous study on scent and arousal, then you know that just the smell of pumpkin pie spice has the potential to turn on men! So that's always a good spice to have on hand if you ever plan to seduce a man.
RELATED: Saffron Aphrodisiac and Health Benefits
If you enjoy heat, consider buying chili powder and cayenne pepper as well as black peppercorns and paprika. Just remember that spices lose their fiery flavor after they are opened.
Airtight spice containers
Light and heat are the enemies of spices. Do not put your spice rack in direct sunlight. In fact, if you can put it in a cupboard, you know they're protected from the elements that cause spices to lose their flavor. Storing spices in airtight containers in a dark place away from the stove or other heat sources will help your spices last as long as possible. Here's a great storage container option on Amazon.com to help keep your spice jars. And they're great for organizing spices.


Now that your spice drawer is stocked and you're ready to improve your sexy cooking by seasoning with spices, you're going to want recipes to help you add spice to your diet Here are some of our favorite recipes featuring sexy spices.
Saffron Fleurtation Cocktail
The East Indian Gin Gimlet Cocktail
Vegetarian White Bean Chili with Chocolate
Meyer Lemon Quinoa with Turmeric, Black Pepper & Basil
5-Spice Crab Cocktails
Six-Spice Oatmeal Raisin Cookies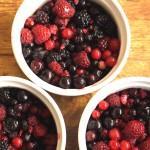 This article was written in 2015 and most recently updated in January 2021.
Latest posts by Amy Reiley
(see all)
Get on our mailing list
Subscribe and get our exclusive list of Six Great Sex-Boosting Snack Foods for FREE! Unsubscribe at any time.