Our articles may contain affiliate links. For more information, view our policies.
The Saffron Fleurtation is my variation on a cocktail recipe created by Champagne Perrier Joüet. They shared their Champagne toast recipe with me me for my first book, Fork Me, Spoon Me: the sensual cookbook. But with the help of a friend who is experienced in cooking with saffron, I refined the cocktail recipe to give it a unique, saffron punch. Without question, it's my favorite luxury cocktail for New Year's Eve or any occasion that calls for luxury Champagne drinks.
A sophisticated cocktail for a Champagne toast
So what makes this New Year's Eve drink special enough to have it in hand as you bid farewell to the year that's passed? For starters, it's a luxury cocktail. After all, this drink recipe incorporates two of the world's most luxurious–i.e. expensive–ingredients, saffron and Champagne.
Want to order saffron now? Click to compare prices.
Why this is a great cocktail recipe for parties
Although I call it my New Year's Eve drink recipe, it is really my favorite Champagne cocktail for toasting. And it is great for the entire season from Thanksgiving to the first of the year. It is also an elegant cocktail recipe for a wedding toast.
My two ingredient Champagne cocktail recipe
But this sophisticated cocktail's simplicity makes it a smart choice for a party host. It calls for no muddling or shaking, no whipping of eggs or shaving of ice. In fact, it only calls for those two aforementioned ingredients, saffron and Champagne. That's right, it's a two ingredient cocktail recipe!
And that brings me to what has made this New Year's Eve drink recipe a headliner in Fork Me, Spoon Me: the sensual cookbook. Both saffron and Champagne are among the world's most legendary aphrodisiacs. You can learn more about the aphrodisiac history of saffron and Champagne in my Dictionary of Aphrodisiac Foods.
RELATED: How to tempt a woman…or man…with wine.
The trick to infusing the Champagne with the right balance of spice is to toast the saffron in advance. Once it becomes brittle, you can grind it to a fine powder, to be sprinkled judiciously into the bottom of each Champagne flute. The toasted, crushed spice brings a robust flavor and golden hue to any bottle of bubbly, making this special cocktail both beautiful for toasting and delicious with a meal.
Need a bottle of Champagne NOW? Get it delivered with Drizly and get $5 off your first order.
Choose the right Champagne for your saffron cocktail
Obviously Champagne Perrier Joüet recommends making this luxurious cocktail with their vintage Belle Epoque Champagne. (That's the one sold in the stunning green bottle with the white and pink anemone flowers.) But the drink works beautifully with most Brut-style Champagnes. (If you're watching your budget, you can also try this new year's cocktail recipe with a Brut Cava or any Brut sparkling wine made in the méthode champenoise, also called the traditional method.)
RELATED: Love Champagne cocktails? Try my Cupid's Kiss cocktail.
Saffron Fleurtation Cocktail
Print Recipe
This simple and very aphrodisiac cocktail comes from Amy Reiley's cookbook, Fork Me, Spoon Me: the sensual cookbook. It combines the savory scent and golden hue of saffron with the effervescence of Brut Champagne for the easiest cocktail around! 
Ingredients
1

bottle Brut Champagne or Sparkling Wine

20

saffron threads
Instructions
In a small pan, toast the saffron over medium heat until it just starts to release fragrance, about one minute. (No NOT overcook.)

Crush the saffron threads then sprinkle a pinch into each of two Champagne flutes.

Top with Champagne and toast to the art of flirtation.

Drain and repeat.
Love the recipe? Get the whole cookbook! Order it now from Amazon.

Pin this Saffron Fleurtation Champagne cocktail recipe: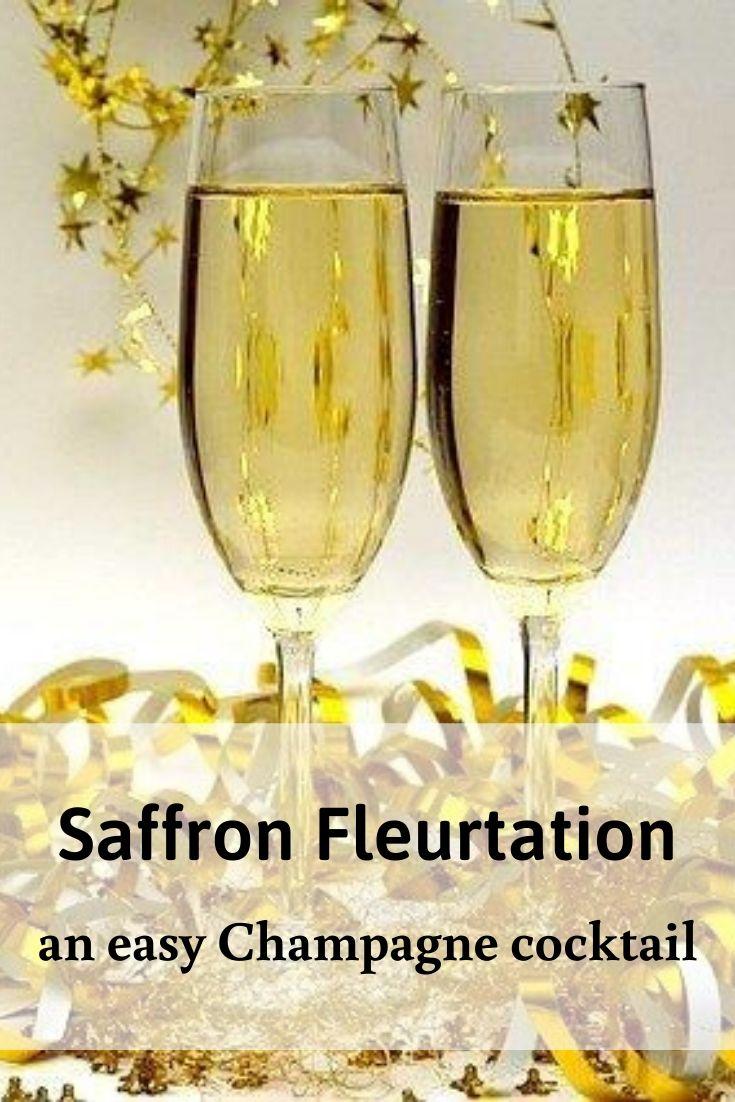 This article may contain affiliate links. 
FREE APHRODISIAC NEWSLETTER
Subscribe to our free aphrodisiac newsletter