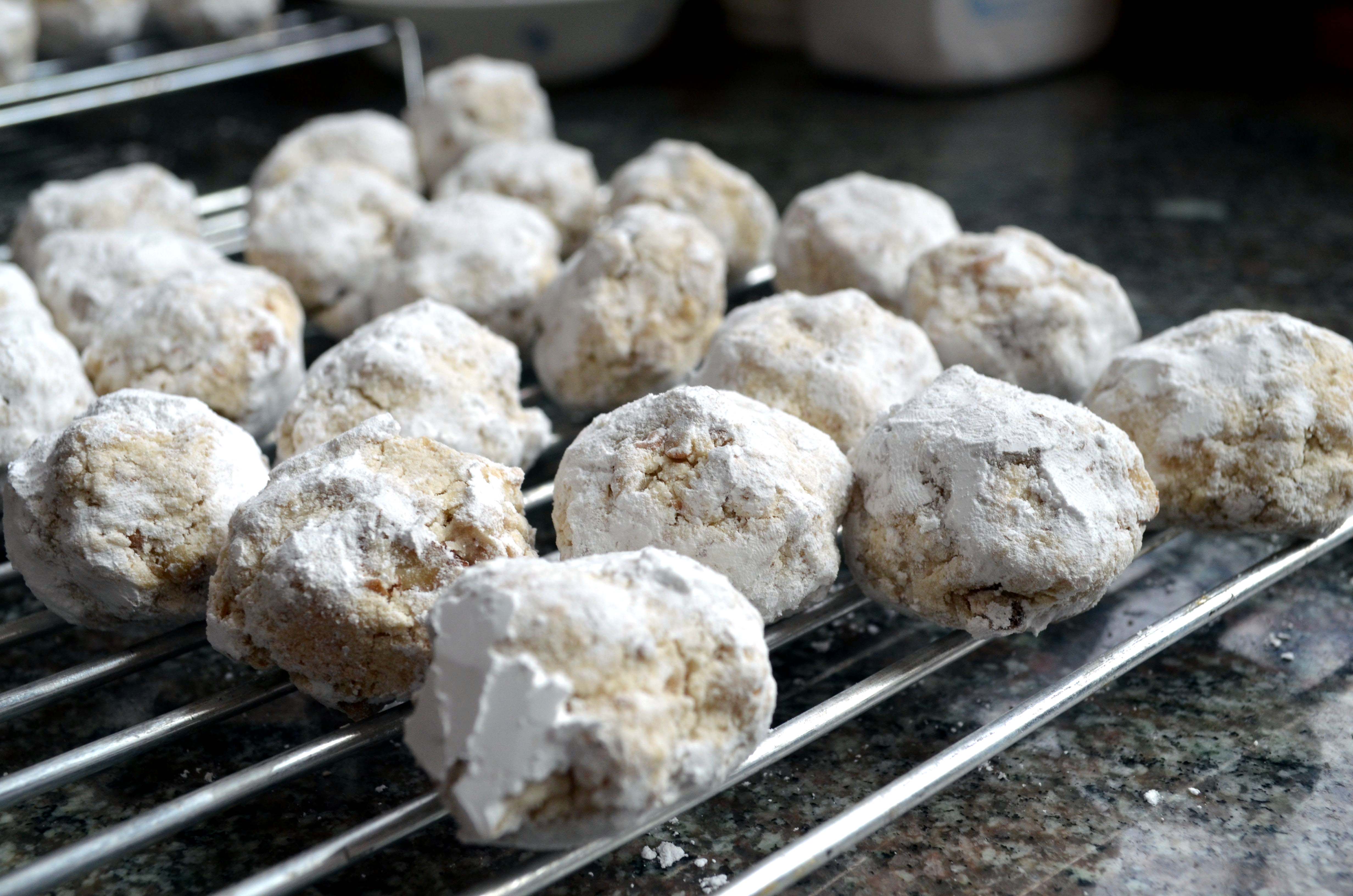 French Love Cakes: an easy French cookies recipe
Our articles may contain affiliate links. For more information, view our policies.
With their restrained sweetness and earthy, nutty notes, these tea cake cookies as a mid-morning treat or something to revive your lover post-afternoon delight. Whatever time of day you serve them, you'll love the simplicity of these six-ingredient French cookies.
A brief history of love cakes
The cookies are a variation on a Mexican wedding cookie and Russian tea cakes recipe. They're basically barely sweet nut balls rolled in powdered sugar. When I was a kid, we knew them as snowballs and we really only ate them at Christmas. This French Christmas cookie is a lot like the snowballs I remember, but the love cake is set apart by the use of one of my favorite aphrodisiac ingredients, vanilla. (Vanilla is noted as an aphrodisiac effective on both men and women but the scent is alleged to drive some men wild.)
I love this style of rolled cookie because of the not-too-sweet flavor. And a tea cake is such an easy cookie recipe to make. I actually stumbled upon the existence of the love cake while researching the history of Russian tea cake cookies. (Note that these cookies are also similar to Italian wedding cookies. However, the Italian cookies are typically made with almonds, which gives them a sweeter flavor than the cookies I know, which are made with walnuts or pecans.)
Anyway, in my research, I found a French version of these tea cake cookies that was remarkably heavy on the vanilla. It was neither classified as a tea cake or a wedding cookie. The name of the cookie was French Love Cakes. Oh la la!
I loved the name and the idea of vanilla-rich tea cookies. But I have absolutely no idea from what part of France they originated or how long the French have been making their own version of snowballs. So I started playing around, experimenting with vanilla yogurt in place of butter and vanilla extract. Ultimately, I settled on a combination of both vanilla yogurt and vanilla extract.
A tea cookie recipe made with vanilla yogurt instead of butter
The texture of the resulting cookies is different from that of a Russian Tea Cake. It's slightly more brittle and almost has a crunch when you bite into it. I quite like the added texture. And, of course, the heavy use of vanilla gives the cookies the aroma that is a proven aphrodisiac. Of course, if vanilla doesn't do it for you, there's always the walnuts. Like all nuts, walnuts offer many nutritional benefits that support sexual health. (Here's some additional information on how nuts can give your love life a boost.)
Tips for making the best French cookies
Use full-fat yogurt – It is essential that you use full-fat yogurt (whole milk yogurt) for this easy French cookie recipe. The cookies need some fat in the dough. It is essential to their chemistry. It impacts the texture and the ability of the final cookies to hold their shape.
Make sure your walnuts are fresh – If you're like me, you have a bad habit of using half a package of nuts then sealing it back up and shoving it to the back of the cupboard. But nuts have a shelf life. Kept in the cupboard, they will start to go bad after about six months. But they will start to lose their flavor after about two weeks. To make the best cookies, check the freshness of your walnuts before you start.
Sift your powdered sugar – Did you ever notice that powdered sugar is usually lumpy? Powdered sugar clumps with the introduction of even the tiniest bit of moisture. This can happen at the store or in your home. To ensure the prettiest, most even white coating on your French tea cookies, sift the sugar after you measure it and it will coat the cookies evenly as you roll.
If baking cookies is your thing, be sure to check out our whole collection of cookie recipes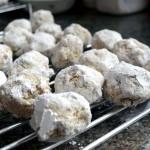 French Love Cakes - a romantic French cookies recipe
Print Recipe
This twist on tea cakes uses vanilla yogurt for body and sweetness.
Ingredients
1

6 oz

carton full fat vanilla yogurt

1/2

tsp

vanilla extract

3

tbsp

granulated sugar

2

cups

all-purpose flour

pinch

salt

1

cup

chopped walnuts

powdered sugar for rolling

measured then sifted
Instructions
Preheat oven to 300 degrees.

Combine ingredients in a mixing bowl. Using your hands, do the final mixing then roll into balls the size of walnuts.*

Arrange the tea cakes on a baking sheet and cook for 30 minutes or until they begin to brown.

Roll in powdered sugar and serve warm.
Notes
*For a more decadent version of these French tea cookies, use 4 oz softened, unsalted butter instead of yogurt.
Nutrition
Calories:
152
kcal
|
Carbohydrates:
20
g
|
Protein:
4
g
|
Fat:
7
g
|
Saturated Fat:
1
g
|
Polyunsaturated Fat:
5
g
|
Monounsaturated Fat:
1
g
|
Cholesterol:
0.004
mg
|
Sodium:
1
mg
|
Potassium:
66
mg
|
Fiber:
1
g
|
Sugar:
3
g
|
Vitamin A:
2
IU
|
Vitamin C:
0.1
mg
|
Calcium:
13
mg
|
Iron:
1
mg
Pin this French love cakes recipe:
Latest posts by Amy Reiley
(see all)
Get on our mailing list
Subscribe and get our exclusive list of Six Great Sex-Boosting Snack Foods for FREE! Unsubscribe at any time - privacy policy