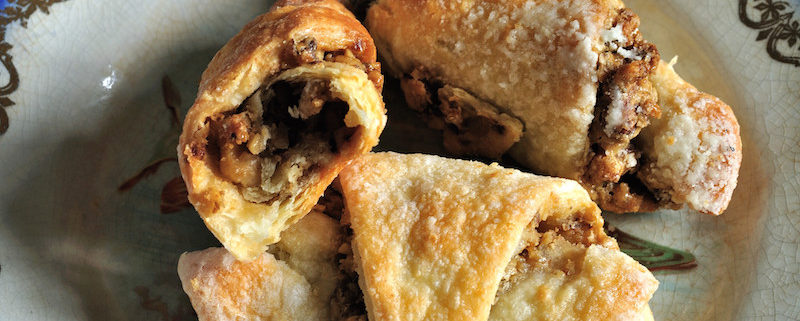 Grandma's Rugelach Recipe
Our articles may contain affiliate links. For more information, view our policies.
A hearty crescent-shaped cookie with a not-to-sweet filling, Grandma's Rugelach recipe is a seasonal treat worth waiting for. Homemade rugelach is a tradition in many households. And if you've never tried making these rolled cookies before, you'll probably soon make them a tradition in your house.
This nut-filled rugelach recipe comes to us from Carla Snyder, author of Sweet and Tart: 70 Irresistible Recipes with Citrus. We love the fact that Grandma's Rugelach recipe represents not just one but two grandmas. These special little cookies marry Carla's husband's grandmother's cream cheese cookie dough with Snyder's grandmother's magical nut filling.
Why this is the best rugelach recipe
Rugelach pastry is usually made with dairy in the dough, sometimes sour cream, for moisture and texture. Dairy-free rugelach does exist, too. But in my humble opinion, the best version is made with a cream cheese pastry dough. The dough has great texture and is easy to work with and just a hint of tangy flavor to set it apart from a buttery cookie dough.
The perfect marriage of buttery dough and sweet nuttiness, these nut rugelach can be made in advance and stored in the freezer – if you can resist!
One quick note on making this homemade rugelach. You do need some special equipment to make the cookies, like a stand mixer and a rolling pin. So be sure to double-check the equipment list before you start baking.
When to serve these cream cheese dough cookies
These gorgeous crescent cookies are appreciated any time of year. But rugelach is a tradition for many families at the holidays. You'll probably find them on any good Hanukkah buffet. And they often appear at Christmas cookie exchanges. So if you want to be traditional, December is the time of year to roll these little crescent cookies.
A rugelach for romance?
Although I think of these cookies as part of a homey, family tradition, it's worth pointing out that two of the main flavorings, walnuts (or pecans) and vanilla are considered potent aphrodisiacs. So if you're baking a batch for a family potluck, you might want to save a few to share with your one and only.
Some history of rugelach cookies
Though I don't speak Yiddish, I'm told rugelach literally translates as "little twists." It is an apt name for these rolled-up cookies that are part of many Jewish celebrations. The dessert is originally Polish although today great rugelach are made around the world. The cookie is typically rolled into a crescent, like a croissant. However, some rugelach recipes are formed more like a strudel and then sliced before cooking to make rolled parcels.
They're typically made with a filling of nuts, cinnamon, raisins, chocolate chips or fruit preserves. (Raspberry jam rugelach is another one of my favorites.) However, some chefs experiment with savory rugelach filling. (You might even find a smoked salmon and cream cheese rugelach!)
RELATED: Check out all of our favorite cookie recipes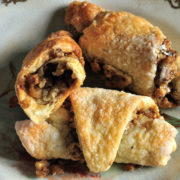 Grandma's Rugelach Recipe
Print Recipe
This traditional Rugelach is a must-have cookie for Holiday gatherings. With a tangy, cream cheese dough and rich, nutty filling, Grandma's Rugelach recipe is a keeper!
Ingredients
For the nut filling:
3/4

cup

milk

1/4

cup

unsalted butter

1

cup

granulated sugar

1-1/2

lb

ground walnuts or pecans*

1/2

tsp

vanilla
For the dough
1

lb

cream cheese

softened

1

lb

unsalted butter

softened

4-3/4

cups

unbleached all-purpose flour

1/4

tsp

salt

confectioner's sugar**

sifted for rolling, icing
Instructions
To make the nut filling, add the milk, butter and sugar to a medium saucepan.

Bring the pan to a boil over medium heat and add the ground nuts.

Stir the nut mixture constantly and cook until it is thick, about 5 minutes.

Remove the pan from the heat and add the vanilla. Cool the nut filling and use it to fill cookies, pastries and breads.

While the nut filling is cooling, make the dough: Add the cream cheese and butter to the mixer bowl and beat with the flat beater on Speed 4 until smooth. Turn the machine to Stir and gradually add in the flour and salt, mixing until a dough forms.

Divide the dough into 8 disks and refrigerate them wrapped in plastic wrap for 1 hour. If the dough rests in the refrigerator overnight it can rest on the counter for 30 minutes before rolling to soften it up a bit.

Preheat the oven to 375 degrees.

Using a fine mesh strainer, sprinkle 1 tbsp (15 mL) or more of the confectioner's (icing) sugar over the work surface.

Lay one of the disks of dough on the work surface and sprinkle the top with the confectioner's sugar.

Roll the disk into a 10-inch (25 cm) round.

Spread 1/2-cup of the cooled nut filling thinly over the round.

Using a pastry wheel or a sharp knife, cut the round into 8 wedges. Beginning at the large end of each wedge, roll the cookie towards the small pointed end.

Lay the cookies as they are shaped 2-inches (5 cm) apart onto parchment lined sheet pans.

Bake the cookies in the preheated oven for 15 to 20 minutes or until they are golden brown.
Notes
* You can also use a mixture of the two nuts. 

**Confectioners sugar (powdered sugar) tends to clump. It is very important to sift it before using. 
Latest posts by Amy Reiley
(see all)
Get on our mailing list
Subscribe and get our exclusive list of Six Great Sex-Boosting Snack Foods for FREE! Unsubscribe at any time.