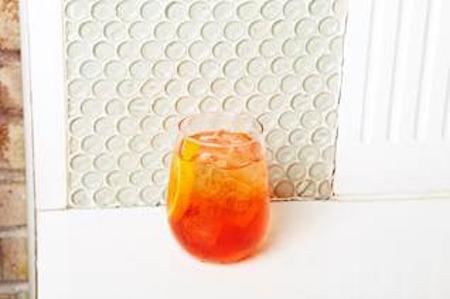 An Unforgettable Aperol Spritz Recipe
Our articles may contain affiliate links. For more information, view our policies.
Make your own Aperol Spritz – it's easy!
The simple Prosecco cocktail known as the Aperol Spritz is an Italian classic. And it blends two of my favorite things: sparkling wine and simplicity.
The history of this Italian cocktail
And I'm not joking around when I say that this is a simple Prosecco cocktail! The drink requires only three ingredients, including the lovely, Italian spirit Aperol.
According to Wikipedia, this Venetian cocktail was invented in 1919. However it didn't really catch on until the 1950's. And although the Italians have embraced this drink as a wise choice for an aperitivo, or pre-dinner drink, for nearly 70 years, it only recently became a North American sensation.
If you're not familiar with Aperol, this is a spirit I recommend getting to know. Especially since it is becoming increasingly popular. It is a brilliantly hued spirit, as orange as the sun at dawn. Aperol is made with the flavors of orange, rhubarb and a secret blend of edible flowers and herbs that gives it a distinctive flavor. Overtly sweet with mellow, bitter undertones, it's easy to see why the Italians favor it as an appetite stimulant.
A low alcohol cocktail
I like serving this version of an Aperol Spritz on a Friday afternoon. They go down easy any time of year but seem especially fitting as an end to the work week in spring and summer. This simple Prosecco cocktail is crisp, refreshing and feels like a throwback from a more carefree time.
Best of all, at about 11% alcohol by volume, it's one of the lowest alcohol cocktails you could possibly make–so save room for a second round.
Aperol Spritz
Print Recipe
A simple, Prosecco cocktail designed to "stimulate appetite," this is an easy pre-dinner drink. 
Ingredients
3

Parts Prosecco

2

Parts Aperol

1

Splash of Soda
Instructions
Pour the Prosecco, Aperol and a dash of soda into an ice-filled wine glass using a stirring motion.

Garnish with a slice of orange.
Ready to try more Aperol cocktails? Check out this recipe for A Hare Above the Rest, a whimsical Aperol and Gin-based cocktail.
Pin this Aperol Spritz recipe:
Need some Aperol
for your next affair?

Latest posts by Amy Reiley
(see all)
Get on our mailing list
Don't miss out on a thing! Get news, deals & more!