Dark Chocolate Chunk Cookies with Fiori di Sicilia
Our articles may contain affiliate links. For more information, view our policies.
Chocolate chip cookies are always a hit. But use dark chocolate and make them dark chocolate chunk cookies with Fiori di Sicilia and you've got a homemade cookie nobody will ever forget.
What makes this dark chocolate chunk cookie recipe special
This chocolate chunk cookie recipe comes from one of my favorite people in the culinary community, Joe Yonan. And this recipe was the first thing I made when I got a copy of his vegetarian cookbook, Eat Your Vegetables: Bold Recipes for the Single Cook. Because although the book is all about veggies, even Joe agrees that life is much sexier when you add in some chocolate chunk cookies!
And this is the best dark chocolate chunk cookies recipe ever. Why? Because of a secret, Italian ingredient. Ok, it's not so secret but Fiori di Sicilia is what makes these cookies memorable.
What is Fiori di Sicilia?
To set this version of chocolate chunk cookies apart from your run-of-the-mill chocolate chip cookies, Joe makes them with the addition of a flavoring extract called Fiori di Sicilia. This traditional, Italian extract combines the aromatics of citrus, flowers and vanilla.
And with its combination of sweet and herbal notes, you probably won't be surprised to learn that it's most commonly used for pastry. In fact, isn't used all that often in home cooking. (Although Fiori di Sicilia doesn't technically come with an aphrodisiac pedigree, with its blend of fragrant ingredients, we think it should make the list of aphrodisiac foods!)
Where to buy Fiori di Sicilia extract
You can buy this alluring extract from most baking product retailers. You can also get Fiori di Sicilia at Whole Foods and other specialty food retailers as well as order it online. So if you don't already know this flavored extract, it's time to get to know one of the most sensual baking flavorings in existence.
Order Fiori di Sicilia from Amazon
Tips for making the best chocolate chunk cookies
If you love baking cookies, these tips will be nothing new to you but it never hurts to have a review.
When you measure dry ingredients in baking, it is important that you level them off. A cup must be exactly a cup. (And be sure to measure this in a measuring cup made for dry ingredients.)
Use unsalted butter. You will notice that most baking recipes call for unsalted butter and adding a specific measurement of salt. When you use salted butter, you don't know how much salt you're getting. Using unsalted butter and adding your own salt allows you the control to know you're getting just the right amount of salt.
Don't overbeat the egg. Seriously, you might think getting the egg good and fluffy is a bonus but no. Beating the egg too much will alter the texture of your cookies, and not in a good way.
Don't skimp on the chocolate. If you are serious about making a great chocolate chunk cookie, the first thing you need to do is invest in good chocolate. And don't go with chocolate chips. No! These cookies are special. You want to buy your chocolate by the bar and cut it into irregular chunks to make these cookies more intriguing. You're going to love the results!
Shop for premium, bittersweet chocolate online
Storing your cookies
Like all homemade cookies, you should store your Fiori di Sicilia cookies in an airtight container. They will keep stored at room temperature, for about one week.
Can you freeze these chocolate chip cookies?
A great cookie is best when it's fresh from the oven. That's why Joe recommends freezing the dough, not the cookies. You can freeze them by the round and store them, frozen, in an air-tight container until you're ready to bake.
Just use an ice cream scoop to scoop them onto parchment-lined baking sheets. (The ice cream scoop will help keep the cookie size uniform.) Put the whole tray into the freezer until the cookies are frozen solid, then transfer the cookie dough balls to your air-tight container for storage.
Some recipes recommend thawing the cookie dough before baking but you can bake these cookies frozen. Just keep in mind that the baking time will be longer.
Why these cookies might be an aphrodisiac
This cookie recipe has a special place in Joe's heart. And he thinks these cookies would be a great tool for stealing someone's heart. That just might be because these unforgettable chocolate chunk cookies are loaded with aphrodisiac ingredients beyond the Fiori di Sicilia.
Nuts & grains – If stirring up some passion is your aim when you whip up a batch of these cookies, here's what you need to know. From the oats that give them texture – that's right, oatmeal is aphrodisiac – to the pecans that bring protein and crunch, they're full of libido-boosting love.
Bittersweet chocolate – Don't forget that the namesake ingredient is chocolate. The recipe calls for bittersweet chocolate, which is a type of dark chocolate most commonly used in baking. The use of dark chocolate specifically is significant because the darker the chocolate, the more aphrodisiac properties it will contain. Most bittersweet chocolates will indicate the percentage of cacao in the bar. You want to look for chocolates with a high cacao percentage, such as 60%. One of my favorite chocolate bars for baking contains 70% cacao.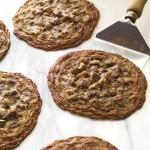 Carl's Chocolate Chunk Cookies with Fiori di Sicilia
Print Recipe
If you're craving chocolate chip, this cookie flavored with Fiori di Sicilia is going to take it to the next level for you. Prepare to be "wowed."
Ingredients
1/2

cup

raw unsalted pecan halves

1/2

cup

all-purpose flour

1/4

cup

whole wheat flour

1/4

cup

rolled oats

2

tsp

unsweetened finely shredded coconut

1

tsp

baking soda

1

tsp

salt

8

Tbsp

unsalted butter

softened

3/4

cup

packed light brown sugar

1

egg

1

tsp

Fiori di Sicilia

6

oz

bittersweet chocolate

shaved with a knife into irregular slivers and chunks
Instructions
Sprinkle the pecans into a small skillet over medium-high heat. Cook, shaking the pan frequently, until the nuts start to brown and become fragrant, a few minutes. Immediately transfer them to a plate to cool; if you leave them to cool in the pan, they can burn. Once they are cool, chop them.

Preheat the oven to 350°F. In a mixing bowl, whisk together the all-purpose and whole wheat flours, oats, coconut, baking soda, and salt. In a separate small bowl, using an electric hand mixer on medium-high, beat the butter and sugar until fluffy. Beat in the egg and Fiori di Sicilia.

Reduce the mixer speed to low, add the flour mixture, and mix just until incorporated. Stir in the chocolate chunks and pecans. Line two baking sheets with parchment paper. Drop 1/4-cup mounds of dough onto the sheets, 4 inches apart.

Bake, rotating the sheets halfway through, until golden brown on the edges, 12 to 15 minutes. Remove the cookies and let them cool on the baking sheets. The cookies can be stored in an airtight container at room temperature for up to three days.

note: You can freeze these before baking. Just drop the mounds onto just one baking sheet, as close together as you need without touching, and freeze them until firm. Then transfer them to heavy-duty freezer bags and store in the freezer for up to six months. To bake from frozen, increase the time to 25 minutes or longer.
Notes
This recipe calls for making 8-10 large cookies but you can divide the dough to make more, small cookies. You can scoop by the tablespoon-full if that's the size you prefer.
A note on the provided nutrition information
The nutrition information provided has been estimated by an online nutrition calculator and is not a substitute for a professional nutritionist's advice.
Nutrition
Calories:
411
kcal
|
Carbohydrates:
43
g
|
Protein:
4
g
|
Fat:
26
g
|
Saturated Fat:
13
g
|
Polyunsaturated Fat:
2
g
|
Monounsaturated Fat:
8
g
|
Trans Fat:
0.5
g
|
Cholesterol:
52
mg
|
Sodium:
446
mg
|
Potassium:
222
mg
|
Fiber:
3
g
|
Sugar:
28
g
|
Vitamin A:
394
IU
|
Vitamin C:
0.1
mg
|
Calcium:
45
mg
|
Iron:
2
mg
This recipe was reprinted with permission from Eat Your Vegetables: Bold Recipes for the Single Cook
by Joe Yonan. Copyright © 2013. Published by Ten Speed Press, a division of Random House, Inc. Chocolate Chunk Cookie Photo by Matt Armendariz © 2013.
Love the cookie? Then buy the whole cookbook:
This recipe was published in 2014 and most recently updated in December 2022.
Latest posts by Amy Reiley
(see all)
Get on our mailing list
Subscribe and get our exclusive list of Six Great Sex-Boosting Snack Foods for FREE! Unsubscribe at any time - privacy policy