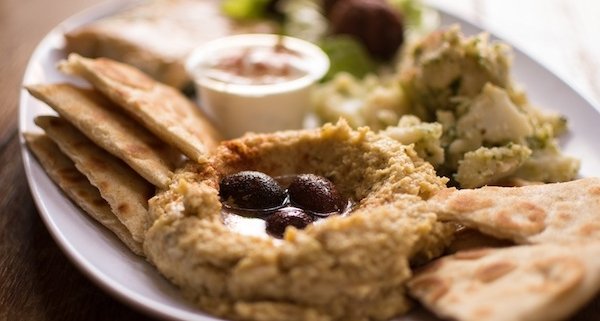 I created a menu for a romantic dinner for two inspired by the Greek God Eros. So, of course, the dishes are Greek. But these recipes are aphrodisiac Greek! To pair with my Minted Bulgar Salad, I suggest this Roasted Eggplant Puree. I like to serve it with plenty of warm pita bread–and lots of love!
While a roasted eggplant puree might not strike you as something to spark romance, not only does this dish offer nutrition key to sexual health, it's packed with ingredients noted as aphrodisiac. And that includes one of my favorites–it's an ingredient that might surprise you. I'm talking about garlic. Learn more about garlic's aphrodisiac reputation.
But eggplant itself is no slouch in the aphrodisiac department. You might be surprised to hear it but eggplant was once considered aphrodisiac. This fruit, and yes, it is a fruit, originated in southeast Asia. And it's rich in several vitamins and minerals considered essential to sexual health, including potassium, vitamin B6 and manganese. It makes you look at roasted eggplant puree a little differently, doesn't it?
Roasted Eggplant Puree
This roasted eggplant puree is Chef Diane Brown's favorite side dish for a romantic, Greek-inspired meal.
Course:
Appetizer, Side Dish, Snack
Cooking Style:
Vegetarian
Ingredients
1

medium-sized eggplant

Salt

4

tablespoons

olive oil

divided

1

teaspoon

minced garlic

1

teaspoon

fresh lemon juice

1

tablespoon

tahini

1

tablespoon

chopped parsley
Instructions
Preheat oven to 400 degrees F.

Cut eggplant in half lengthwise and lightly score the surface. Sprinkle generously with salt and olive oil. Roast, cut side down, on cookie sheets for 40 minutes or until eggplants are very soft.

Remove from oven and let cool. Scoop flesh from skin of eggplant and puree in food processor with garlic, lemon juice, tahini and parsley. While machine is on, slowly pour in the olive oil. Season to taste with salt and pepper.

Chill or serve room temperature.
If you enjoy this traditional hummus recipe, be sure to check out the rest of the Greek-inspired, romantic menu:
Traditional Hummus
Minted Bulghar Salad with Pine nuts and Feta
The Aphrodisiac, a lovers' cocktail
FREE APHRODISIAC NEWSLETTER
Subscribe to our free aphrodisiac newsletter