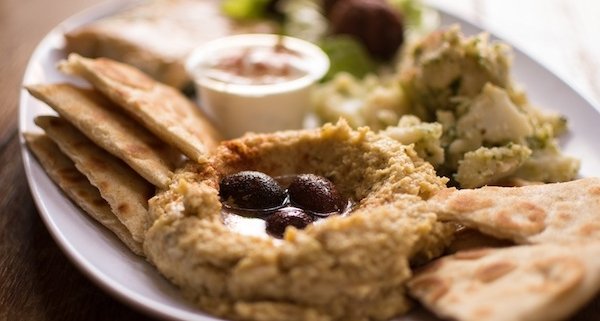 Roasted Eggplant Puree Recipe: a simple yet seductive dip
Our articles may contain affiliate links. For more information, view our policies.
I created a menu for a romantic dinner for two inspired by the Greek love god, Eros. And since the inspiration is Greek, the dishes are Greek. But these recipes are aphrodisiac Greek! To pair with my Minted Bulgar Salad, I suggest this silky roasted eggplant puree dip. Eggplant puree, also called aubergine puree or baba ganoush in some parts of the Middle East, is a simple, sensual dip I like to serve with plenty of warm pita bread and love.
If you love baba ganoush, you're going to love discovering how easy it is to make this Mediterranean dip at home.
RELATED: Discover more Middle Eastern recipes in the Flavors of the Sun cookbook
What do you need to make a great aubergine puree?
Making this vegetable puree requires a food processor. Here's the food processor we use. If you're going to use this piece of equipment a lot, it's worth the investment. If you don't intend to use it often, Hamilton Beech makes a great inexpensive model but I've heard it's not nearly as durable as the Kitchenaid.
As for what you put in the puree, one of the things I love most about this recipe is that it calls for just seven pretty basic ingredients:
eggplant (see the notes below on types of eggplant)
olive oil
garlic
lemon juice (freshly squeezed)
fresh parsley
salt
tahini
Most of these ingredients are common pantry staples or things that can be found on a quick grocery store run. The only exception might be the tahini.
What is tahini?
Tahini is a common ingredient in Mediterranean and Middle Eastern cuisines. It is basically a paste made from sesame seeds. The seeds are finely ground to an oily paste, similar to peanut butter. And like peanut butter, tahini is an extremely nutritious but high-fat ingredient used in sauces and dips or served on its own as a spread. Tahini isn't particularly hard to make at home but it's commonly sold in jars like peanut butter in gourmet, health food and ethnic grocery stores.
What kind of eggplant should you use?
This recipe calls for Globe eggplant, also called American eggplant. It's the purple-skinned variety you're most likely to find at your grocery store or grow in your garden. Globe are the biggest and meatiest of all the eggplants. I use them in this recipe for one thing because they're the easiest to find but also because this hearty eggplant is particularly easy to roast.
How to choose an eggplant at the grocery store
If you aren't experienced in buying eggplant, you might not know what to get. Look for an eggplant that's firm with no soft spots. Also, make sure there's no wrinkling. Wrinkling and softness are indicators of age. And older eggplants tend to be more bitter. Bitter eggplant does not work well in this eggplant puree recipe.
Tips for roasting eggplant
Some recipes call for salting and draining your eggplant to reduce bitterness. I find this isn't necessary if you choose the right eggplant. And since I like simple recipes, I recommend you start with a good product and go straight to roasting.
I roast my eggplant, cut side down on a baking sheet for 40 minutes. The flesh of the baked eggplant will become very soft and the flavor will evolve during roasting to have more rich, almost caramelized notes.
Serving suggestions
Eggplant puree uses include making a healthy dip for veggies. It also works as a spread for sandwiches. But my favorite way to eat it is simply, with pita bread.
I serve this Mediterranean eggplant puree with warm, whole wheat pita bread cut into quarters, along with a side of olives. This vegetarian puree is meant to go with my bulghar salad as part of a light, vegetarian dinner. I don't make my own pita to dip into the puree but if you'd like to try your hand at Mediterranean bread baking, King Arthur Flour offers a tried and true recipe for pita on their website.
May this slightly exotic but decidedly romantic dish bring you many pleasurable date nights at home. Be sure to check out the cocktail I pair with it. It's called The Aphrodisiac for a reason! And speaking of aphrodisiacs, did you know that this pureed eggplant dish has some aphrodisiac properties of its own?
Why this sexy dip recipe is perfect for date night
While a roasted eggplant puree might not strike you as something to spark romance, not only does this dish offer the nutrition key to sexual health, it's packed with ingredients noted as an aphrodisiac. And that includes one of my favorites – it's an ingredient that might surprise you. I'm talking about garlic. Here's more information on garlic's aphrodisiac reputation.
But eggplant itself is no slouch in the aphrodisiac department. You might be surprised to hear it but the eggplant was once considered an aphrodisiac. This fruit, and yes, it is a fruit, originated in southeast Asia. And it's rich in several vitamins and minerals considered essential to sexual health, including potassium, vitamin B6 and manganese. It makes you look at roasted eggplant puree a little differently, doesn't it?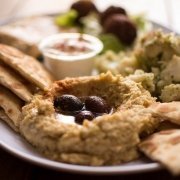 Roasted Eggplant Puree (Aubergine Puree)
Print Recipe
This roasted eggplant puree is Chef Diane Brown's favorite side dish for a romantic, Greek-inspired meal. 
Ingredients
1

medium-sized, Globe eggplant*

salt

4

tbsp

olive oil

divided

1

tsp

garlic

minced

1

tsp

fresh lemon juice

1

tbsp

tahini

1

tbsp

parsley

finely chopped
Instructions
Preheat oven to 400 degrees.

Cut eggplant in half lengthwise and lightly score the surface. Sprinkle generously with salt and olive oil. Roast, cut side down, on cookie sheets for 40 minutes or until eggplants are very soft.

Remove from oven and let cool. Scoop flesh from skin of eggplant and puree in food processor with garlic, lemon juice, tahini and parsley. While machine is on, slowly pour in the olive oil. Season to taste with salt and pepper.

Chill or serve room temperature.
Notes
*See my notes in the introduction on choosing the best eggplant. 
Nutrition
Calories:
88
kcal
|
Carbohydrates:
4
g
|
Protein:
1
g
|
Fat:
8
g
|
Saturated Fat:
1
g
|
Polyunsaturated Fat:
1
g
|
Monounsaturated Fat:
5
g
|
Sodium:
2
mg
|
Potassium:
145
mg
|
Fiber:
2
g
|
Sugar:
2
g
|
Vitamin A:
57
IU
|
Vitamin C:
2
mg
|
Calcium:
9
mg
|
Iron:
0.3
mg
If you enjoy this pureed eggplant recipe, be sure to check out the rest of the Greek-inspired, romantic menu:
Traditional Hummus
Minted Bulghar Salad with Pine Nuts and Feta
The Aphrodisiac, a pomegranate vodka cocktail
Diane Brown is the author of The Seduction Cookbook: Culinary Creations For Lovers
Pin this roasted eggplant dip recipe: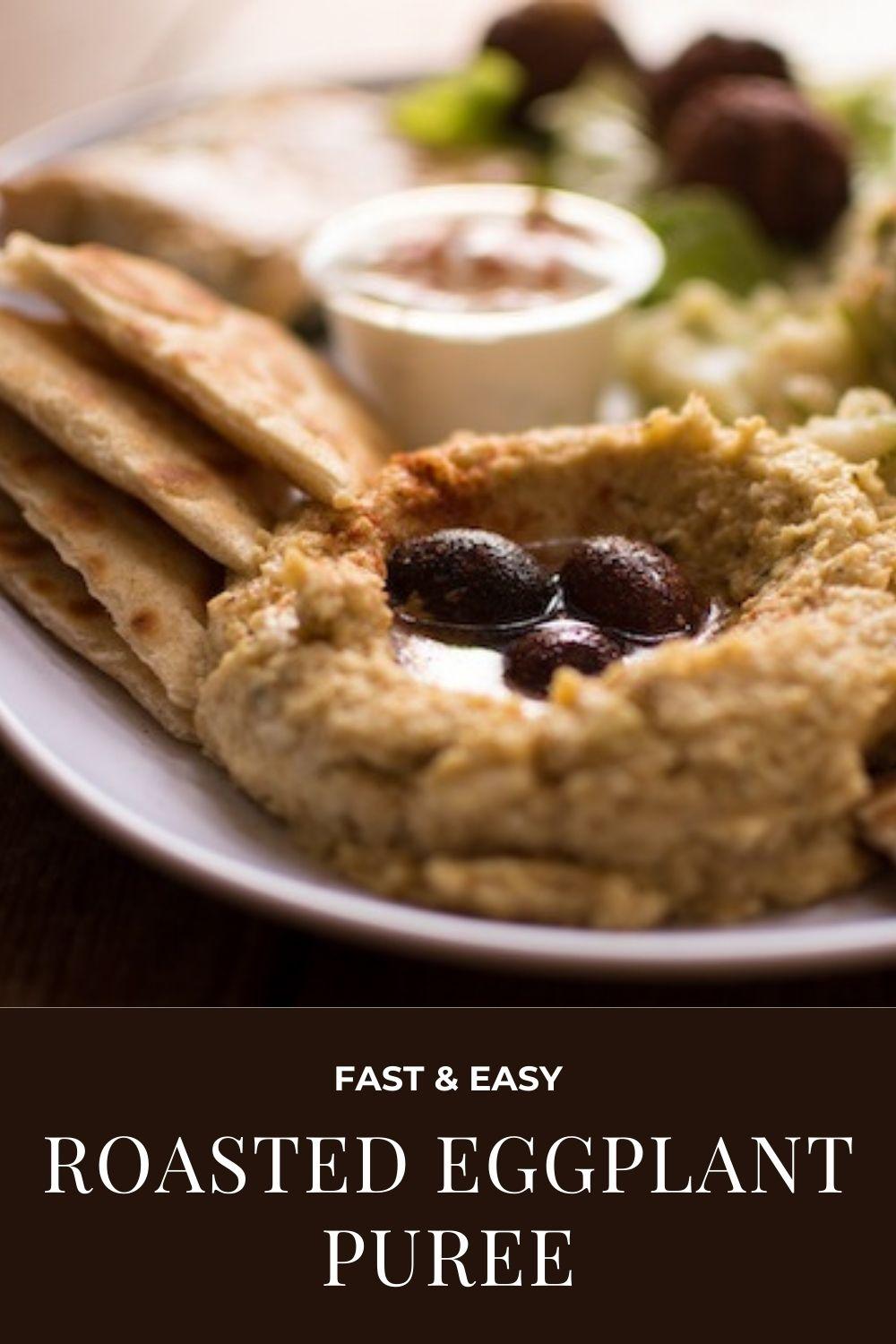 Latest posts by Diane Brown
(see all)
Get on our mailing list
Subscribe and get our exclusive list of Six Great Sex-Boosting Snack Foods for FREE! Unsubscribe at any time.