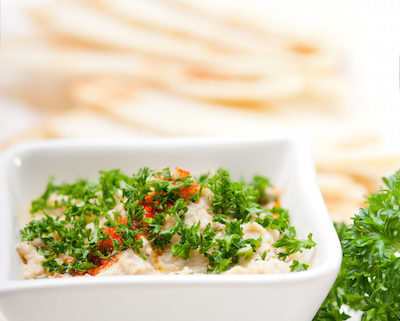 Diane's Traditional Hummus Recipe
Our articles may contain affiliate links. For more information, view our policies.
This traditional hummus recipe is the first course in my Greek Golden Arrow Valentine's Day dinner for two. (Of course, you can make this tempting Greek meal any time you want a date night at home. I just featured it for Valentine's Day because it calls for ingredients that are all accessible in February.)
My easy hummus recipe helps set the tone for a night of seduction with a simple nibble inspired by the land of Eros, God of Love. To get all of my  tips for how to set the scene for a dinner inspired by a Greek god, read my introduction.
A healthy hummus recipe to start your meal
You might be wondering why I would serve a humble hummus starter as the opener to a date night menu? A traditional hummus recipe is full of aphrodisiac ingredients, believe it or not. And although it's high in fat, it's high in healthy fats. Here's more information on why you need healthy fats.
Vegan and packed with protein and minerals
This traditional hummus recipe is also a source of the protein you need for sustained energy. (You know, the kind you'll need later in the evening.) In fact, chickpeas are an excellent source of plant-based protein. This vegetarian dip offers around three grams of protein per ounce. And that's along with folate, fiber, iron and manganese, all nutrients important to maintaining sexual health. Not to bad, considering this is a vegan hummus.
Why this hummus recipe is a date night food
And beyond the nutrition–which is impressive, hummus is a sensual food. When it's made right, hummus is fluffy and creamy and the perfect foil for chewy pita or crunchy vegetables. Follow my directions below and my simple hummus recipe will be all of these things.
What about the garlic? Yes, I do make hummus with raw garlic. But you might be surprised to learn that garlic is an aphrodisiac, Now I top my hummus with parsley, a natural breath freshener, to try to counteract any negative effects. But with garlic making  the list of the best foods for men, this is an ingredient you might want to start enjoying more, even on date night!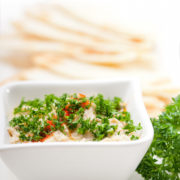 Diane's Traditional Greek Hummus
Print Recipe
A simple nibble to start a romantic meal with a Greek theme, or an easy party appetizer, this traditional hummus recipe from Diane Brown works for many occasions. 
Ingredients
1

clove

garlic

peeled

salt

4

cups

drained canned chickpeas

½

cup

tahini

sesame paste

¼

cup

fresh lemon juice

3

tablespoons

extra-virgin olive oil

2

teaspoon

chopped parsley

Pita bread
Instructions
Put garlic and a pinch of salt into a mortar and crush with a pestle until they form a paste.

Put chickpeas, tahini, lemon juice, salt to taste and garlic paste into the bowl of a food processor and puree, occasionally scraping down bowl, until very smooth, 3-4 minutes. Drizzle in olive oil slowly and pulse to just combine.

Sprinkle with chopped parsley and serve with warm pita wedges.
Get more healthy, Greek recipes
If you enjoy this traditional hummus recipe, be sure to check out the rest of the romantic, Eros-inspired, dinner menu:
Roasted Eggplant Puree
Minted Bulghar Salad with Pine nuts and Feta
The Aphrodisiac, a lovers' cocktail
Pin this traditional hummus recipe: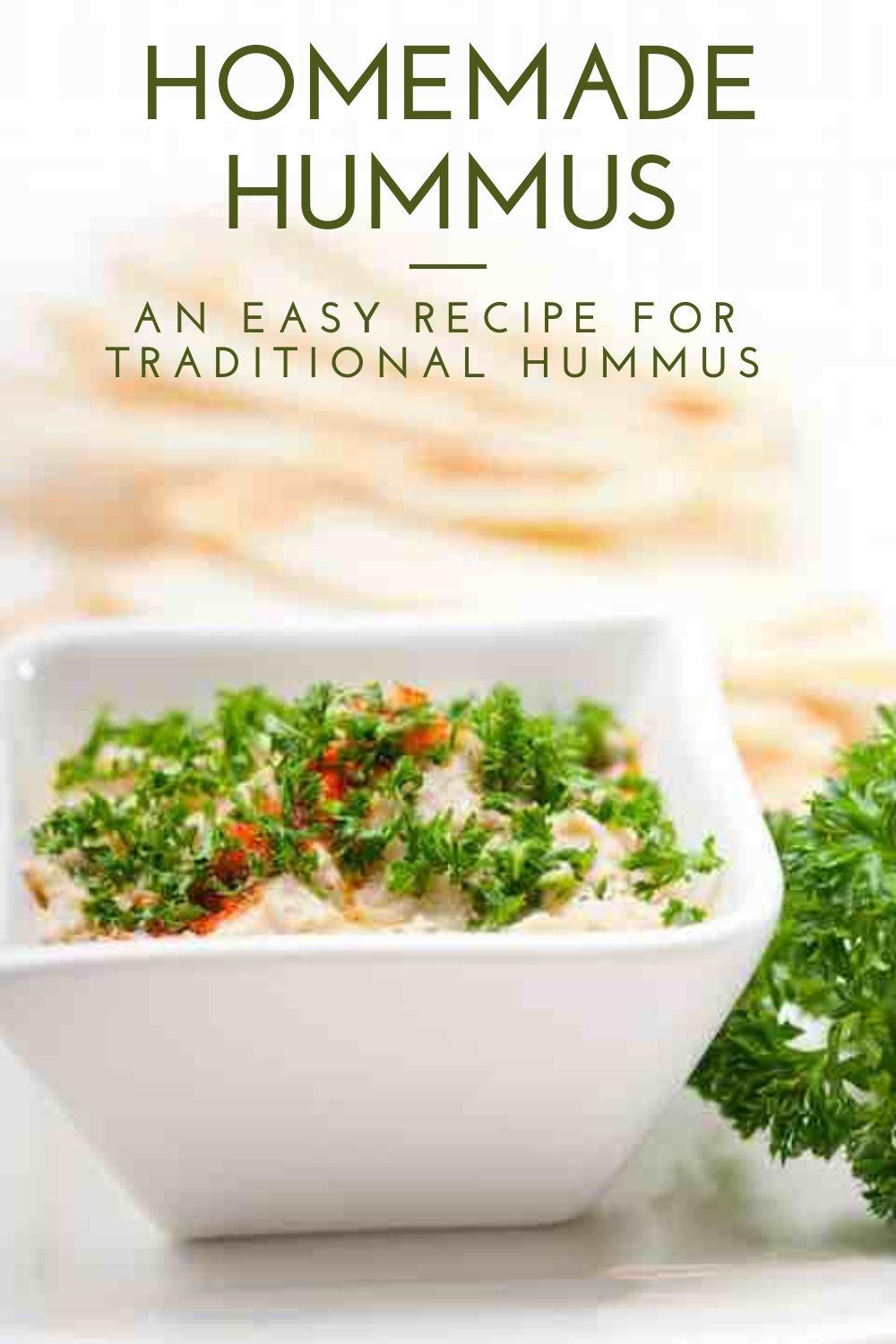 FREE APHRODISIAC NEWSLETTER
Subscribe to our free aphrodisiac newsletter