Eating Organic Food For Improved Sexual Health & Wellbeing
Our articles may contain affiliate links. For more information, view our policies.
The start of a new year brings the inevitable New Year's resolution and for many people that means an enforced ultimatum: this is the year I will lose weight and get healthy. Unfortunately this kind of mandatory sentence rarely lasts beyond the month of January. But eating organic food? Well, we'll dive in to why this might be a solid resolution for body, mind and planet.
This article first appeared on our site in 2006. We felt that this January, more than any other moment, is a great time to revise this story on how eating organic can be an important part of self care and care for our world. 
Real world advice from organic and natural foods chef Ivy Haaks
As this is my first contribution to this site, I wanted to give the readers a bit of a different perspective about how one might think about the concept of health and wellness in the New Year. My hope is that you can be inspired to consider health as a pleasurable pursuit rather than an eternal sacrifice.
RELATED: What is Organic Wine?
We have all heard the same old advice, eat low fat (if you are not a Keto fan of course), lots of salad, avoid the bread and drink 8 glasses of water a day. Certainly those tips are useful in the short term but it hardly gives one a broad perspective about what eating healthfully really means; everyday, week after week, year-round not just when one goes on a "diet."
RELATED: The 10 Steps to Sexy Diet
Embrace an organic diet instead of a fad diet
One of the most powerful ways we can take control of our life and the future of our environment is to make a commitment to consciously choose what kind of food we will put in our bodies. Eating organically grown foods is certainly one way in which we can contribute to our own health and at the same time support an eco-friendly approach to living in our modern world. Buying organic meat, vegetables, etc. can seem like a simplistic idea that may or may not be worth the extra expense or effort.
But when you look at the impact it can have on your sexual health and overall health as well as the potential to support a healthier planet, I think you'll agree that looking at ways to incorporate organics into your life is a good step to take toward better health and wellbeing.
The health benefits of eating organic
You might be surprised to learn that there is a world of difference between choosing to buy foods grown organically and conventionally grown ones.
The most important organic benefits have to do with the obvious fact that conventionally grown foods contain pesticides. Quite simply it is a way to provide yourself with foods that are free from chemical pesticides, herbicides and fungicides.
Although most of us can't feel the effects of these chemical treatments when eating one apple or bowl of cereal, over time the chemicals can accumulate in the body. The ingestion of food with pesticides is linked with such chronic issues as cardiovascular disease, dementia, issues with the male reproductive system and neurological issues in fetuses and children.
RELATED: The 10 Best Foods For Men's Sexual Health
Because organic produce is grown without toxic chemical, if you buy organic vegetables and fruits from now on, you can stop a lot of this potential buildup in your body.
Additional health benefits of organic foods
In addition, organic foods are free of preservatives. Preservatives are added ingredients that can help "enhance" flavor or color. Not all additives are unsafe, but several of the preservatives used in the production of non-organic, processed foods are linked with health issues.
For starters, artificial food colorings cause allergic reactions in some sensitive individuals. (There is an argument that colorings are linked with cancer but studies to date find this claim inconclusive.) Other preservatives are linked with several types of cancer, diabetes and heart disease. So to buy organic food knowing that it is free of preservatives may provide a needed sense of relief.
RELATED: Why We Use All Natural Cleaning Products in Our Kitchen
Some health experts say that choosing organic foods can even support weight loss goals better than conventionally grown foods. Research on this topic is inconclusive at the time of writing. However it may be that those who eat organic tend to eat a wider variety of fruits and vegetables, which can have positive impact on not just weight but sexual health.
RELATED: Why You Should Eat a Vegetable Rainbow
Are organic foods more nutritious?
There is usually a price premium on organic foods but one interesting thing to remember when you are at the supermarket is that organic fruits and vegetables have proven in data provided by the US Soil Association to be significantly higher in their vitamin and mineral content when compared with their conventionally grown counterparts. Also, they have shown to have considerably higher levels of cancer-fighting antioxidants.
How to eat organic on a budget
Organic foods cost more to produce than conventionally grown foods. And because there's less of a demand for these expensive ingredients, the cost is driven up even further. However, the benefits to your health mentioned above, not to mention the health of the planet, should inspire you to choose at least some organic foods. (Organic farming not only promotes soil health but it is linked with slowing climate change.)
If you are budget conscious but want to start buying organic, shop at budget-friendly stores. You may not find as many organic choices as you will at higher end stores but you will find some organics – and probably at fairer prices. Also be sure to look for sales on organic products. And if you don't mind buying in bulk, check for organic versions of your favorite foods at warehouse clubs. You might find a bargain.
TO TRY: Korbel Brut Sparkling Wine Made With Organically Grown Grapes
Fruits and vegetables to buy organic
Another way to start eating organic is to concentrate on produce. Fruits and vegetables are considered to be among the top foods to buy organic. The best place to start is by reading the Environmental Working Group's "Dirty Dozen List" of foods with the most pesticides. Although the list is updated annually, some foods that always make the list of foods to eat organic include strawberries and spinach.
Do organic foods taste better?
There is additionally evidence to support the idea that organics simply taste better. This is perhaps due in part, to the fact that organic soils are more multi-layered, usually having a greater variety of substances and organisms from which the plants can draw from and consequently, the flavors can be more complex. And in the case of meat, it might be that the organically raised meat was simply fed higher quality feed. This is something you can judge for yourself but I think that when you switch to organic, you'll be pleasantly surprised.
Additional resources on organic foods
For some additional reading on organic foods, I recommend:
The Organic Cook's Bible: How to Select and Cook the Best Ingredients on the Market
Ivy Haaks, a graduate of Le Cordon Bleu Paris, is a natural foods chef with degrees in health and gastronomy.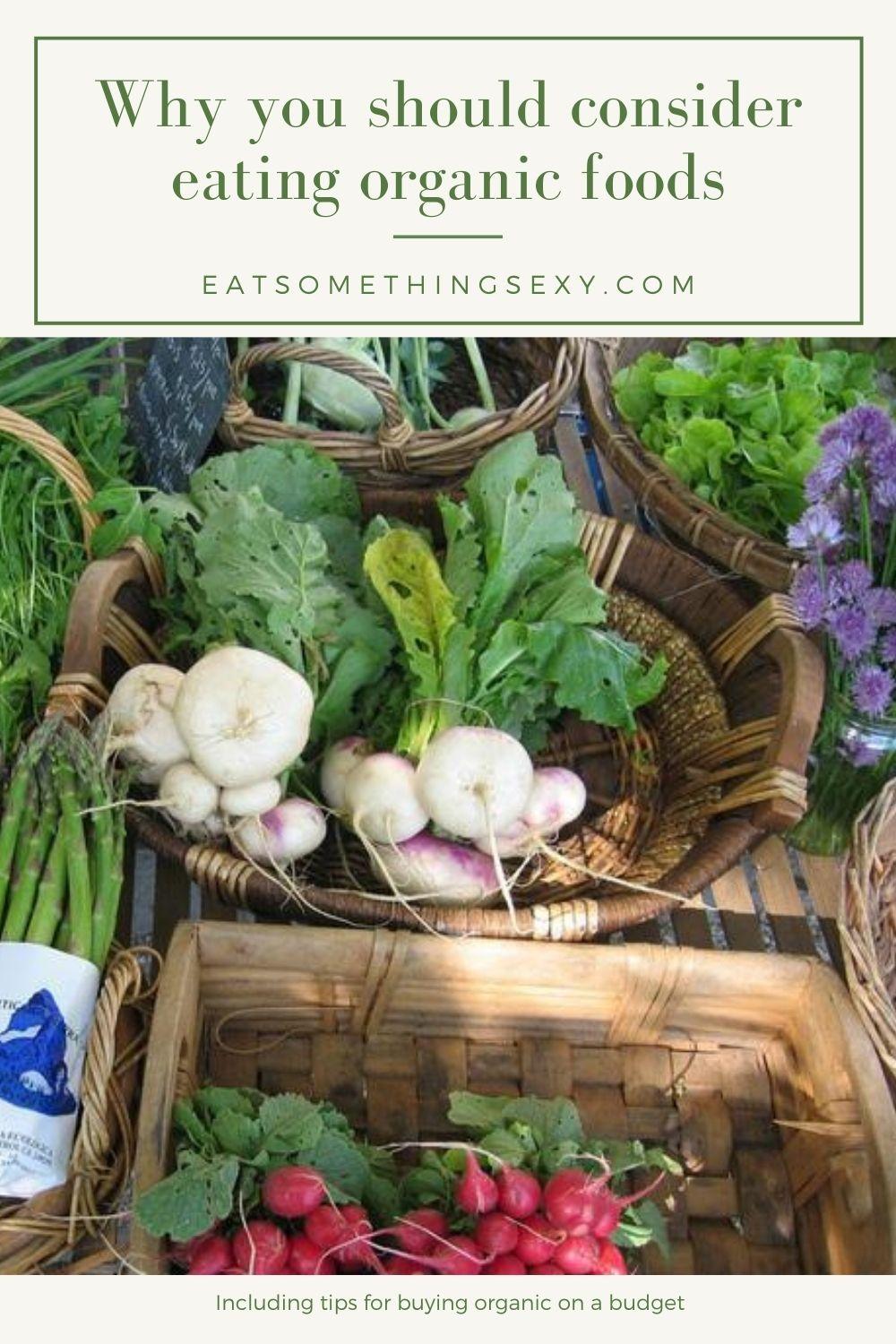 FREE APHRODISIAC NEWSLETTER
Subscribe to our free aphrodisiac newsletter