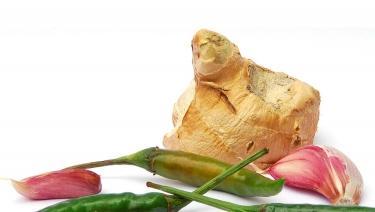 Plan a Flawless New Year's Eve Dinner for Two Including Menu & Recipes
Our articles may contain affiliate links. For more information, view our policies.
How to create a romantic New Year's Eve with the flavors of the Orient
This exotic and incredibly aphrodisiac dinner plan offers a fresh way to hail the New Year without the requisite over-indulgence guilt. Instead of putting every luxury food I can afford into one evening's menu, I've created this romantic, themed dinner around the sensuality of Asian spices. Think salty, sweet, spicy and perhaps a little naughty and nice.
This foreign and daring dinner plan for two invites both guests to embark on a flavor journey of Asian small plates that sparkle with sexy flavors, vivid colors and sensual textures.
An Asian-inspired New Year's Eve dinner for two spices up December's chill, not to mention adding a punch of amatory flare. Common ingredients like fresh ginger, savory seafood and stimulating cilantro add inspiration to a romantic New Year's Eve.
A lively shrimp soup with hints of lemongrass and chili provides cold comfort and a libido boost, while ginger-spiked dumplings peak both palate and carnal appetite. Spices like cinnamon and anise make the season sing and taste buds ring.
A New Year's Eve dinner idea with a healthy spin
But this is not only a collection of recipes to awaken the senses, it is my way to honor a resolve to eat in a lighter, healthier fashion. Since most of us who make resolutions usually weave a promise to make healthier food choices into our New Year's promise, I felt it was important to create a menu that will send you on this journey right from the start.
Want more menus for two? Check out all of Diane's romantic dinner ideas
Table inspiration for your New Year's Eve dinner for two
Add exotic flare with a table decorated in red and gold, set with chopsticks for dining, or offering your loved one a seductive bite. After your appetite is sated, treat your mate to a pot of jasmine tea, lovingly poured for each other.
Make your New Year's Eve salty and sweet, naughty and nice and set the tone for a romantic new year.
View the New Year's Eve dinner for two recipes
Dumplings with Scallops, Green Onion and Ginger
Aromatic Shrimp Broth with Lemongrass
Broccoli with Orange Chile Oil
Asian-Spiced Fuji Apple Crumble
Diane Brown is the author of The Seduction Cookbook: Culinary Creations For Lovers
FREE APHRODISIAC NEWSLETTER
Subscribe to our free aphrodisiac newsletter