An Easter Cocktail Recipe Even the Bunny Would Love
Our articles may contain affiliate links. For more information, view our policies.
What makes a cocktail an Easter cocktail? Well, we really weren't sure, until the makers of Rosé All Day sparkling wines sent us their Easter cocktail idea, a mimosa with a rather surprising twist. It was one of those "aha moments" that had us rolling on the floor laughing at this drink's clever yet bizarre appearance.
The drink is a flute of day-glow orange liquid with a nubby carrot for garnish. Yes, that is indeed an Easter drink. But is this Easter cocktail idea (which turns out to be a sort of carrot version of a mimosa) something you actually want to serve for Easter brunch?
The answer is yes. Despite how ridiculous the concept may sound, a carrot mimosa is an alluring cocktail for Easter…or any time you want a cocktail with a side of veggies!
How to make this carrot juice cocktail
The mimosa is a cocktail typically made with orange juice and sparkling wine poured in equal measures. It is served in a Champagne flute and is considered one of the most recognizable symbols of brunch.
But this version of a mimosa swaps out the orange juice for carrot juice. And you'll note in this recipe that the juice is a mere splash in a glass of sparkling wine. Only one ounce of carrot juice is poured into the glass and then topped with the bubbles. (Carrot juice can be purchased in the refrigerated section of many grocery stores. You can also make homemade carrot juice in a blender. Here's a recipe for blender carrot juice from A Couple Cooks if you want to try it.)
We are printing the carrot mimosa recipe with its original recommendations but we would like to make a note of our preferred modification:
Skip the carrot jammed onto the rim of the flute. A garnish that serves no other purpose than to poke you in the eye, it has none of the appeal of celery in a Bloody Mary and it is a vegetable best left in the refrigerator.
TO TRY: A Hare Above the Rest, my other favorite springtime cocktail
Is this fun Easter cocktail an Easter aphrodisiac?
You still might think the concept of this alcoholic Easter drink is corny but what if I told you this bunny lover's cocktail is an aphrodisiac? And no, I don't mean an aphrodisiac for rabbits! If you've spent much time on our site, you already know that sparkling wine is an aphrodisiac. So just for the simple fact that it's a mimosa, it has aphrodisiac potential.
RELATED: Champagne Aphrodisiac & Health Benefits
Carrot juice and your health
But then there are the carrots. Although they don't make my list of the world's most potent aphrodisiacs, carrots offer several sexual health benefits that are worth a shout-out.
True, you're only getting carrot juice in small doses with this drink, you're still going to benefit from a boost of beta-carotene. In fact, carrot juice may be one of the best Easter drinks. This vegetable juice, which is a relatively low sugar and low-calorie drink, is said to help boost metabolism. And you're going to need some help to digest all that Easter chocolate.
Cheers!
Need a great Easter Dessert? Try this Flourless Chocolate Almond Cake recipe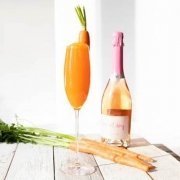 Easter Mimosa
Print Recipe
This vegetable version of a Mimosa is a surprisingly delicious brunch cocktail. Although it was designed for Easter, it's a great drink all year with a little health boost from carrots. 
Ingredients
1

oz

fresh carrot juice

4

oz

Rosé All Day or your favorite sparkling wine

Carrot for garnish

Not endorsed by our test kitchen
Instructions
Add the carrot juice to a Champagne flute.

Top with the sparkling wine, pouring slowly, avoiding any spillover.
Pin this playful Easter drink recipe: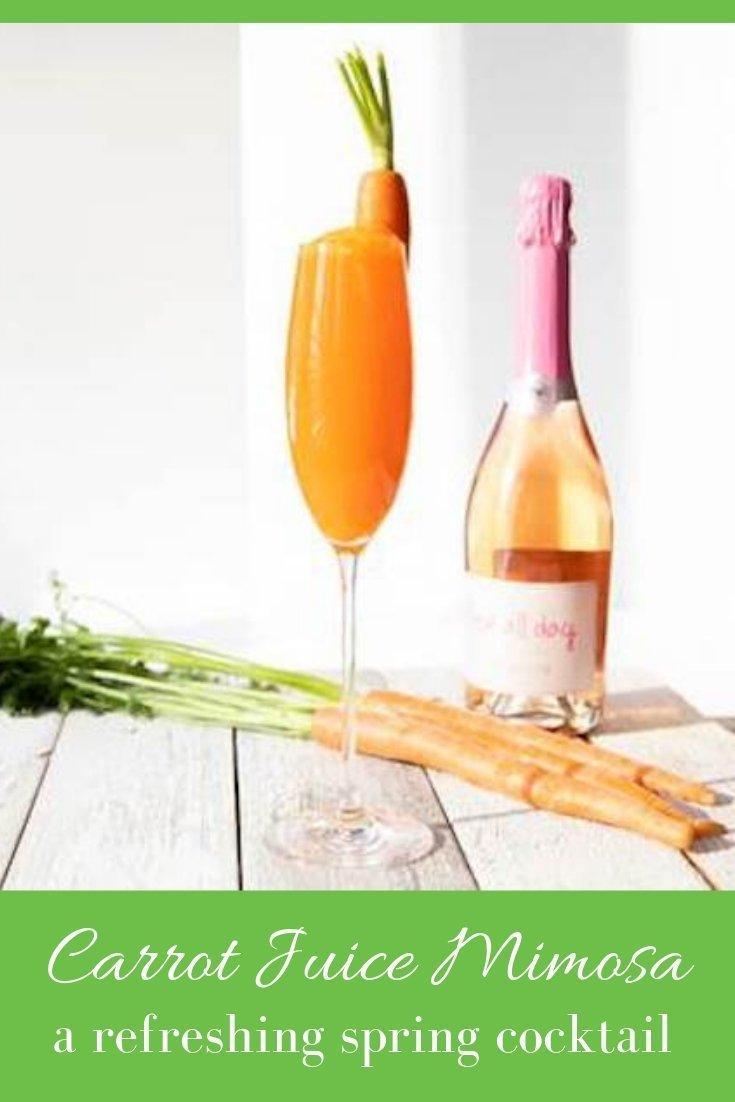 Latest posts by Amy Reiley
(see all)
FREE APHRODISIAC NEWSLETTER
Subscribe to our free aphrodisiac newsletter