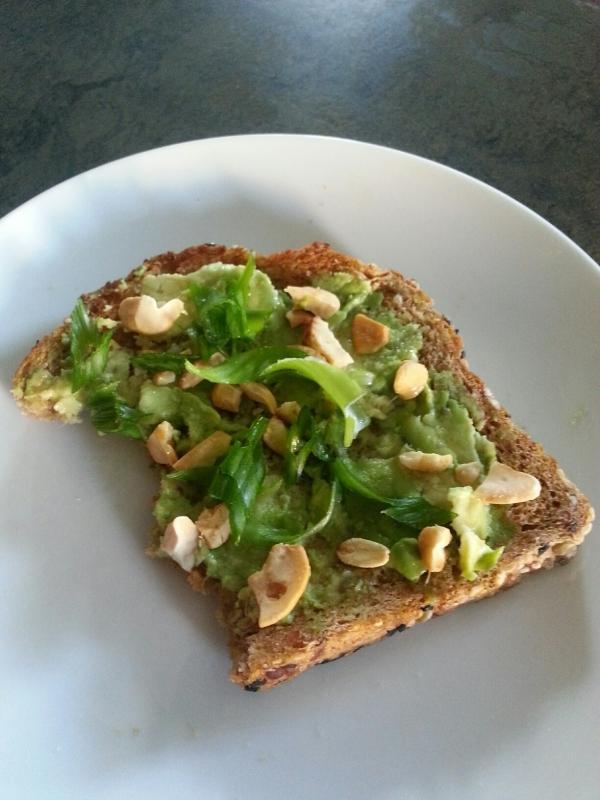 Recipe for Avocado Toast with Coconut and Cashew
Our articles may contain affiliate links. For more information, view our policies.
You think you know avocado toast? True, this humble breakfast with avocado has become a staple on the menus of America's most hip hotels and restaurants. But I'll bet you've never experienced a recipe for avocado toast quite like mine. Not so sure? Try it and I think you might even say it's the best avocado toast you've ever tried.
My recipe takes inspiration from the tropics. I find this easy avocado toast recipe particularly uplifting during the cold and dark winter months. Its aroma of coconut and the crunch of cashews have me dreaming of a sandy beach and the sound of steel drums.
How do you make this recipe for avocado toast?
Although my avocado toast ingredients are unique, they're probably foods you have on hand. (If not, they're available at your local grocery store.) To make this indulgent version of an avocado toast recipe, I start by making sure the top of the toast gets a nice coating of moisture with a slathering of solidified coconut oil. If you've never used it, it spreads just like softened butter.
Then I smear the mashed avocado onto the toast. (If you're serving this avocado recipe to someone special, sure to use the avocado liberally, because you know it's an aphrodisiac!)
But for me, thats not enough. I like texture. So I add extra crunch with roasted, salted cashews and the savory flavor of scallions. (Incidentally, did you know that scallions are great for your health?)
Best bread with avocado
The secret to the sandwich is good bread. I prefer a seeded, whole grain bread. If I can, I'll use a fresh baked loaf of multigrain but I also keep a loaf of my favorite avocado toast bread on hand for those times when I can't just run to a bakery and pick up fresh bread. I like to use Dave's Killer Organic 21 Grains and Seeds  but you can use whatever you like. Just make sure it's loaded with seeds.
The addition of seeds to your toast adds not only to the texture but also to the nutrition of this simple avocado toast recipe. Did you know that seeds like sunflower not only offer fiber but also nutrients vital to your sexual health like vitamin E, manganese and zinc?
Here's some additional information on why you need manganese. 
To make vegan avocado toast or a gluten-free version
The recipe can easily be tailored to vegan and gluten-free diets. All of my toast toppings are naturally vegan and gluten-free. So you just need to choose a bread that suits your personal dietary restrictions.
I will admit, my version of avocado on toast may not be for the weight loss crowd, but this this open-faced sandwich is loaded with aphrodisiac ingredients, nutrients and flavors to sweep you away to your imaginary island of happiness feeling like your most sexy self.
TRY NEXT: A healthy twist on guacamole
More avocado toast ideas
Although I think this is the best avocado toast recipe, it certainly isn't the end to variety of avocado breakfast ideas you can create with a piece of bread and  ripe avocados. You can make a sweet potato avocado toast by simply adding cubes of roasted sweet potato to this recipe.
In summer, add ripe tomato and a fried egg for an avocado and egg toast. Or, if you like things spicy, sprinkle your avocado toast with a pinch of red pepper flakes. Your avocado toast toppings are really only limited by your imagination.
Some of my favorite avocado recipes
Want more avocado recipes? Try these Picnic Sandwiches with tomato, avocado and bacon! They're a variation on a recipe from my cookbook Romancing the Stove. And they are definitely my go-to for a casual picnic food.
Some other great avocado recipes include this Avocado Chocolate Cake. Avocado adds moisture to a chocolate cake batter that gives it a rich, almost creamy texture.
And don't miss my favorite Baja Fish Taco recipe. It's topped with a decadent avocado cream that I also like to use as a topping for burgers.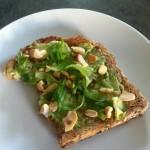 Avocado Toast with Coconut and Cashew
Print Recipe
A super-gluttonous rendition of avocado toast, it combines the tropical flavors of cashew and coconut oil with ripe avocado and just a touch of scallions. 
Ingredients
2

slices

of your favorite seedy

whole-grain bread (We recommend Dave's Killer 21 Whole Grains and Seeds Thin-Sliced)

coconut oil

1/3-1/2

Haas avocado

3-inch

scallion

thinly sliced, green top part only

2

tbsp

roasted

roasted and salted cashews, roughly chopped

pinch

sea salt
Instructions
Toast the bread.

While the bread is warm, spread both slices with a thin layer of coconut oil.

Scoop the flesh from 1/3 or 1/2 of a Haas avocado (depending on size) and divide in two. Spread it into a chunky paste on each slice.

Top each with 1 tbsp cashew and half the scallions.

Sprinkle with sea salt to taste.
Pin my recipe for Avocado Toast with Coconut and Cashew:
Latest posts by Amy Reiley
(see all)
Get on our mailing list
Subscribe and get our exclusive list of Six Great Sex-Boosting Snack Foods for FREE! Unsubscribe at any time.