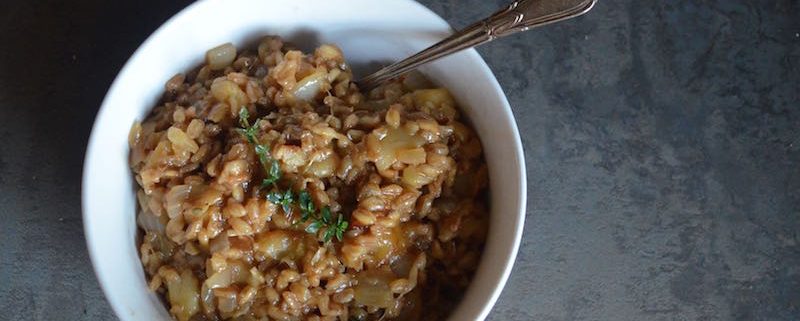 Pearl Barley Risotto Recipe with Apples & Parmesan
Our articles may contain affiliate links. For more information, view our policies.
If you're craving a vegetarian recipe with the flavors of the season, this pearl barley risotto is a must-try. A fall risotto featuring a hearty, whole grain along with apples, this one ticks all the boxes for ease, nutrition and great flavor.
Why should you make risotto with barley?
Barley is a phenomenal grain. It is hearty and rich in fiber and protein. And it even has a number of nutrients to support your sexual health. (More on that later.)
But the reason I love making this fall risotto recipe with barley instead of more traditional risotto rice is because of the incredible, chewy texture and delicious, nutty flavor it brings to the dish. To me, this hearty grain gives a seasonal feeling to this easy barley risotto recipe.
Is there a best kind of risotto barley?
Obviously, barley is not the best risotto rice if you're looking to make a traditional, creamy risotto. (Barley is, in fact, not a rice at all.) Traditional risotto is made with medium to short grain, Italian rice like arborio rice. Arborio is a high-starch rice, which is what gives it that creamy texture. But like most "white foods," it isn't particularly nutrient-rich.
Understanding types of barley
Barley, as I mentioned above, is known for nutrition. Of the two types commonly used in cooking, hulled barley is the most nutritious. This whole grain offers over 12 grams of protein per serving. However, it is an extremely dense and chewy grain that isn't really appropriate for a creamy risotto.
Pearled barley risotto
That is why Annette's recipe is a pearled barley risotto. This grain is basically hulled barley that's been peeled of the bran layers, or pearled. It makes for a less dense, pleasantly chewy and easy-to-cook grain. And it still boasts more nutrition than you'd get from an arborio risotto. (If you would like to learn more about barley types, the Whole Grains Council offers this enlightening barley chart.)
And in addition to giving the dish an extra boost of nutrition, swapping out arborio or one of the other common risotto rices for pearled barley also gives this barley dinner recipe a unique texture and greater depth of flavor. Barley's slightly nutty notes give balance to the sweetness of the apple. In addition, using barley makes for an easy risotto recipe as the grain is a little less finicky than arborio and more forgiving if you don't cook it for the precise, right amount of time.
For a vegan barley risotto
If you want to make this barley risotto vegan, you'll have to do some substituting but it's possible. The easy part is swapping out the butter for a vegan, non-dairy butter substitute.
As for the cheese, that's really up to your taste. Although the cheese augments the dish's creamy texture, you might want to skip it entirely. Or try your favorite vegan shredded cheese and balance the final dish with a pinch of salt.
To reheat this pearl barley risotto
You can reheat this barley risotto recipe in a microwave, however, because it is a very cheesy barley risotto, the cheese tends to get gummy. Instead, I recommend using a stovetop method to heat up any leftovers.
Simply combine the leftover risotto with a couple of teaspoons of water in a saucepan. Heat on medium, stirring occasionally, until it is completely warm. This should take anywhere from 2-5 minutes, depending on how much risotto you are warming. Enjoy it as a midnight snack, easy lunch or even a savory breakfast.
TO TRY: Butternut Squash Farro Risotto
Why this risotto recipe is a good choice for a romantic evening
When you look at a bag of uncooked barley, you don't really think, "sexual desire." But barley, the main ingredient in this healthy risotto, is fuel for your libido.
According to Medical News Daily, one serving of barley offers over 50% of your daily intake of fiber. Now, this won't suddenly put you in a mood for loving. But fiber banishes bloat and helps you feel energized and sexy.
Barley boosts sexual health
There are also some nutrients in barley that have the potential to boost sexual hormone production. It is an excellent source of manganese and selenium. It is also a source of potassium, iron and magnesium. And for those who are trying to conceive, it is a natural source of folate.
RELATED: Discover why whole grains like barley are among the best foods for fertility
Aphrodisiac ingredients in this date night risotto
Barley is not the only ingredient in this date night risotto recipe with the potential to help you get lucky. After all, the apple is the original fruit of temptation. And recent studies show that it may be one of the greatest aphrodisiacs for women. In fact, one study found that women who eat an apple a day have more satisfying sex when compared with women who ate no apples. Here's more on the history and science behind the apple's aphrodisiac reputation.
Additional aphrodisiacs in this recipe include garlic, Parmesan and thyme. Yes! Even the cheese that gives this risotto its addictive, creamy texture and salty tang is a noted aphrodisiac.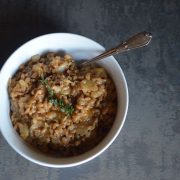 Barley Risotto with Apples and Parmesan
Print Recipe
This variation on risotto uses the chewy texture and nutty flavor of pearl barley, to produce a flavorful one-pot dish for an easy weeknight dinner or a romantic dinner for two. See notes to make a vegan risotto.
Ingredients
2

cup

diced

peeled Gala apples

2

Tbsp

butter*

salt and pepper

1/4

tsp

fresh thyme leaves

chopped

2

cup

vegetable stock

2

Tbsp

butter

1/2

small onion

finely chopped

1

clove

garlic

minced

rounded 2/3 c pearl barley

rinsed, drained

1 1/2

oz

freshly grated Parmesan cheese
Instructions
Brown the apples in butter in a large sauté pan. Season with salt, pepper and fresh thyme. Set aside.

Bring broth to simmer in a saucepan. Reduce heat to low and cover to keep warm.

Melt the remaining 2 tablespoons of butter in large saucepan. Add onion and garlic; sauté until tender.

Add barley, stir until coated with butter, about 1 minute.

Add broth a little at a time (about 1/4 cup is good); simmer, stirring often, until broth is absorbed.

Add remaining broth in the same manner, allowing broth to be absorbed before adding more and stirring frequently until barley is tender, but still firm to bite, about 40 to 45 minutes.

Add apples and Parmesan cheese, then adjust seasoning with salt and pepper.
Notes
*For a vegan risotto use vegan butter and either omit the cheese or use vegan cheese shreds. Be sure to balance the final risotto with salt to taste.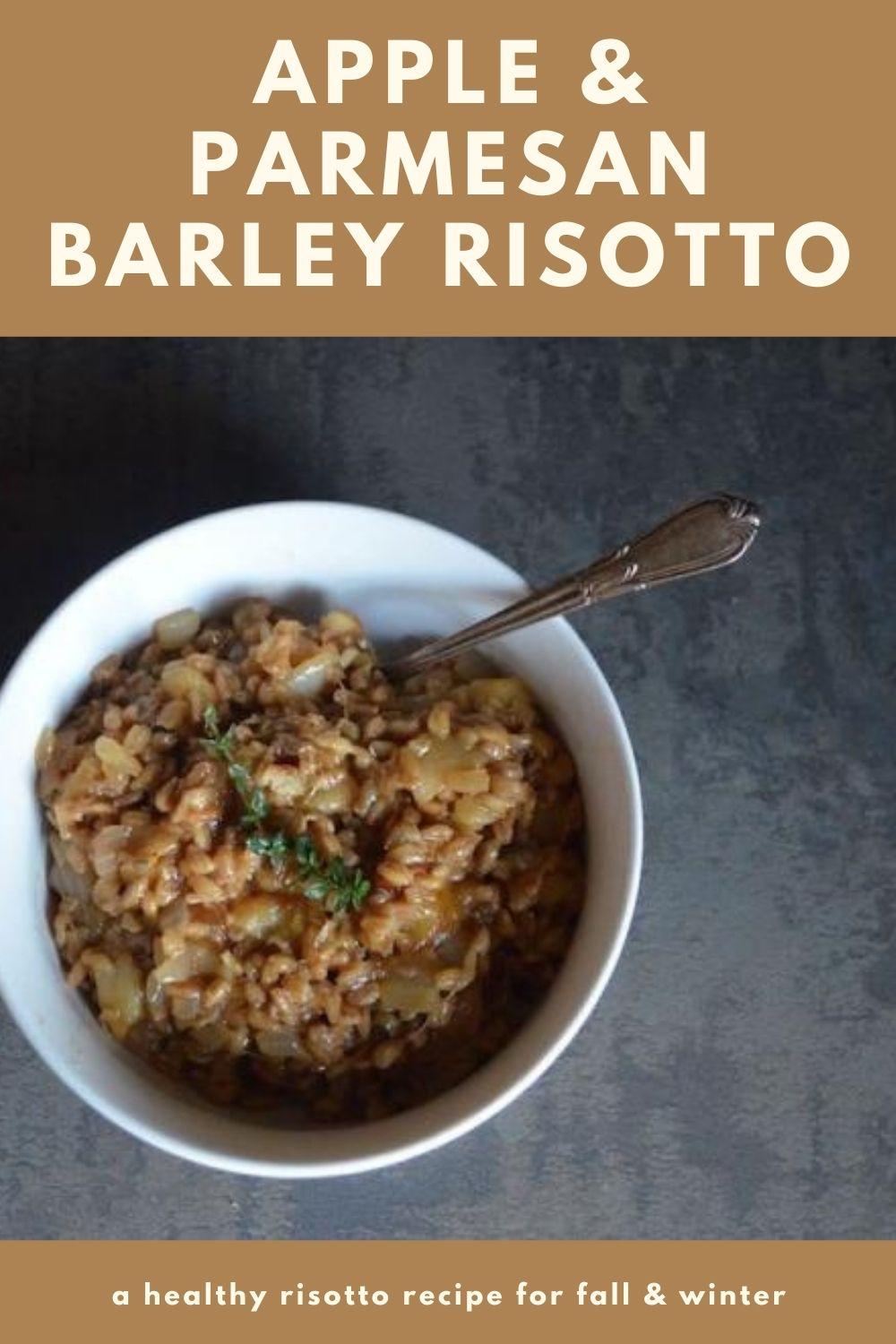 Latest posts by Amy Reiley
(see all)
Get on our mailing list
Subscribe and get our exclusive list of Six Great Sex-Boosting Snack Foods for FREE! Unsubscribe at any time - privacy policy