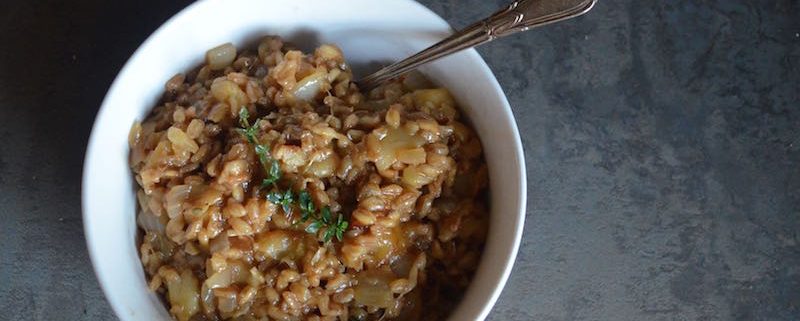 If you're craving a vegetarian recipe with the flavors of the season, this barley risotto is a must-try. A fall risotto featuring a hearty, whole grain, this one ticks all the boxes for ease, nutrition and great flavor.
This barley risotto recipe comes from our regular contributor Annette Tomei. Over the years Annette has offered us some great wine recommendations. But she's not only a wine instructor, she's a chef who has worked in the kitchens of such big names as Joachim Splichal.
And like all chefs, she has the food she cooks for others and the foods she makes for herself. This barley risotto is one she makes for herself. It's her way of celebrating her Italian roots with a risotto but tailoring it to enjoy on a healthy diet.
Is there a best kind of risotto barley?
Obviously barley is not the best risotto rice if you're looking to make a traditional, creamy risotto. (Barley is, in fact, not a rice at all.) Traditional risotto is made with arborio rice. Arborio is a high-starch rice, which is what gives it that creamy texture. But like most "white foods," it isn't particularly rich in nutrients.
Barley on the other hand, is known for nutrition. Of the two types commonly used in cooking, hulled barley is the most nutritious. This whole grain offers over 12 grams of protein per serving. However, it is an extremely dense and chewy grain that isn't really appropriate for producing a creamy risotto.
Discover why whole grails like barley are among the best foods for fertility.
However this recipe is a pearled barley risotto. Which means it calls for pearl barley. This grain is basically hulled barley that's been peeled of the bran layers, or pearled. It makes for a less dense, pleasantly chewy and easy to cook grain. And it still boasts more nutrition than you'd get from an arborio risotto. According to the USDA, a serving of cooked pearled barley gives you over three grams of protein plus iron, magnesium and potassium. That's not bad for a vegetarian risotto!
Love barley? Try this recipe for Spicy Barley and Beans.
And in addition to giving the dish an extra boost of nutrition, swapping out arborio for pearled barley also gives the risotto a unique texture and greater depth of flavor. Barley's slightly nutty notes give balance to the sweetness of the apple. In addition we find that using barley makes for an easy risotto recipe as the grain is a little less finicky than arborio and more forgiving if you don't cook it for the precise right amount of time.
A vegetarian risotto with an aphrodisiac twist
There's a heartiness to this pearl barley risotto that truly speaks of fall and winter. Annette makes this dish with several variations of ingredients. But for us, she chose to feature apple. This is, of course because apple is the fruit of temptation and one of the greatest aphrodisiacs for women. (A recent study found that women who eat an apple a day have more satisfying sex than non apple eaters.) Here's more the history and science behind the apple's aphrodisiac reputation.
Annette says that to change things up, she sometimes adds juicy pear instead of the diced apple. (Pear also has a great aphrodisiac reputation.) With either version, she says the key is to be generous with the freshly grated Parmesan. It sounds like a great idea to us. After all, cheese is also an aphrodisiac. In fact we sometimes even add a little extra cheese to this already cheesy risotto recipe.
If you want to this barley risotto vegan, you'll have to do some substituting but it's possible. The easy part is swapping out the butter for a vegan version. As for the cheese, that's really up to your taste. Although the cheese augment's the dish's creamy texture, you might want to skip it entirely. Or try your favorite vegan shredded cheese and balance the final dish with a pinch of salt.
Want to try your hand at another whole grain risotto? Try this Butternut Squash Farro Risotto. 

Barley Risotto with Apples and Parmesan
This variation on risotto uses the chewy texture and nutty flavor of barley, to produce a flavorful one-pot dish.
Cooking Style:
Vegetarian
Diet and Health:
healthy-ish
Seasonal:
autumn, Thanksgiving, winter
Ingredient:
apple, barley
Ingredients
2

cup

diced

peeled apples

2

Tbsp

butter

salt and pepper

1/4

tsp

fresh thyme leaves

chopped

2

cup

vegetable stock

2

Tbsp

butter

1/2

small onion

finely chopped

1

clove

garlic

minced

rounded 2/3 c pearl barley

rinsed, drained

1 1/2

oz

freshly grated Parmesan cheese
Instructions
Brown the apples in butter in a large sauté pan. Season with salt, pepper and fresh thyme. Set aside.

Bring broth to simmer in saucepan. Reduce heat to low and cover to keep warm.

Melt the remaining 2 tablespoons of butter in large sauce pan. Add onion and garlic, sauté until tender.

Add barley, stir until coated with butter, about 1 minute.

Add broth a little at a time (about 1/4 cup is good); simmer, stirring often, until broth is absorbed.

Add remaining broth in the same manner, allowing broth to be absorbed before adding more and stirring frequently until barley is tender, but still firm to bite, about 40 to 50 minutes.

Add apples and Parmesan cheese, then adjust seasoning with salt and pepper.
Pin this Apple & Parmesan Barley Risotto Recipe: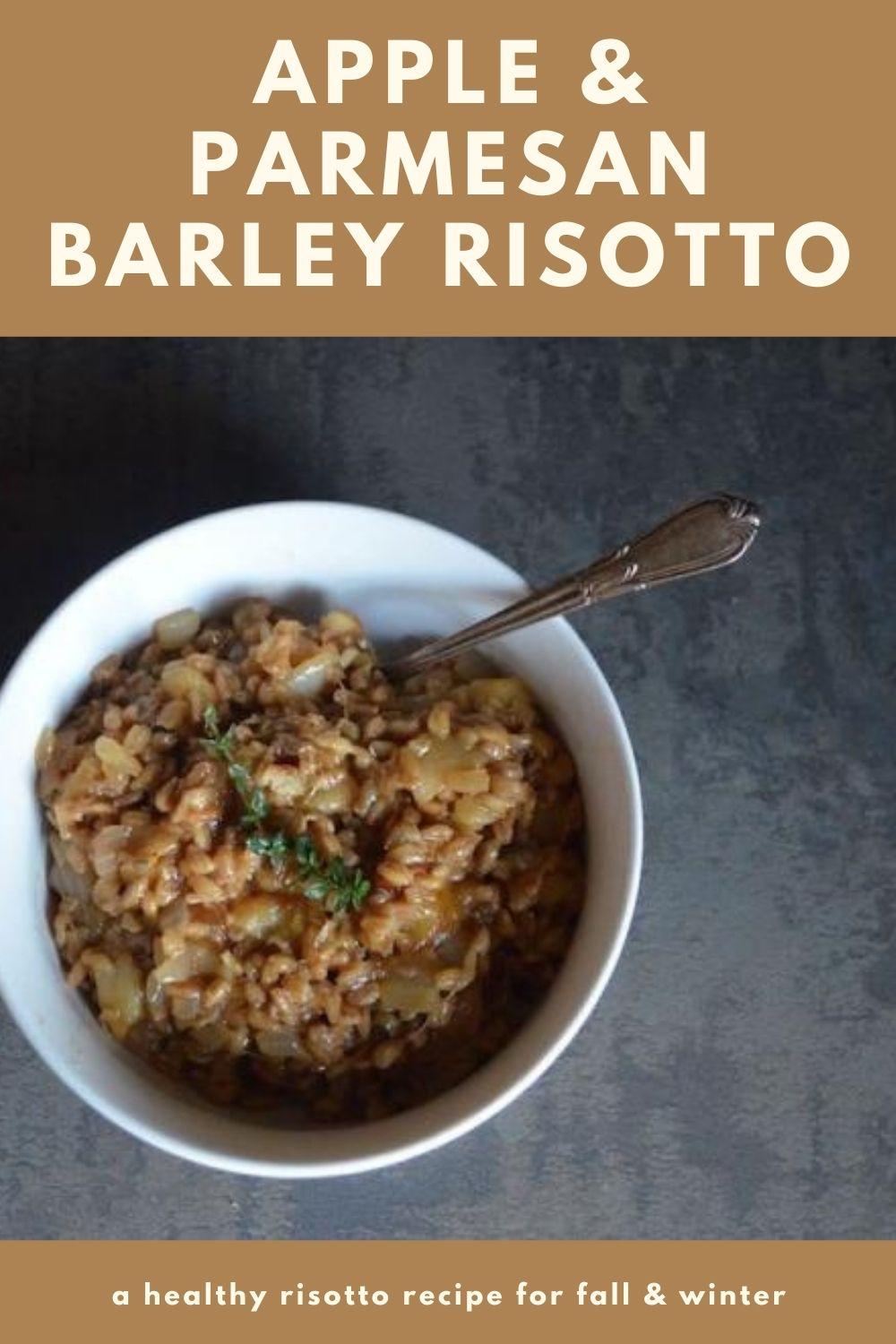 FREE APHRODISIAC NEWSLETTER
Subscribe to our free aphrodisiac newsletter