Recipe for Hearty Farro with Mushrooms and Spinach
Our articles may contain affiliate links. For more information, view our policies.
A winter farro recipe made from simple and seductive ingredients
This hearty farro with mushrooms recipe is one I created for my
Family Farm Box
. And although these days I focus on preparing CSA-based family meals, as the author of
The Seduction Cookbook
, I'm no stranger to the world of aphrodisiacs. So I know my way around ingredients with the potential to titillate more than the senses. And one of those I've contemplated frequently over the years is the
mushroom
.
RELATED: Mushrooms for Health & Aphrodisiac Benefits
A surprising mushroom fact
Suppose you were at a cocktail party, and you had to answer an ice-breaker question about what vegetable would be your boyfriend? Mine would be a mushroom. So down to earth, exotic, sensual…but back to topic: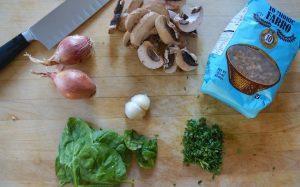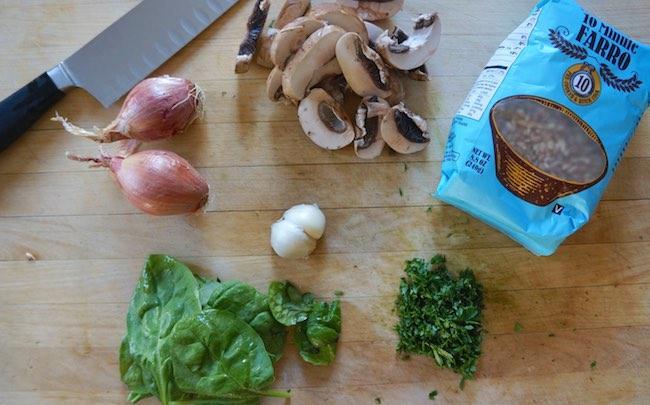 Have you noticed a lot of chatter about vitamin D deficiency? It seems as though everyone is being prescribed a supplement to combat deficiency in vitamin D. But when I had a conversation with my physician about it, I told her I get plenty of sunshine, no supplement, thank you. However she explained to me an interesting fact about this nutrient I'd never heard. You have to have vitamin D in your body to for the sunshine to wake it up, your body doesn't just naturally produce it.
Why am I bringing this up? It's because mushrooms are one of the only items on the produce aisle rich in vitamin D. Great news for me and long walks on the sunny fall beach with my vegetable boyfriend.
Of course, this farro with spinach and mushrooms recipe isn't just about the mushrooms. This mushroom and farro dish offers a one-two punch, matching the the seductive powers of mushrooms with the libido-boosting powers of farro.
RELATED: Foods to Eat For Fertility
What is farro?
Farro is an ancient grain. In fact, some historians believe that it is the oldest of all grains. It offers a nutty  flavor and a more dense, chewy texture than most grains. And it offers an array of nutrients important to your sexual health including magnesium, zinc, iron, protein and fiber.
A healthy dish of grains and veggies may not look like food for a night of romance but this dish is one that should go into your arsenal of foods to keep your lover in prime, sexual form.
Those with celiac disease should note that it is a type of wheat and not suitable for gluten-free diets. But for the rest of us, plenty of farro should always be on the menu.
A time-saving tip for making farro with mushrooms in a hurry
For this farro mushroom recipe I use  quick-cooking farro
as a time-saving technique. If you're at the store and aren't sure what to get, look for pearled farro, which takes much less time to cook than whole.
TRY NEXT: Mediterranean Farro Salad with Dried Fruits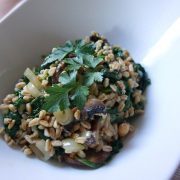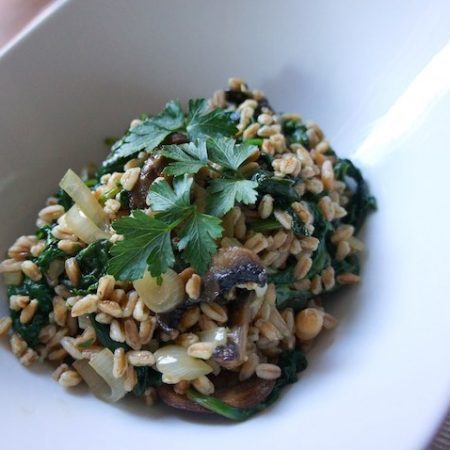 Hearty Farro with Mushrooms and Spinach
Print Recipe
This simple recipe makes a one-pot, vegetarian main course with the ancient grain, farro as the base and mushrooms as the star. 
Ingredients
8

oz

quick cooking farro

2

leaves

dried bay

olive oil

salt & pepper

8

oz

brown cremini mushrooms

cleaned, stems removed, sliced

1

shallot

sliced

2

cloves

garlic

2

oz

of baby spinach

2

Tbsp

chopped Italian parsley
Instructions
Bring a large pot of salted water to a boil. Pour the farro and bay leaves into the boiling water, and cook for 10 minutes, stirring occasionally. When farro is cooked to al dente, drain in a colander. Place farro in a large mixing bowl, remove bay leaf, and put aside to cool.

Heat a large skillet over medium high heat and drizzle enough olive oil to lightly coat the bottom of the pan. Add the mushrooms and cook, undisturbed, for about 3 minutes, until golden, then stir to turn and continue to cook for another 3 to 5 minutes, until juices release and mushrooms are completely brown. Season with salt and pepper and add to the farro. Drizzle a bit more olive oil in the pan and add the shallots and garlic. Cook for another few minutes, then add in the spinach and parsley, cooking just to wilt. Season with the vegetables with salt and pepper, then add the vegetables to the farro mixture. Stir everything together and taste for seasoning, adding additional olive oil, salt and pepper if needed.

Serve farro warm, at room temperature or cold.
Pin this farro recipe: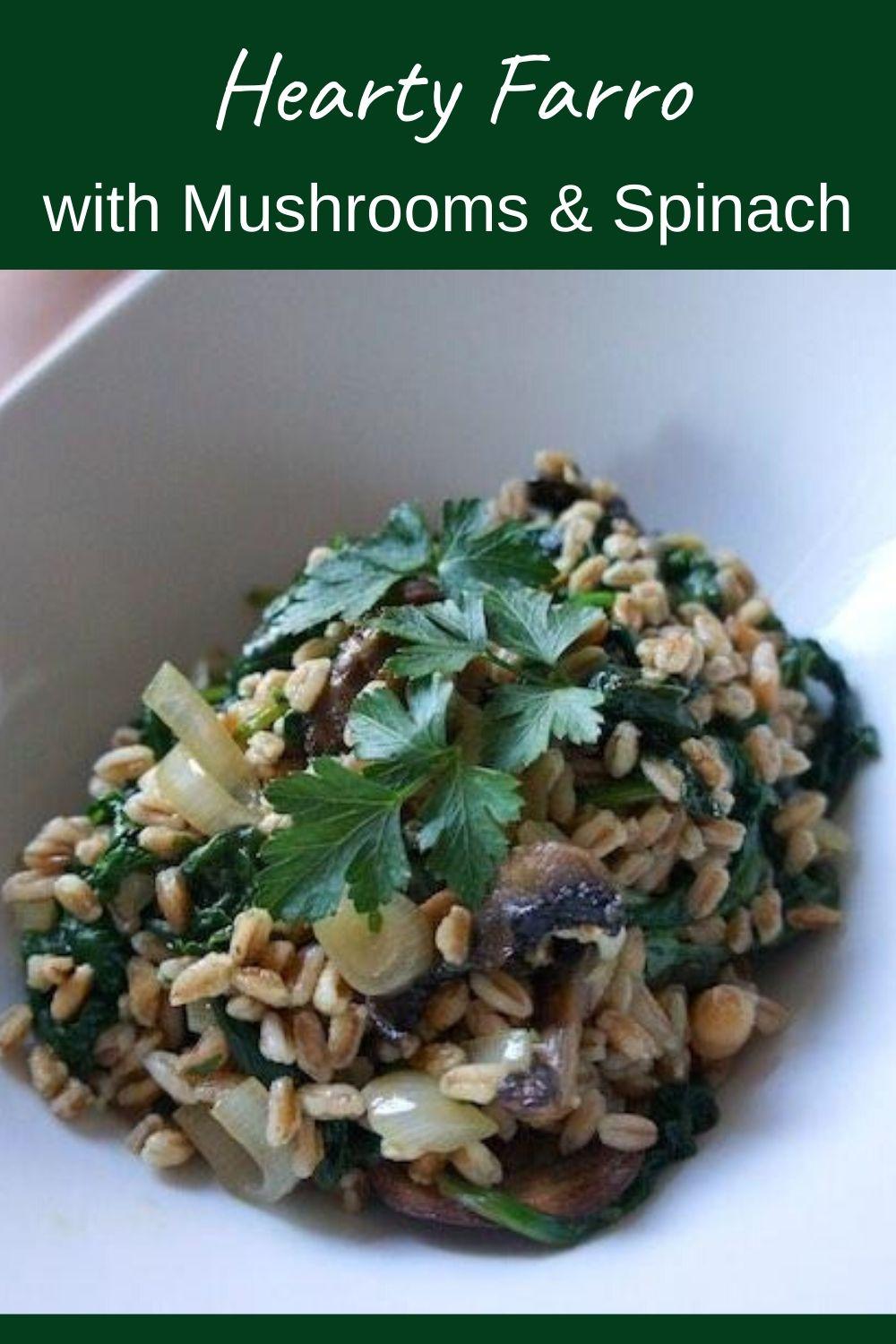 FREE APHRODISIAC NEWSLETTER
Subscribe to our free aphrodisiac newsletter