Sautéed Courgette Flowers Stuffed with Herbed Ricotta Cheese
Our articles may contain affiliate links. For more information, view our policies.
It is hard to believe a pile of pretty orange and white flowers can be transformed into a flavorful appetizer in a matter of minutes. If you've never made stuffed courgette flowers, also known as zucchini flowers, prepare to be amazed at how you can make a stunning vegetarian appetizer in a matter of minutes.
And if you were formerly a slave to battering and deep-frying squash blossoms, this recipe is going to change up your plans for your spring harvest with this light and easy method for cooking stuffed squash blossoms.
What are courgette flowers?
As an Italian-American, I was no stranger to the joys of eating squash flowers as a child. But many Americans have never tried this joyful expression of spring's bloom. If you've walked through a local farmer's market at the right time of year, you've probably seen piles of blossoms, either attached to tiny squash or just jumbled into bags or paper cartons.
These are simply the flowers of the courgette or zucchini plant, the two words are synonyms. You might also have heard these flowers referred to by the Italian name, fiori di zuccha. But whether they're referred to as courgette or zucchini flowers, squash blossoms or fiori di zuccha, they are simply the flowers of the vegetable we know as zucchini squash.
Interestingly, the male plants will produce flowers but with no fruit but the female zucchini will produce cute little baby zucchini behind them. And yes, these are the same kind of zucchini that will be sold in bountiful quantities a month or two later. In fact, if you grow zucchini, you can just pluck blossoms from your own garden for this stuffed squash blossom recipe.
What do courgette blossoms taste like?
Like most edible flowers, zucchini flowers have an extremely mild flavor. The taste is similar to that of zucchini itself, which is a popular vegetable, (technically, it is a fruit) because it is so mild. But something that the zucchini fruit doesn't have that zucchini blossom recipes offer is a sensual, velvety texture.
How do you make sautéed, stuffed zucchini flowers?
The most popular way to use these edible flowers is to make fried squash blossoms. But battering and frying diminishes the sexy texture of the petals themselves.
That's why I made this recipe, which is a nod to my Italian heritage, for sautéed zucchini blossoms. (In addition to showcasing the texture and delicate flavor of the zucchini blossoms, this courgette flower recipe is quicker and easier than making fried zucchini blossoms.)
It's fast, it's easy and you don't need any special equipment. Best of all, there are only seven ingredients, counting the oil for cooking!
How to prepare squash flowers for use
You will want to make sure to use zucchini flowers when they are fresh. Ideally, the same day they are purchased or plucked from your garden. And be sure to gently wash and thoroughly dry the blossoms before using them. Check inside for any tiny critters that may be hiding inside the zucchini blossom's folds.
Stuffing zucchini blossoms
To make zucchini flowers stuffed with ricotta, gently open the petals with your fingers. You can spoon the mixture in or use a pastry bag or a Ziplock used as a homemade pastry bag to slowly fill the bloom. Or you can use a small pastry bag if you have one. Just be careful not to overfill the flowers.
Gently fold the tops of the petals shut. Be sure to season the stuffed squash flowers with additional salt and black pepper before cooking.
I use a ricotta cheese mixture to fill my squash blossoms. I like this blend of cheese and chives, the brightness of lemon zest and just a pinch of salt & pepper. The blend works to accentuate the natural flavor of a courgette blossom, not overpower it. The trick is to use high-quality ingredients and check your seasoning.
What is the best ricotta for stuffing squash blossoms?
The most important ingredient in this zucchini flower stuffing is the part-skim ricotta. You may be surprised to learn that you can find good, quality ricotta at the grocery store. Some of my favorite mainstream brands include White Rose, Sorrento and Whole Foods 365.
How to cook courgette flowers without deep frying
Cooking zucchini flowers in a sauté pan is an incredibly easy way to cook this vegetarian delicacy. The most important part of sautéeing the blossoms of courgettes is the choice of oil. I use grapeseed oil to cook the flowers. I recommend that you use something lighter than olive oil for cooking zucchini flowers because the flavor of most olive oils will overpower the delicacy and freshness of these flower blossoms.
If you don't have grapeseed oil, other oils that work well with this sautéed squash flower recipe include avocado oil and macadamia nut oil. Keep in mind that when you sauté zucchini flowers, you need to flip them halfway through the cooking process. But overall, this method is less work and less messy than deep-frying squash flowers.
How do you store zucchini blooms?
If you have to store these flowers overnight, wrap them in damp paper towels and store them in the refrigerator. Do not wash the squash blooms until you are ready to use them.
When to serve these ricotta-stuffed zucchini blossoms
Courgette blossoms start appearing at farmers' markets and vegetable stands as early as May but the season is in its prime in June, July and August. You may even find them into September. But because of their fragility, they can't be imported in winter. This means these Italian stuffed zucchini blossoms are a seasonal, summer treat.
I wrote this recipe to make enough as an appetizer or snack for a crowd. Pass them at an outdoor party or make them the starter to a produce-themed brunch. Almost everyone who tries them asks for seconds.
But you don't have to have a party to make these delicate and beautiful summer snacks. Serve them to your one and only as the start of a seductive evening or romantic backyard picnic. There's something romantic about eating the blossoms of spring flowers. And because these stuffed courgette blossoms are finger foods, they're great for feeding to one another. And did I mention that cheese is considered one of the world's greatest aphrodisiac foods?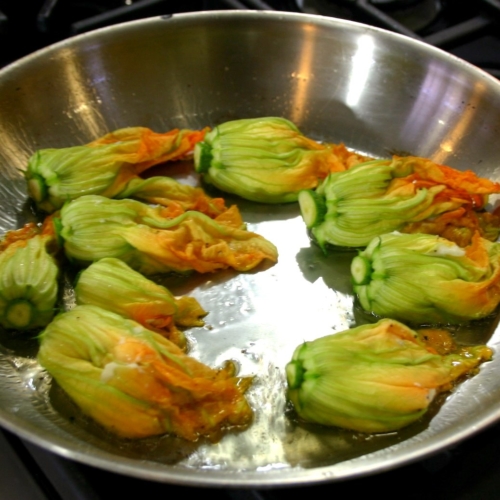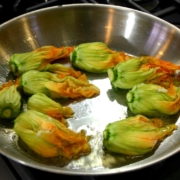 Stuffed Zucchini Flowers with Herbed Ricotta Cheese
Print Recipe
This easy sauteed zucchini blossom recipe is a great alternative to deep fried squash blossoms. You're going to love how quickly you can turn beautiful flowers into a flavorful treat.
Ingredients
1

lb

part skim ricotta

1

egg

1 1/2

– 2 tbsp fresh chives

finely chopped

zest of 1 lemon

salt & black pepper to taste

20-24

fresh courgette (zucchini) blossoms

grapeseed or other neutral oil for cooking
Instructions
Thoroughly mix the ricotta and egg. Gently fold in the chives and zest then season with salt and pepper. Scoop the mixture into a sandwich-sized Ziplock bag or small pastry bag.

Gently wash and dry 20-24 squash blossoms.
To fill the squash blossoms
Cut one of the two bottom corners of the ricotta-stuffed Ziplock to make a homemade pastry bag (or use a traditional pastry bag). Squeeze the stuffing from the bag into the cup of each blossom, filling until the blossom is about 3/4 full. Fold the tops of the petals over to form a seal around the filling. Sprinkle the outside of the blossoms with additional salt and black pepper.

While you're stuffing the blossoms, you can be heating the oil in a heavy saute pan. Annette used a neutral oil to allow the delicate flavor of the squash shine. Being the consummate chef, Annette merely eyeballed the oil but I'd hazard a guess that she used about 2 tbsp. (Use enough to thoroughly coat the bottom of your pan.)
To saute the zucchini flowers
Heat your oil over medium/medium high heat. The oil should be heated to that point just before it begins to bubble.

Using a sweeping motion away from your body to prevent getting splashed, drop the blossoms into the oil one at a time. Cook until brown on the bottom, approximately 3 minutes, then flip.

Cook until the second side is brown, another 2-3 minutes. Move the cooked blossoms to a paper towel to drain and cool slightly for about 2-3 minutes.

The blossoms are best when they're hot. Just be careful not to burn your tongue.
Notes
You can use any leftover blossoms as a topping for a green salad with a light vinaigrette. 
A note on the provided nutrition information
The nutrition information provided has been estimated by an online nutrition calculator and is not a substitute for a professional nutritionist's advice.
Nutrition
Calories:
345
kcal
|
Carbohydrates:
12
g
|
Protein:
29
g
|
Fat:
20
g
|
Saturated Fat:
12
g
|
Polyunsaturated Fat:
1
g
|
Monounsaturated Fat:
6
g
|
Trans Fat:
0.01
g
|
Cholesterol:
152
mg
|
Sodium:
315
mg
|
Potassium:
316
mg
|
Fiber:
0.02
g
|
Sugar:
1
g
|
Vitamin A:
1022
IU
|
Vitamin C:
0.4
mg
|
Calcium:
630
mg
|
Iron:
1
mg
Summer recipes to try next
Fresh Linguini with Asparagus and Green Garlic
Easy Peach Gazpacho
Fresh Sweet Corn Soup
Mustard-Glazed Pork Loin with Peach Ratatouille
Campari Ice Cream Float
Simple Balsamic Grilled Peaches
Latest posts by Annette Tomei
(see all)
Get on our mailing list
Subscribe and get our exclusive list of Six Great Sex-Boosting Snack Foods for FREE! Unsubscribe at any time - privacy policy